US Congress Urges India's Modi to Protect Christians, Condemn Attacks on Minorities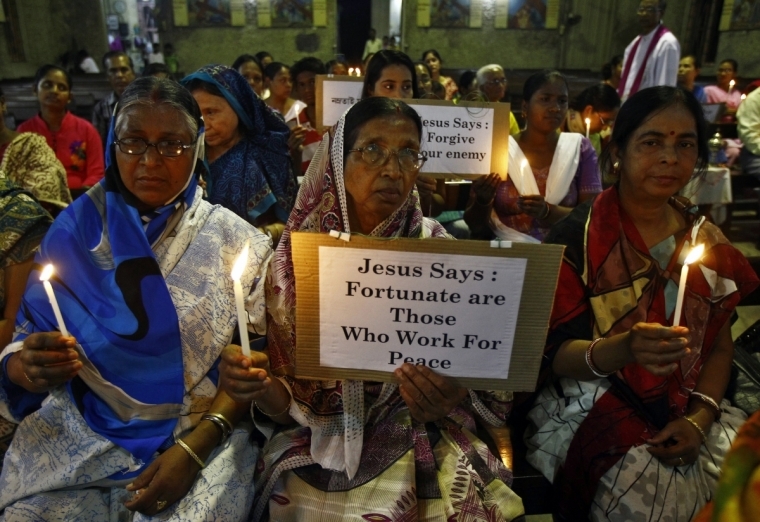 U.S. Congress members are calling on Indian Prime Minister Narendra Modi to hold his party accountable and oppose violent attacks on Christians and other minorities.
International Christian Concern shared on Friday with The Christian Post a previously unreleased copy of a bipartisan congressional letter sent to Modi, which pleads for the protection of the persecuted minorities.
"Our hope is to apply significant pressure on Prime Minister Modi regarding the persecution of Christians and religious minorities in India. We hope that this letter, alongside other efforts, will pressure the Indian government to move beyond the recognition of the fact that persecution of religious minorities in India exists, and take concrete steps to end the persecution of religious minorities," ICC Advocacy Director Matias Perttula told CP.
"Prime Minister Modi must publicly condemn the attacks on religious minorities and implement proper legal procedures to hold the perpetrators of these crimes accountable. The bottom line is that India must take tangible steps to deal with the issue at hand."
Christians are an increasing but heavily targeted minority group in India. Many attacks were reported this year, most often by Hindu hardliners in rural villages who have destroyed churches and assaulted entire groups of believers.
Just last week, a 9-year-old girl from a family in Punjab state that had recently converted to Christianity was gang-raped and murdered.
ICC worked with Congress members to author the letter, which is dated July 31. It was led by Congressman Dennis Ross (R-Florida) in the House of Representative and Senator James Lankford (R-Oklahoma) in the Senate.
The letter talks of India's strong partnership with the U.S., and notes that back in February, Modi's own government admitted that there has been an increase in religiously motivated violence against religious minorities, which goes against India's Constitution.
"Our concern centers on the lack of justice and protections for religious minorities, and the impunity many perpetrators currently enjoy," states the letter.
"Those afflicted by violent assaults and other forms of harassment should be provided with equal treatment by law enforcement officers, and perpetrators of these crimes need to be held accountable for their actions. Only then can meaningful progress be made in guaranteeing freedom of religion and belief."
The letter recalls several of Modi's political visits to the U.S., including an address he made to Congress on June 8, 2016, where he said:
"The idea that all citizens are created equal is a central pillar of the American Constitution. Our founding fathers too shared the same belief and sought individual liberty for every citizen of India."
Christians, Sikhs, and Muslims, who combined make up 20 percent of the nation's population, continue being deliberately attacked, U.S. lawmakers state in the letter.
They specifically express concern over the anti-forced conversion laws in India, arguing that such laws are often exploited in order to falsely accuse religious minorities.
Perttula said those laws, called the "Freedom of Religion Acts," are "so poorly worded that most accusations against Christians are completely baseless. Christians can be accused of violating these laws based on a simple conversation they may have had about their faith with non-Christians."
"These laws do nothing but embolden Hindu radicals to make essentially baseless accusations against Christians who will then suffer the consequences."
Rolling back the anti-conversion laws is an "absolute priority," he stressed.
"Prime Minister Modi must lead on this issue and stand up for the rights and freedoms of all Indian citizens," he emphasized.
Perttula insisted that Modi's BJP-led government can take a great deal of responsibility for attacks carried out by Hindu radicals, due to the nationalist message that it champions.
"The BJP also makes strong nationalist statements at their rallies, which embolden Hindu radicals to commit crimes similar to the one mentioned in the story above and enjoy near perfect impunity. The perpetrators are rarely brought to justice," he noted, referring to the gang rape of the 9-year-old girl.
"The best thing that Prime Minister Modi and the BJP can do is publicly condemn these types of attacks and enforce the rule of law by bringing these perpetrators to justice. However, the BJP and Prime Minister Modi remain largely indifferent and serve as enablers for these types of crimes."
The U.S. and other Western governments can play an important role by continuing to raise human rights issues with India and directing pressure at the Indian government to "implement real changes regarding these issues, Perttula added.
"The West should leverage its economic power in trade deals, its military power in defense arrangements, and apply public pressure in its rhetoric toward India," he said.
"If the U.S. and the West care deeply about human rights as they claim, they must hold countries like India accountable. India is a democracy that claims to adhere to democratic values; it's time they start putting human rights at the front of the agenda."
The U.S. State Department recently held its first-ever Ministerial to Advance Religious Freedom, which was attended by delegates from over 80 countries.
One of the central documents pushed forward at last month's ministerial was the Potomac Declaration, which calls on religious freedom to be defended everywhere in the world.
"Persons are equal based on their shared humanity. There should be no discrimination on account of a person's religion or belief. Everyone is entitled to equal protection under the law regardless of religious affiliation or lack thereof," reads the text.
"Citizenship or the exercise of human rights and fundamental freedoms should not depend on religious identification or heritage."