US evangelical leaders met, prayed with Brazil's conservative President Bolsonaro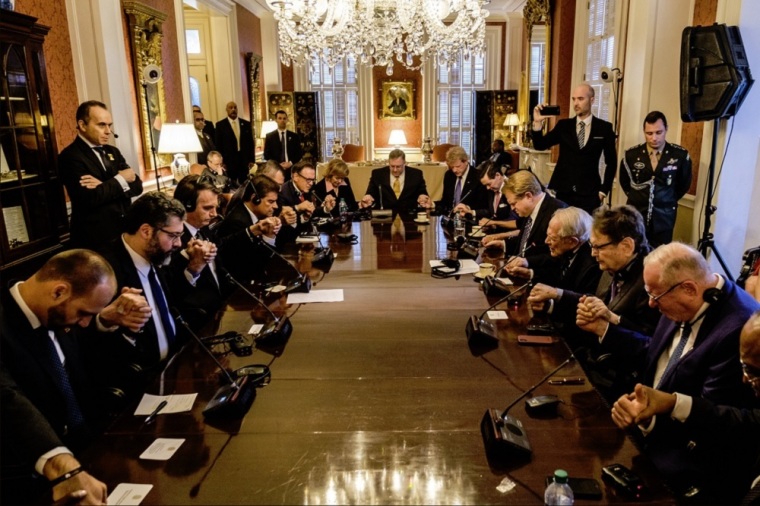 A group of about a dozen American evangelical leaders led by Pat Robertson met with Brazil's new President Jair Bolsonaro on Tuesday following his meeting with U.S. President Donald Trump.
Led by Robertson and his Christian Broadcasting Network, the group included author Joel Rosenberg, evangelist Reinhard Bonnke, Charisma Media founder Stephen Strang, Maryland Bishop Harry Jackson, and Jonathan Falwell, pastor of Thomas Road Baptist Church in Lynchburg, Virginia, and the son of Liberty University founder Jerry Falwell Sr.
Not only did the group discuss the future of the South American country and their shared belief in traditional Christian values, but the Christian pastors and business owners also prayed over Bolsonaro, who has been called the "Trump of the Tropics" because of his right-leaning policies.
"We pray, Lord, the anointing of the Holy Spirit come upon him," Robertson was quoted as saying. "That he may have wisdom. That he will hear a voice in his ear when he turns to the right or to the left saying, 'This is the way. Walk ye in it.' Lord, uphold him. Protect him from evil. And use him mightily in years to come."
By critics, Bolsonaro's policies have been described as "far-right." Although now a member of the conservative Social Liberal Party, Bosonaro launched his presidential campaign in 2016 as a member of the conservative Social Christian Party.
After crafting a successful anti-establishment campaign based on some of the same tactics used by Trump in 2016, Bolsonaro took office in January.
Bolsonaro is a member of the Roman Catholic Church but his wife and son are evangelicals, the fastest growing religious demographic in the country.
Because of his socially conservative views, Bolsonaro, who was Baptized in the Jordan River in 2016, won over the support of many evangelicals in Brazil. They voted in large numbers for him just like evangelicals in the U.S. were won over by promises from Trump to implement social conservative, pro-life policies.  
According to Strang, Bolsonaro told the evangelical leaders that it was a miracle that he is even alive. During the campaign, he was stabbed and confined to a hospital bed until the election last October.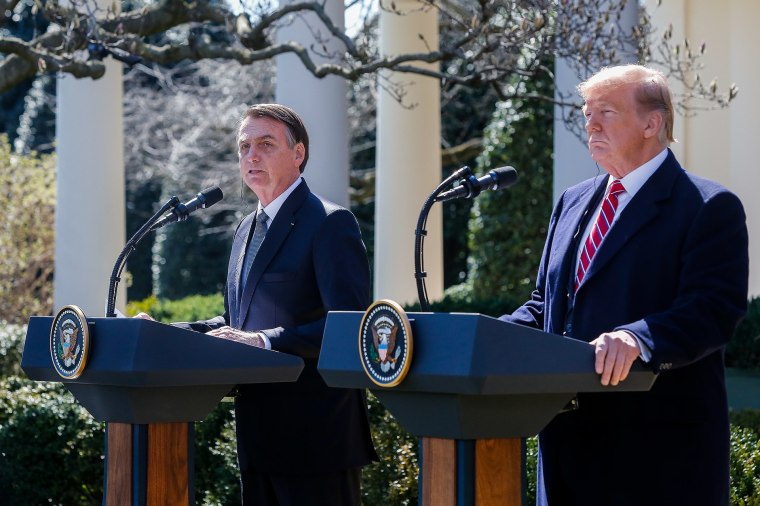 Strang added that Bolsonara told Christian leaders that he wants to move Brazil in a "new direction" away from its previous left-leaning policies.
"Some of his main goals include protecting the lives of the unborn, strengthening ties with Israel and reversing socialism's toll on Brazil," Strang asserted in an op-ed. "Interestingly, these are some of the main issues facing the U.S. right now."
Bolsonaro also declared that he plans set in motion a move of the Brazilian embassy in Israel to Jerusalem as soon as "several economic issues are dealt with," Strang continued.
Bolsonaro reportedly told the leaders that he views Israel as a "role model for his country" because of the fact that it has one of the largest economies in the world despite its small size.
The group also discussed the humanitarian situation going on in Venezuela, Brazil's neighbor to the north. Brazil has offered humanitarian aid to Venezuelan refugees fleeing from hunger and poverty in crisis.
According to the CBN, the 88-year-old Robertson called for Brazil and CBN to work together to help people suffering in the humanitarian crisis in Venezuela. CBN runs a program called Operation Blessing that partners with groups on the ground providing food, medical care, and other necessities to suffering families.
"The only hope we have in America or Brazil is when a country truly understands who God is, what God has done and what God will continue to do," Falwell told CBN after the meeting. "The Bible said, 'Blessed is the nation whose God is the Lord.' It is encouraging to me to see the president so passionate and passionate about taking Brazil and in the right direction."
Jackson, the senior pastor at Hope Christian Church in Beltsville, Maryland and the presiding bishop of the International Communion of Evangelical Churches, told CBN that "blessings" instead of "judgment" could be coming to "places that are choosing to align with the right kind of policies and agenda."  
During Bolsonaro's Oval Office meeting with Trump and ensuing joint press conference in the Rose Garden, Real Clear Politics reports that both presidents "gushed" about their shared conservative values and supported each other's disagreements and confrontation with mainstream media.
Bolsonaro reportedly pledged that Brazil would stand side-by-side with the U.S. to "ensure liberties and respect to traditional family lifestyles, respect to God our creator against the gender ideology or the politically correct attitudes and against fake news."
In an interview with Christian Broadcasting Network, Bolsonaro claimed that just like Trump wants to "make America great," he wants to "make Brazil great." He seemed to support Trump administration's stances on immigration.
"I also have concerns about the indiscriminate entrance of foreigners without any criteria," Bolsonaro claimed. "But beyond this, [Trump and I] are both Christians and we are God-fearing men."