Missionary Kenneth Bae on the Mistake That Led to His Capture by N. Korean Authorities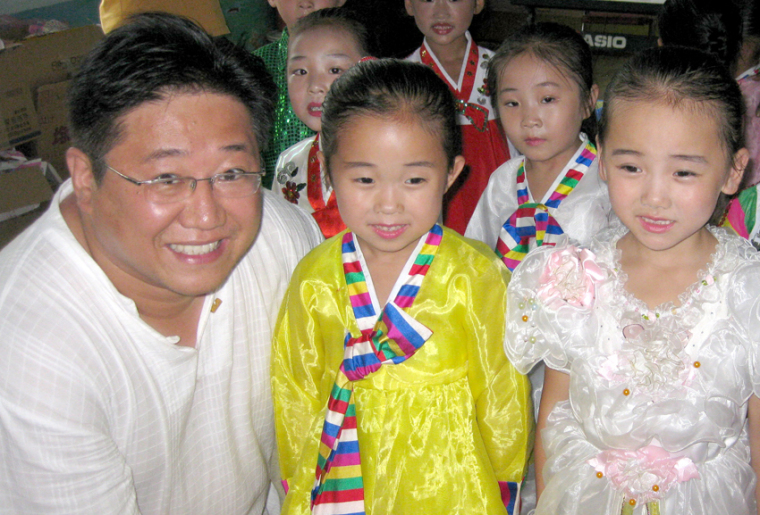 In an interview with a Korean media, American Christian missionary Kenneth Bae, who was detained in North Korea for two years, shares why he was arrested and how he was kept in prisons and labor camps in that country which is known to be the worst persecutor of Christians in the world.
"I was running a tour company (to hide the fact that I was a missionary)," Bae told Unification Media Group, which seeks to bridge the chasm between the North and South Koreas. "Through this company, I would bring people in from other countries and introduce them to locations that exemplified North Korea's natural beauty and local culture. But on my 18th trip, I mistakenly took an external hard drive with me that contained videos exposing the reality in the North. That hard drive was picked up in a security check, and I was detained as a result."
Bae was arrested in the city of Rajin on Nov. 3, 2012, and subsequently sentenced to 15 years of hard labor for allegedly plotting to overthrow the government. Director of U.S. National Intelligence James Clapper visited North Korea in November 2014 on a secret mission for the release of Bae and U.S. citizen Matthew Miller.
The confiscated hard drive also carried photos of his missionary work in China and North Korea. "They were able to determine that I was a missionary and had come to the North to proselytize, so I was accused of plotting to overthrow the government," he said.
For the first few days after the detention, Bae wasn't allowed to sleep, and was made to stand in one part of the room all day, or asked to kneel on the floor for several hours. "But there was nothing that I would consider a brutal violation of human rights. I didn't go through anything like torture," he said.
It was still extremely difficult, he said. However, "I comforted myself with my religion and my role as a missionary and tried to do my best each day."
Bae was kept incommunicado during the first month. Later, he was allowed to send a letter to his family to let them know about his detention. "I was allowed by the state to write letters and call my family once or twice to receive help from the U.S. government. But when this happened, the authorities told me what to write or say and made it so that I asked the 'U.S. government to do everything in its power' and added in personal stories in these letters."
Since he was not permitted to meet a lawyer in person, he decided to represent himself in the court.
Bae was the first American to be sent to a labor reeducation camp in the North after the Korean War. "It was on the outskirts of Pyongyang. While I was being transported the windows were all covered, so I couldn't tell exactly where I was. But it was about 20 to 30 minutes away from the central area of Pyongyang," he recalled.
Food provided to him was fairly good during summer, but not in the winter. "It seemed they didn't have enough ingredients, so I would get two or three types of pickled dishes and rice and broth. From then, the food got pretty bad and because of the amount of labor I was doing, I lost a lot of weight. I actually lost about 27 kg (about 60 pounds)."
Bae was diagnosed with malnutrition and sent to the hospital. "It was a special hospital for foreigners, so the facilities were not bad, and I was able to eat meals prepared for foreigners."
Bae also said he was told his repatriation would depend on "what the U.S. decides to do." "I came to realize they saw me as a negotiating tool they could use with Washington," he said.
He was kept in a reeducation camp, and therefore allowed to do religious activities privately. "I had a Bible written in Korean and English and also had a book of hymns."
Bae said people in the North have their lives controlled by the state and aren't aware of what's going on elsewhere in the world. "If one day the South and North are reunified, wouldn't it be great if we could all live together and move forward as one nation? This has become one of my greatest hopes," he said.
About his burden for ministry after his release, Bae said he would like to support North Koreans who have fled to South Korea due to repression in their country. "So I'm working on ways to help them get through difficulties in life so they don't lose their courage."
Bae said he was thankful for all the support he received during his time of detention in the North. "I got about 450 letters. That gave me a lot of strength and courage."
North Korea has been a brutal dictatorship, ruled by one party, the Korea Worker's Party, and led by one family, the Kims, since its formation in 1948. There are at least 100,000 Christians in that nation's harsh prison camps, where prisoners face torture, forced labor and possible execution, according to Christian groups.