US Pastor Andrew Brunson Writes Heartbreaking Message to Wife From Turkish Prison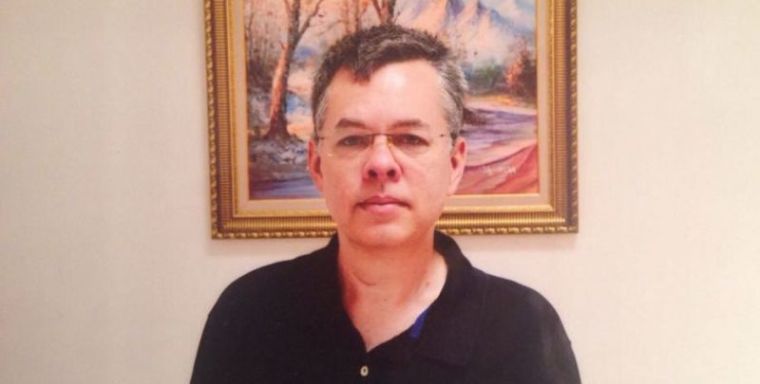 American evangelical pastor Andrew Brunson has sent a "heartbreaking" message to his wife as he continues to languish in a Turkish prison 16 months after his arrest. He admitted he is struggling to deal with his situation.
"I am very discouraged. Please have prayer for me," Brunson said in a note to his wife, Norine, via an embassy official, according to the American Center for Law and Justice.
"I love you — can't handle the thought of growing old in this place, without you."
The ACLJ, which has been assisting the pastor's family in the U.S., insists that Brunson is an "innocent U.S. citizen" who is being held as a political prisoner by the government of Turkish President Recep Erdogan.
The law group has also warned that the pastor's emotional and physical state continues to deteriorate, with little being accomplished in the way of his freedom, despite finally being allowed to formally meet with the prosecutor in Turkey last week.
The pastor, who had lived in Turkey for over two decades and led a small Protestant church in Izmir, was arrested in October 2016, accused by authorities of having links with a terror group.
Officials apparently believe that Brunson has ties to U.S.-based Islamic cleric Fethullah Gulen, whom Erdogan has blamed for the failed 2016 coup against his government. The pastor has denied such links.
The ACLJ has warned that Brunson can be held in prison for as many as seven years without any formal charges being filed against him. The pastor has filed a case for wrongful detention, but it is still pending.
Kristina Arriaga, vice chair of the congressionally mandated U.S. Commission on International Religious Freedom, was able to meet with Brunson for an hour.
"I have committed to Andrew Brunson that wherever I go and wherever I can speak about this topic, I will say his name," Arriaga said last month. "Andrew Brunson is a victim of hostage diplomacy and he needs to be released soon."
Arriaga, who visited Brunson in Turkish prison in October alongside fellow USCIRF Vice Chair Sandra Jolley, explained that they have been the only people allowed to visit the pastor, except for his wife and a consular officer.
Arriaga recalled that the pastor looked like he had lost at least 50 pounds, compared to the photos she had seen of him.
"His belt barely held up the pants that he is wearing," she described. "He was confused and disoriented. We said our names and the first thing he said was, 'I might not remember.' I said, 'It's OK.'"
The USCIRF vice chair said that the evangelical pastor is living in a "place of psychological and physical dislocation," and does not know what the charges against him are.
"He asked us, 'How can a NATO ally country do this to me?'" Arriaga recalled. "'What are the charges filed against me? Am I going to be here for the rest of my life?'"
Earlier in January, Brunson marked his 50th birthday in prison, with Norine sharing the content of a letter he wrote at the time.
"I am deeply grateful to all who have prayed for me. This trial — time in prison — has stretched me far more than I ever would have imagined. I have been very weak, had many doubts, felt very alone. I know that God's grace is sustaining me, even when I do not feel that grace, and I know that the prayers of God's people are surrounding me and giving strength," the pastor' wrote.
The ACLJ vowed to continue advocating for Brunson before Congress, the Oval Office and the United Nations.
"We will not back down. We will continue to fight this violation of justice and human rights until Pastor Andrew is released and returned home to his family in America," the group said.