'How will we explain this?' US bishops shocked, disappointed as Pope Francis bars action on sex abuse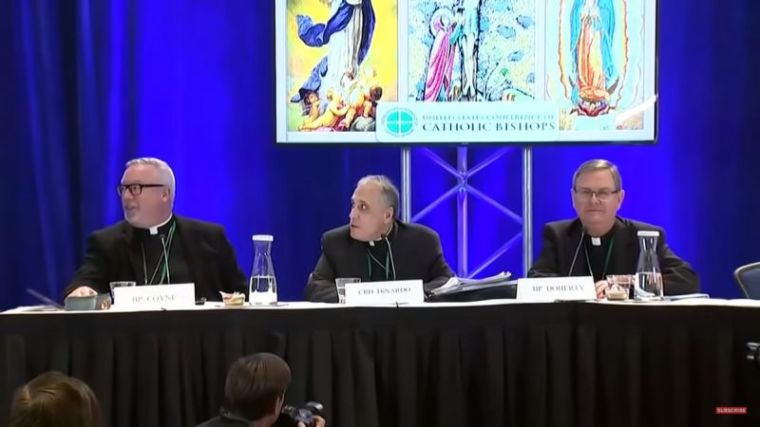 Top U.S. bishops have admitted their disappointment and frustration as the Vatican has blocked immediate action on the child sex abuse scandal.
The U.S. Conference of Catholic Bishops was preparing for its annual meeting in Baltimore on Monday when officials received a letter from the Vatican ordering a halt to any actions on the issue, until a global summit at the Holy See scheduled for February takes place.
"It makes it look like we don't care," said Bishop Thomas Daly, of Spokane, Washington, speaking of the delay.
"No reason is good enough for the laypeople who expect the bishops to act .... How are we going to explain this to the people back in our dioceses?" he asked, according to The Wall Street Journal.
Cardinal Daniel DiNardo, president of the USCCB, echoed the frustrations at his opening remarks at the conference.
"We are not, ourselves, happy about this," DiNardo said. "We're disappointed, because we were moving along on this."
The child sex abuse scandals have swept through Catholic countries around the world, including America. In August, a 1,300 page report by a Pennsylvania grand jury exposed systematic cover up of abuse by Catholic hierarchy across the state, concerning 301 priests who abused over 1,000 children in the past several decades.
"Priests were raping little boys and girls, and the men of God who were responsible for them not only did nothing. They hid it all," Pennsylvania Attorney General Josh Shapiro said at the time.
The report came weeks after former cardinal and archbishop of Washington D.C., Theodore McCarrick, was stripped of his title, following "credible and substantiated" evidence that he was also involved in sexual abuse.
DiNardo asked for forgiveness on Monday from survivors of abuse in his speech.
"Where I have not been watchful or alert to your needs, wherever I have failed, I am deeply sorry. The command of our Lord and Savior was clear. 'What I say to you, I say to all: watch!' In our weakness, we fell asleep. Now, we must humbly beg God's strength for the vigil ahead," the bishop said.
U.S. Catholic officials continued making it clear they disagree with the Holy See's decision to delay action, however.
The Vatican "doesn't seem to appreciate the depth of the situation that we are facing here on the streets," said Bishop Thomas John Paprocki of Springfield, Illinois.
"People are looking for us to do something. I think this will unfortunately be seen as a delay and an inadequate response," he added.
Cardinal Blase Cupich, the archbishop of Chicago and a close ally of Pope Francis, said that the Vatican wants to make sure that Catholic leadership around the world is on the same page for February's major meeting.
"It is clear that the Holy See is taking seriously the abuse crisis in the church, seeing it as a watershed moment not just for the church in this country but around the world in putting so much emphasis on the February meeting," Cupich offered.
Others, such as Christopher Hale, a senior fellow at Catholics in Alliance for the Common Good, said that the development cannot put the Vatican in a positive light, however.
"Francis' record on sex abuse is frankly indefensible," Hale said.
"Today just continues down this sad road of not getting it and not responding correctly."