Valedictorian Rips up Graduation Speech, Recites Lord's Prayer to Protest Censorship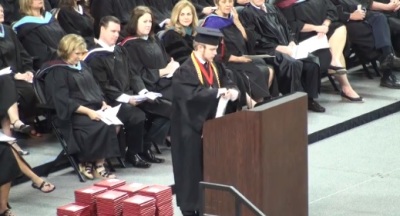 In protest of his school district's new policy banning religious prayer at school events, valedictorian Roy Costner IV ripped up his pre-approved speech and instead chose to recite the Lord's Prayer at his graduation ceremony in South Carolina this past weekend.
Costner took the stage at Clemson's Littlejohn Colliseum on Saturday to speak to those graduating from Liberty High School in Pickens County, S.C.
Upon taking the stage, the valedictorian explained to his fellow students that although he had a prepared speech which had been approved by the administration, he instead was choosing to say the Lord's Prayer as a message to his classmates.
"Those that we look up to, they have helped carve and mold us into the young adults that we are today," Costner told the crowd, adding "I'm so glad that both of my parents led me to the Lord at a young age."
"And I think most of you will understand when I say […]" Costner continued, pausing briefly before beginning the Lord's Prayer.
"Our Father, who art in Heaven, hallowed be Thy name," Costner recited, going on to say the Lord's Prayer in its entirety.
The valedictorian reportedly punctuated the end of his recitation by raising one hand in the air and pointing to the sky as the applause and cheers from the crowd grew louder.
A YouTube video featuring the graduation ceremony shows Costner's impromptu speech being greeted with cheers and applause from the crowd, and one faculty member sitting behind Costner on the stage can be seen smiling when he begins reciting the Lord's Prayer.
Costner reportedly chose to say the Lord's Prayer at Saturday's ceremony in defiance of the Pickens County School District's change in policy, which recently banned prayer from school functions, predominately graduation ceremonies.
The school board made the decision to ban the prayer after groups like the American Civil Liberties Union and Freedom From Religion Foundation complained to the district about prayer in board meetings, as well as attacked other school districts in the state regarding religious expression this past year, according to Pickens County School District spokesman John Eby.
In February, the Freedom From Religion Foundation sent a letter to the Pickens County School Board telling them their student-led convocations at board meetings were unconstitutional because they were religious in nature.
Members of the community protested the school board banning religious prayer, and rallied in solidarity at the school board meeting to protest the change.
The school board ultimately voted to allow a drafted, non-sectarian prayer to be said at board meetings.
Spokesman Eby told the Christian News Network that due to these previous issues with atheist organizations like the Freedom From Religion Foundation, the school district decided to forgo invocations at school events and the replace the prayer at graduation ceremonies in the district with a moment of silence.
In spite of Costner's rule breaking, Eby contends that the student will not be punished for his actions.
"The bottom line is, we're not going to punish students for expressing their religious faiths," Eby said.
 "He's a graduate now. There's nothing we can do about it, even if we wanted to," Eby added.
According to local news channel WISTV 10, Costner aspires to become a computer programmer and eventually create mobile applications and perhaps even a new social networking website.
The young man will be attending Clemson University in the fall, where he will be completing courses to receive a Bachelor of Science degree in computer science.
The YouTube video showing Costner's graduation speech has gained a fair amount of attention on the video sharing website, garnering over 250,000 views since it was uploaded on Monday.
Many of the comments below the video are congratulatory of Costner, who is described as being a "courageous, young man of God."
"I stand behind you young man. Immeasurable courage often lacking in folks twice your age," wrote one commenter.
"And that, my fellow Americans, is called courage, integrity, and commitment," wrote another viewer.
Others, including Lisa M. Hendey, founder and editor of CatholicMom.com, praised the student for taking advantage of the opportunity to profess his Christian faith.
"Roy's act of witness is a reminder to me to stand up in moments of opportunity and to shine like a beacon for the faith I profess," Hendey wrote on her Patheos blog, "A Good Measure."
"All to often, we 'grown ups' look at our teens with an eye only toward our perceptions of their shortcomings. What we forget all too often is their courage, their resolve, and their ability to disavow the politically correct in favor of the truths they hold in their hearts," Hendey added.
Hemant Mehta, blogger of "The Friendly Atheist" on Patheos, argues that he believes Costner received special treatment for being Christian, and could have received a different response from the school's administration had he denounced God or the U.S. president.
"It seems like his pro-religious speech got special treatment. And if the school wants to avoid a lawsuit in the future, the only solution for them may be to ban all student speakers at future graduations," Mehta wrote.
According to Liberty Speaks, a local news website founded by Costner, the valedictorian felt as though God was helping him recite the Lord's Prayer.
"We serve an amazing God and I can promise everyone there was absolutely nothing special I did!" Costner wrote.
"God chose to show out and without his courage I don't think I could have made it through His prayer from the overwhelming reaction the crowd gave bringing tears to my eyes," the valedictorian added.