Vatican Envoys Are Risking Their Lives in Iraq and Syria to End World War III With ISIS, Says Archbishop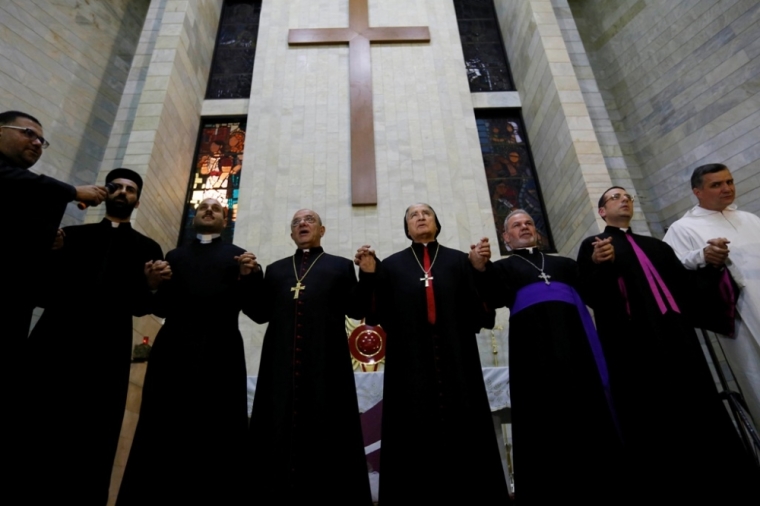 The Vatican minister of foreign affairs has said Vatican envoys in Iraq and Syria are risking their lives amid bombings and terror threats to help people and find a way to end what Pope Francis has called a "piecemeal" World War III.
"Let's not be kidding ourselves about what the stakes are here: If we are going to bring peace, if we are going to reconcile nations, if we are going to secure countries and communities, particularly minorities, particularly people who are persecuted, we are going to have to make an unprecedented effort," Archbishop Paul R. Gallagher told Catholic News Service last week.
Gallagher noted that IS, which has captured vast territory in Iraq and Syria, has persecuted Christians and other minorities, driving out tens of thousands of believers from their homelands. Still, the Archbishop remained hopeful that negotiations will help resolve the conflicts in the region.
"We hope that the negotiations that have begun will bear fruit, that there will be in these coming days a cessation of hostilities (and) the creation of humanitarian corridors," he said.
He clarified, however, that the dialog in question concerns Catholics and Christians of other groups and other religious traditions that are standing up to "the death and destruction of their homeland," and not actual dialog with IS.
"Unfortunately, it's true that (with) the extremists, particularly extremists who are prepared to embrace violence and terrorism, one is completely at a loss to say what one can do with such people," Gallagher continued.
There have been attempts at truce made in the Syrian civil war, with a relative ceasefire appearing to hold on Monday between rebel groups and the armed forces of President Bashar al-Assad.
BBC News reported that the ceasefire will allow close to 150,000 Syrians to receive aid in the besieged areas over the next week, while the United Nations hopes that 1.7 million people will receive much needed help by the end of March.
"Primarily we will try to deliver food by land because that is the most efficient way, it's the way that we can deliver the largest amounts of food but there are some areas of the country where we can't get across the front line," said Greg Barrow, a spokesman for the U.N. World Food Programme.
Pope Francis has warned of a "piecemeal" Third World War on a number of occasions, and in September 2014 said that "war is madness."
"Humanity needs to weep, and this is the time to weep," Francis said. "Even today, after the second failure of another world war, perhaps one can speak of a third war, one fought piecemeal, with crimes, massacres, destruction."
Gallagher noted that although Vatican diplomats are always free to leave hostile zones in the face of danger, many of them choose to stay and continue fighting for peace instead. He added, however, that everyone needs to contribute to the mission for peace.
"It's something in which we've all got to be engaged," the archbishop said.
"Whether it's a question of awareness, or for the Christian and religious people, whether we get on our knees and we beg God for peace, and encourage our politicians to negotiate," everyone must make an "extraordinary effort" to bring about world peace, he added.