Vietnamese Blogger Gets 10 Years in Prison for Criticizing Gov't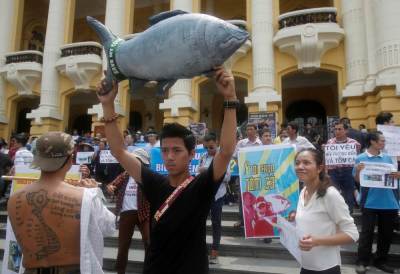 A Vietnamese court jailed a prominent blogger for 10 years on Thursday for publishing propaganda against the state, her lawyer said, the latest crackdown on critics of the Communist Party.
Nguyen Ngoc Nhu Quynh, 37, known as "Me Nam" (Mother Mushroom), was found guilty at a one-day trial in the province of Khanh Hoa, six months after she was arrested for posting what police described as anti-state reports, including one about civilians dying in police custody.
Despite sweeping economic reform in Vietnam, and increasing openness towards social change, the Communist Party retains tight media censorship and does not tolerate criticism.
"The verdict was too heavy and unfair," said Vo An Don, one of her lawyers, adding that she would appeal.
Slamming the sentencing, Human Rights Watch stated, "The baseless conviction and harsh sentencing reflect the Vietnamese government's punitive suppression of peaceful activism and dissent. The conviction should be quashed and Nguyen Ngoc Nhu Quynh immediately released."
The sentence comes at a time when Vietnam's human rights record is in the spotlight, with a recent Human Rights Watch's report highlighting beatings and intimidation of activists, bloggers and dissidents.
A foreign ministry spokeswoman, Le Thi Thu Hang, said the court proceedings were public and "in accordance with Vietnamese law."
In March 2009, Quynh spent nine days in police detention for receiving funds from Viet Tan, a California-based activist group which Vietnam calls a terrorist group, to print T-shirts carrying slogans against a major bauxite project in the Central Highlands, police said.
Quynh had also spoken out against a subsidiary of Taiwan's Formosa Plastics Corp that caused one of Vietnam's biggest environmental disasters in April.
A spokeswoman for the U.S. Department of State said it was deeply concerned about the conviction of Quynh, who she described as a 2017 International Woman of Courage awardee.
"We've seen some positive steps on human rights in Vietnam over the past few years. However, the trend of increased arrests and convictions of peaceful protests since early 2016 is deeply troubling," the spokeswoman, Heather Nauert, said in a statement.
"Progress on human rights will allow the U.S.-Vietnam partnership to reach its fullest potential."
Earlier, the EU delegation in Vietnam called on the government to release Quynh.
"This arrest goes against the country's international and domestic human rights obligations," it said.
Vietnam has been accused of using vague laws to stifle bloggers and activists who are getting more exposure from the proliferation of social media.
Vietnam has one of Asia's highest concentrations of Web users.