Viola Davis Thanks 'All Who Love Me Exactly How God Made Me' at SAG Awards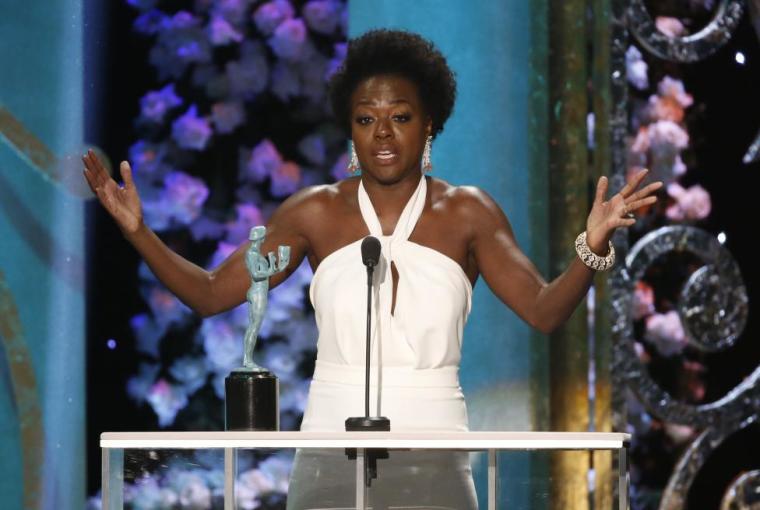 Viola Davis offered an evocative speech after winning a Screen Actor's Guild Award for Outstanding Performance by a Female Actor in a Drama Series on Sunday night.
The 49-year-old actress was honored for her leading role as Professor Annalise Keating in Shonda Rimes' television series "How to Get Away with Murder" in Los Angeles during the awards show. Upon graciously accepting the second SAG Award of her career, Davis gave an emotional speech revealing the bedtime stories she reads to her four-year-old daughter, Genesis.
"Alright, when I tell my daughter stories at night, invariably a few things happen," Davis began. "Number one, I use my imagination. I always start with life and I build from there. And then the other thing that happens… She always says, 'Mommy, can you put me in the story?'"
The starlet went on to thank writers and producers of "How to Get Away with Murder" as well as their decision to cast her as Annalise. "It starts from the top up, so I'd like to thank Paul Lee, Shonda Rhimes, Betsy Beers… and Pete Nowalk … for thinking that a sexualized, messy, mysterious woman could be a 49-year-old dark- skinned African-American woman who looks like me," Davis added.
Lastly, the "Blackhat" star thanked all of her fans for loving and supporting her along her career, including the fact that the actress frequently decides to forgo hair and makeup on camera and on the red carpet.
"Thank you to all the people who love me, exactly how God made me," Davis said with tears in her eyes.
In addition to referencing her tendency to embrace her natural look by going without makeup and hair, Davis' acceptance speech may have also reflected a past interview in which she addressed a critic who called her "less classically beautiful."
"I've heard that statement [less classically beautiful] my entire life," Davis said while on "The View" last year.
"Being a dark-skinned black woman you hear it from the womb," she continued. "And 'classically not beautiful' is a fancy term for saying ugly. And denouncing you. And erasing you. Now … it worked when I was younger. It no longer works for me now. It's about teaching a culture how to treat you. Because at the end of the day, you define you."
Watch Davis' SAG Awards acceptance speech on YouTube here.