Viral Photo Shows Marine Praying With Bride Before Wedding Ceremony
A photo of a marine and his bride praying before their wedding ceremony has once again gained the attention of the internet after initially going viral in January.
The photo shows marine Josh Curtas, holding hands with his fiancé, Bre Curtas, minutes before their wedding ceremony, which took place in August 2012 in Lynchburg, Virginia.
The bride and groom are seated at a corner, bowing their heads in prayer and holding hands without looking at each other, in order to keep with the tradition of waiting to see each other until the wedding ceremony.
The photo originally went viral in January 2013 when Bre Curtas wrote a blog post, entitled "Power of Prayer," detailing her and her groom's decision to include God in their wedding day festivities.
The picture quickly went viral on the internet, gaining over 65,000 "likes" on Facebook, and it once again went viral this past week when Bre Curtas did an interview with the New York Daily News regarding the iconic image, which was taken by wedding photographer Kimberly Burke.
Curtas told the news outlet that faith has played an important role in the couple's relationship, as they decided to wait until marriage to have sex, and therefore sharing a prayer before their wedding seemed fitting.
"Everything culminated in that moment right there," Curtas told the New York Daily News of their shared prayer.
"Faith was a huge part of our relationship and plays a role in everything we do," she added.
"I think this photo has gone viral because it's not about me," Curtas continued.
 "No one is looking at it for my dress or the venue or my hair or jewelry. That stuff doesn't matter."
"I think people are touched [by this photo] because it's two young people taking a minute to forget about those things and thank the Lord for what He's done," she added.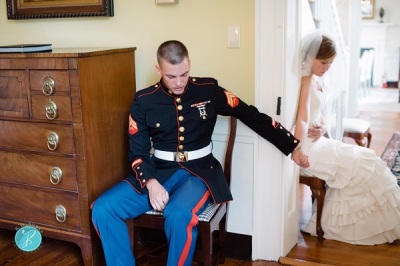 Curtas divulged on the details of her intimate pre-ceremony prayer on her January blog post, in which she elaborated that the prayer resembled how she and her groom planned to maintain their marriage through thick and thin.
"My husband prayed that God would bless our marriage, that through thick or thin together we would never lose hope in one another. That instead of focusing on each others' imperfections we would always rely on Christ's perfection. That we would wake up every day and choose to love one another not through our own strength but by the power of Christ's perfect love," Curtas wrote.
The bride also said that Christ's presence in the couple's lives was especially important because they chose to wait until marriage to have sex.
As Curtas wrote, God helped the couple maintain their sexual purity through times of temptation and weakness.
"I share all of this because in that prayer we prayed, which was captured here on camera we asked the Lord to use our wedding to bring Him all of the glory that He rightfully deserved. We had not gotten where we were by our own strength, but by His hand of protection on our relationship," Curtas wrote.
Burke, the woman behind the lens of the inspiring photo, told The Huffington Post that she finds the photo to be telling of the immense commitment shared between the couple, as seen through their willingness to wait until marriage to have sex.
"That commitment will carry them through many days ahead whether they be joyous or sorrowful," Burke said.
"In the society in which we now live, it is rare, indeed, to see this love and with such a beautiful story BEHIND the picture, I felt it needed to be shared," the photographer added.
The Curtas couple still resides in Lynchburg, Va., where Bre, a 23-year-old graduate of Liberty University, works as a director of resource development at Urban Mountain Adventures, and Josh, 24, is a marine and works as a salesman for a hardware business.