Virginia Baptist Church's $1 Million Largest Faith-Based Donation to Smithsonian African American Museum
Virginia Baptist Church's $1 Million Largest Faith-Based Donation to Smithsonian African American Museum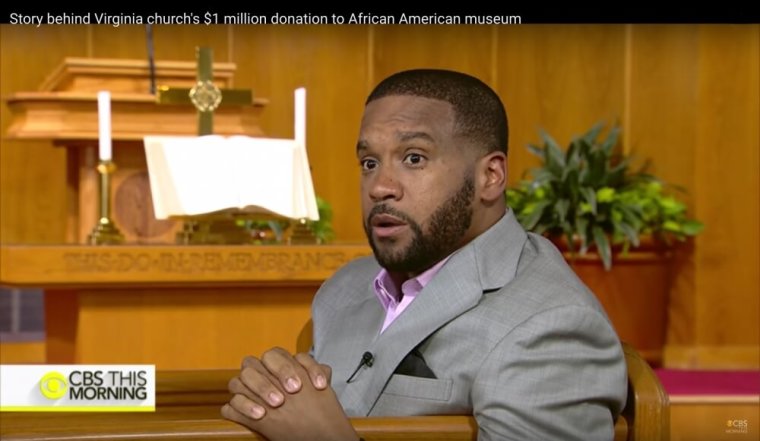 Alfred Street Baptist Church in Alexandria, Virginia, has committed $1 million in donations to the Smithsonian's National Museum of African American History and Culture in Washington, D.C., which opened Saturday with a dedication ceremony presided over by President Barack Obama, former President George W. Bush and others.
The largely African-American church was approached by the Smithsonian Institution and some members of the church who are in the development team and told that "the museum was seeking contributions and looking for faith-based organizations to lead the way and be a founding donor," the Rev. Dr. Howard-John Wesley, the church's senior pastor, told CBS News.
"I spoke to the leadership about it, prayed about it, and believed that was the right thing to do, went to the membership, and with unanimous approval, they said they wanted to be part of it, and that they support the church launching out to be the first, and turned out to be the only faith-based institution giving a million dollars," Wesley added.
The pastor said the donations for the museum, devoted to the history of African-Americans, given by the church members range from 50 cents to $20,000.
A grade three kid gave two dollars in an envelope, asking the pastor if that would help the museum to open, and an 80-year-old member gave $20,000, Pastor Wesley said.
"This national museum helps to tell a richer and fuller story of who we are," President Obama said at the opening, according to The Associated Press. "It helps us better understand the lives, yes, of the president, but also the slave. The industrialist, but also the porter; the keeper of the status quo, but also of the activist seeking to overthrow that status quo; the teacher or the cook, alongside the statesman. And by knowing this other story, we better understand ourselves and each other," he added.
The names of some big donors are on prominent spaces inside the museum, including the Oprah Winfrey Theater; the Michael Jordan Hall: Game Changers; and the Robert F. Smith Explore Your Family History Center.
Obama was joined on stage by former President Bush, a Republican, who signed legislation establishing the museum in 2003. John Lewis, a veteran civil rights activist and Democratic congressman from Georgia, who co-sponsored the bill, was also on stage at the opening.
"A great nation does not hide its history," Bush was quoted as saying at the ceremony. "It faces its flaws and corrects them."
"All their voices, roaming for centuries, have finally found their home here, in this great monument to our pain, our suffering and our victory," Lewis was quoted as saying.
"The historic significance of the newest and 19th Smithsonian museum – and its importance to all Americans – will make it an unprecedented local, national and international event unlike any other opening of a cultural institution in America or globally in recent memory," the museum said on its website.