Virginia Chick-fil-A Opens Doors on Sunday So Displaced Church Can Worship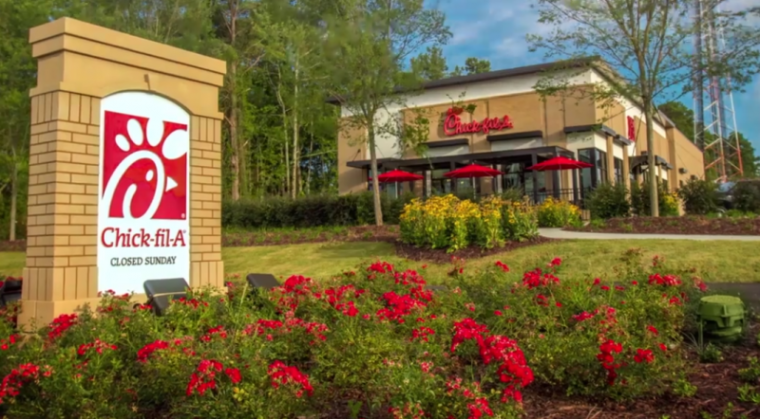 Since 1946, fast food restaurant chain Chick-fil-A has shuttered its stores each Sunday to allow employees "to rest and worship if they choose." Last Sunday, however, a Chick-fil-A restaurant in Henrico, Virginia, was open for business but it wasn't the kind that involved the sale of chicken and biscuits.
White Oak Community Church, which usually holds services at the Econo Lodge on Williamsburg Road in Sandston, suddenly learned on Sept. 3, that they could no longer use the hotel's ballroom for worship.
"Good morning White Oak family. I'm going to cut right to the chase. Upon arriving to our current worship location we found that the building has signs on the door. The only legal use of any of the spaces are for the Econo lodge to conduct business. We obviously do not have church this morning. We have a team of people who are currently working to move our equipment out of that space," the church leadership revealed in a worried note to congregants on Facebook.
"We will be working diligently this week to find a new worship location and we will keep you updated. I am so sorry for the inconvenience to you all this morning. I am so grateful for your continued support as God continues to build His kingdom and Sandston. Know that this is only a minor setback. Often God sandblasted us out of places in order for us to see the next great thing that he has for His church. A little frustrated this morning, but excited for what God has for our future!" it ended.
Thankfully for the church, however, one of the church's board members happened to be a Chick-fil-A employee, according to WTVR. At an emergency meeting the same day the church found itself without a home, the Chick-fil-A employee called her boss and explained her church's worship struggles. And he agreed to let them use the restaurant to praise the Lord.
The Christian Post contacted Chick-fil-A about the decision Wednesday morning and a response is still pending.
The church's pastor, Dave Wilde, noted in the WTVR report how thankful he was to Chick-fil-A for hosting them.
"I did want to send a huge thank you to Greg Williams and Chick-fil-A for graciously agreeing to host us next Sunday," Wilde said. "No they are not serving food ... You cannot order chicken biscuits at Chick-fil-A next Sunday."
Tricia Turpin Goza, who attended the service at Chick-fil-A, told the network that about 30 people attended the service at the restaurant and she was thankful they were able to worship on Sunday.
"I think it's awesome that the Chick-fil-A in White Oak is opening its doors on a Sunday to allow a temporarily displaced White Oak Community Church to hold service," Goza said.
Chick-fil-A's decision to remain closed on Sunday was influenced by Southern Baptist roots of the company's founder, Truett Cathy.
"Our founder, Truett Cathy, made the decision to close on Sundays in 1946 when he opened his first restaurant in Hapeville, Georgia. Having worked seven days a week in restaurants open 24 hours, Truett saw the importance of closing on Sundays so that he and his employees could set aside one day to rest and worship if they choose — a practice we uphold today," the company explains on its website.