Tony Evans, Chuck Swindoll, Donald Trump pay respect to Charles Stanley at legacy celebration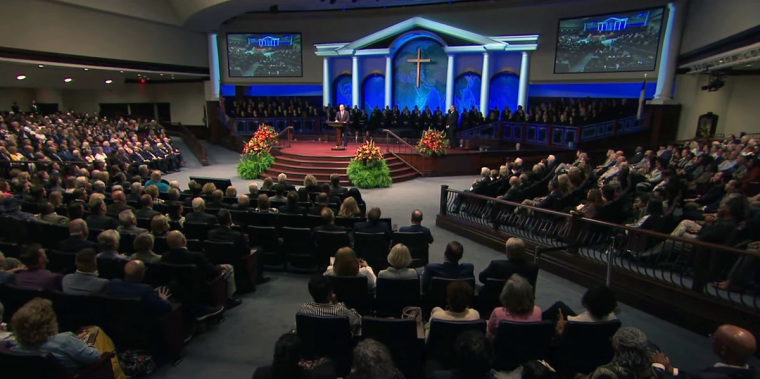 Prominent Pastors Tony Evans and Chuck Swindoll, as well as former President Donald Trump, were among those who paid their respects to the late Pastor Charles Stanley at a legacy celebration held at his church on Sunday. 
The service was held at First Baptist Church of Atlanta, Georgia, where Stanley served as senior pastor for nearly 50 years, and featured several musical selections and messages of remembrance given in person and via video.
Evans, the senior pastor of Oak Cliff Bible Fellowship of Dallas, Texas, said in a video message that he wanted "to join the chorus of voices that are celebrating the home-going of Dr. Charles Stanley."
"We have all been impacted, influenced and transformed by his ministry locally, nationally and internationally," said Evans. "Through the hard times and the celebratory times, he has stood on the Word of God, preaching it week in and week out."
"His influence is not just for the time he was here, but should long outlive that time because the Word of God was so poignant and so potent that the truth will keep marching on."
Pastor Chuck Swindoll of Stonebriar Community Church in Frisco, Texas, gave a video message in which he said he "really admired" Stanley and how the late pastor "handled the Word of God with such ability and such charm."
"His presentations were always lively and on target, accurate and meaningful. I give thanks for his life," Swindoll said. "He is at home with the Lord in that perfect place, in that perfect setting with the Savior he preached and loved and knew so well."
"We say 'goodbye' as Heaven says 'hello.'"
Trump provided a video message for the celebration, giving his condolences and recounting how he "always enjoyed" Stanley's television program and remembered meeting him during his presidency.
"I will always remember his incredible kindness and humble spirit when he met with me in the Oval Office," Trump recounted. "As he prayed for me and the nation, I knew God was hearing that prayer."
"God bless you, Dr. Stanley. God bless you."
Others who spoke in person or in a video message included Pastor Robert Morris of Gateway Church, Pastor Robert Jeffress of First Baptist Dallas, the Rev. Franklin Graham of the Billy Graham Evangelistic Association, In Touch Ministries CEO Phillip Bowen and Pastor David Jeremiah of Shadow Mountain Community Church in El Cajon, California.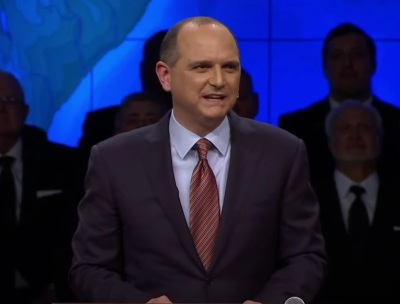 First Baptist Atlanta Senior Pastor Anthony George hosted the legacy celebration, calling Stanley a "warrior of the faith" and described the gathering as a "worship service."
"I want to warn you ahead of time, there's going to be a lot of music in this service because music was what inspired him, music is what sustained him, music kept him going," George said. "And so, we wanted to pick the artists and the songs that we knew he loved."
Much of the service involved attendees singing hymns and had several musical performances from notable performers such as the Southern Gospel band Greater Vision, the Collingsworth Family, Grammy Award-winning gospel singer Cece Winans and, via a video performance, the Brooklyn Tabernacle choir. 
The service closed with all of those gathered in person coming together to sing the hymn "I'll Fly Away," which was reputed to be the late Stanley's favorite hymn.
Last Tuesday, Stanley died at age 90. In addition to pastoring First Baptist Church Atlanta, Stanley was a noted televangelist who founded and led In Touch Ministries and served two one-year terms as president of the Southern Baptist Convention during the 1980s.
In addition to the legacy celebration on Sunday evening, there was a public repose at First Baptist Atlanta on Saturday from 10 a.m. until 4 p.m., and a private family funeral service.