'Water Sunday' Rallies Churches Across US for Global Mission of Hope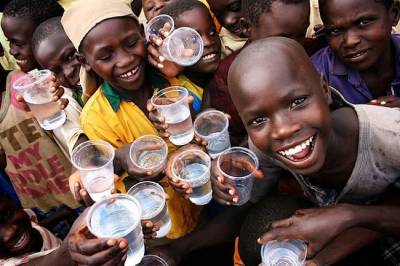 Water Missions International, a nonprofit Christian engineering organization, is launching its second annual Water Sunday project, which seeks to connect hundreds of churches across America to help with a global safe water program that will help impoverished communities worldwide.
During their campaign last year, Water Missions raised over $100,000 dollars and received the help of more than 30 churches nationwide, who pooled together efforts and resources to help raise money and promote the important cause. The group is calling on participating churches to set aside one Sunday in March 2013 to come together and once again hold a fundraiser for the safe water projects, which involve developing treatment systems.
"Many resources are available to make sure a church is fully equipped for a Water Sunday program that is transformational its congregation. It's a user-friendly mission that presents a tangible opportunity for a church to get involved with meeting the most basic human need – safe water," Kevin Herr, the Church Engagement Coordinator at Water Missions, shared with The Christian Post.
The organization says that 884 million people around the world lack access to clean water, and 1.4 million children die each year as a result of the crisis. Nonetheless, a 2009 health impact study reports noted that Water Missions International has managed to reduce the number of waterborne illness-related clinical visits in impoverished communities by as much as 52 percent.
This year, the nonprofit hopes to rally over 100 churches across America to participate in this year's campaign, and if each of those churches manage to raise at least $5,000, then 33,000 people currently lacking safe water would be provided access to the life-giving commodity.
Water Missions has full-time water programs in Indonesia, Peru, Mexico Honduras, Haiti, Malawi, Uganda and Kenya. Herr told CP that one of the communities that was particularly in need of urgent help last year was Kimmi Island in Uganda, located near Lake Victoria.
"Three thousand people live on Kimmi and majority of the population is made up of fishermen. While there is rain water harvesting on Kimmi, the community is usually forced to use water from the lake for their daily needs. Drinking this water caused widespread illness, including typhoid, cholera, bilharziasis and diarrhea. Water Sunday made it possible for the thousands of people on Kimmi to start using safe water and drastically improve their quality of life," Herr explained.
As for the communities and their response to the relief efforts, the coordinator said that they often see the safe water solutions as a source of hope.
"Access to safe water in a community that previously had none fundamentally changes the life of the community and its citizens. The local Water Missions International staff also host Pastor Training Conferences, with a goal of providing local ministries with a tool to expand their outreach and better meet the needs of their neighbors," Herr said.
Water Missions has worked in as many as 49 different counties on five different continents since their foundation in 2001. The group says it has provided access to safe water to more than 2.4 million people, an has received the Charity Navigator's top rating six years in a row. Charity Navigator is one of America's largest independent charity evaluators.
"At the end of the day it's about the Gospel moving forward – safe water is the platform that allows us to do that," the organization says in a video highlighting its work.