WEA Head Announces He Will Step Down at End of 2014
The World Evangelical Alliance announced on Friday that Secretary General and CEO Rev. Dr. Geoff Tunnicliffe would not be seeking a third term, and that he would step down from his position when his current term concludes in December 2014.
Tunnicliffe was elected in 2005 and served two five-year terms; he announced his decision to conclude his tenure during the annual meeting of the WEA International Council.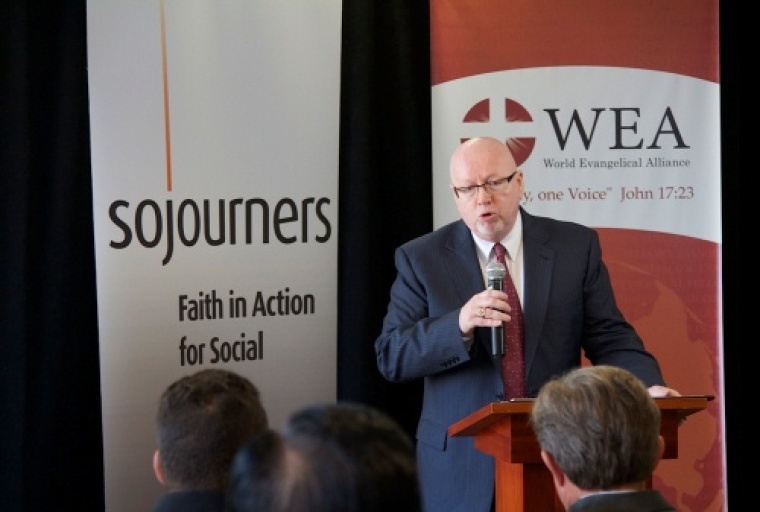 Tunnicliffe told The Christian Post that his decision to not seek re-election both came from his desire to cede the position to a "younger leader," and to travel less.
"From a personal perspective, the challenge of traveling 200,000 miles a year has its wear and tear on the body," he said.
During his tenure, Tunnicliffe was known for his positivity and desire for the world to know "not what [Christians are] against but what we're for." He cultivated relationships and reached out to individuals as diverse as Pope Francis, the Archbishop of Canterbury, the Koran-burning Florida pastor Terry Jones and Imam Feisal Abdul Rauf, who was at the forefront of a campaign to build a Muslim cultural center near the site of the World Trade Center in New York.
Last year, Tunnicliffe attended a conference put on by the Jordanian monarchy that examined how the region could better protect its Christians. Next week, Tunnicliffe heads to Israel where he will be meeting with Jewish leaders before speaking at a conference about Israeli/Palestinian relationships.
Tunnicliffe named "Son of God" producers Mark Burnett and Roma Downey as two of the closest relationships he made over the course of his tenure. His relationship with Burnett began when the Hollywood executive called Tunnicliffe to ask how he could do more to support the persecuted church.
While always meaning to follow up with the conversation, Tunnicliffe did not speak with Burnett again until he ran into him at the National Prayer Breakfast several years ago — an event the WEA leader almost did not attend because he was fatigued from traveling.
When a friend connected them in person, Burnett told Tunnicliffe that he had been "thinking about [him] all week and that [they] needed to talk."
"From that moment, the Lord has sent me a journey with Mark and Roma through "The Bible" series and "Son of God" but beyond that to build a friendship about building Christian unity," he said. "To me that's one of those 'a-hah' moments which you can't plan for and there's been many of those stories."
Tunnicliffe added that his job had also put him in touch with Christians, who while lacking celebrity status, moved him through their devotion to their faith.
"I've had this immense privilege of meeting Christians who are living in challenging and difficult circumstances, whose names [are] not known around the world. I've been extremely blessed by seeing their sacrificial lifestyles and their love for Jesus in spite of very difficult circumstances," he added.
While Tunnicliffe admitted that he finds the "glass half full" as he prepares for his final nine months in the position, he has several outstanding regrets.
"With all of our engagement in Sudan and Syria, I long that we could have done more and I've said 'Lord what more can we do?' When I think there's a conflict still going on in South Sudan or the Central African Republic or the DRC-thing, if we had greater capacity to respond to some of these very tragic situations," said Tunnicliffe.
Tunnicliffe's decision comes a month after the WEA announced it would be postponing its General Assembly scheduled for October 2014 in Seoul, South Korea due to internal divisions in the evangelical community there.
The WEA head said that he prays for unity, not only within South Korea but across Christendom.
"My hope is that we'll be seen as a movement that is committed to God's purposes of building more peaceful societies but also involving a commitment to reconciliation, that we are reconciled to God but we also need to be reconciled to each other," he said.
Speaking about Tunnicliffe's departure, Rev. Ndaba Mazabane, Chairman of the WEA International Council, has said: "Geoff is leaving the WEA in great shape. His contribution to the work has been outstanding. God led Geoff to us in His providence and has now led him to leave the position to younger leadership to take on the role as the WEA moves on to make a renewed contribution to a changing worldwide Church."
Tunnicliffe's term will end on December 31, 2014. The International Council has begun conversations about the selection of a new Secretary General.
Founded in 1846, the WEA represents 600 million evangelicals worldwide.