'We're Humans,' Joy-Anna Duggar and Husband Say After Breaking Duggar Courtship Rule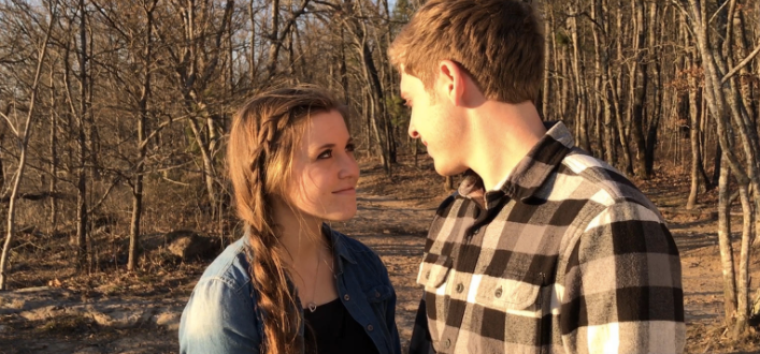 Joy-Anna Duggar and Austin Forsyth were caught on camera breaking a Duggar courtship rule in an exclusive sneak peek at Monday's "Counting On" finale.
During TLC's two-part "Counting On" reunion, Joy-Anna and her new husband, Forsyth, were grilled by Daphne Oz about sharing a full hug after their marriage proposal this past March. The Duggar family have a known rule that only side hugs are allowed during courtship. However, Forsyth and the Duggar daughter shared an innocent full hug in celebration of their engagement and said it was just a mistake.
"We're humans and sometimes we don't always abide perfectly by our rules," Forsyth told Oz in the reunion. "We try. That was a real hard try."
Joy-Anna, 19, admitted that she had no idea cameramen were watching from afar hiding in the trees of the Arkansas trails where Forsyth popped the question.
"I didn't even notice that they were there," she added. "I thought it was just us there, and that was really special."
Forsyth chimed in, "Those cameramen look like trees."
Since the camera crew were nowhere in sight, Duggar maintained that she really didn't expect to be proposed to. "I kept trying to talk myself out of it. I'm like, 'Surely it isn't happening right now,'" the reality star said.
Two months later the happy couple were married.
Joy-Anna and Forsyth shared their nuptials in a private ceremony on May 26 in Arkansas. The newlyweds told PEOPLE exclusively at the time: "We feel so happy and so excited." Click here to see Joy-Anna and Austin's wedding photos.
After the wedding, Joy-Anna and Austin traveled to Switzerland for their honeymoon. There's also going to be another wedding in the family soon because on the night of their wedding, Joy-Anna's brother, Joseph, proposed to his girlfriend, Kendra Cardwell.
"Counting On" ends its current season Monday at 9 p.m. ET but will be back on TLC with new episodes kicking off on Sept. 11.