'Who is Keira Bell?': Parents launch mobile campaign warning against trans medicalization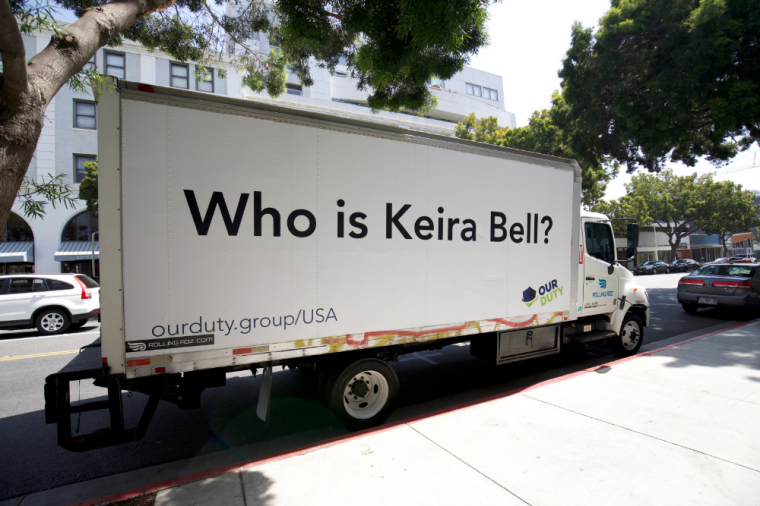 Amid a corporate media blackout about the harms of chemical and surgical sex changes for children and teens, a new mobile billboard campaign is highlighting the story of Keira Bell, a young British detransitioner who won a court battle against a gender clinic that encouraged her to take puberty blockers and cross-sex hormones, which she wound up regretting.
 
Set in motion earlier this week, a mobile ad emblazoned with the message "Who is Keira Bell?" will be seen throughout the Los Angeles metro area to draw attention to the 24-year-old British woman who once identified as transgender, in hopes that passersby will be inspired to research her story. The ad campaign will run in LA for one month. 
Accompanying the message is the website address for the U.S. branch of Our Duty, an apolitical non-religious group that describes itself as "an international support network for parents who wish to protect their children from gender ideology."

The Los Angeles-area parents of trans-identifying teens are sponsoring the campaign, which comes on the heels of a previous initiative where the same group erectedbillboards promoting journalist Abigail Shrier's book,Irreversible Damage: The Transgender Craze Seducing Our Daughters, near medical institutions where these experimental practices are taking place.
Since the corporate media have largely avoided reporting on health concerns raised by parents about the prescribing of puberty blockers and cross-sex hormones to children seeking help for gender dysphoria at pediatric transgender clinics — one of the largest being the Children's Hospital-Los Angeles — they have resorted to unconventional means to alert the public about the myriad medical risks and harms, including those that Bell suffered.  
"It's getting people to ask questions, to ask themselves, 'What is this?'" said a Los Angeles mother who's backing the mobile ad campaign and spoke with The Christian Post on condition of anonymity.
"I have taken a literal turnaround in the last two years. I'm absolutely shocked as a lifelong liberal Democrat that the institutions of all stripes — not just newspapers — that I have trusted ... have completely ignored this story and this evidence, and what parents have come to on our own," she said when asked about what she makes of the scant media coverage in the U.S. about the Bell verdict and related issues. 
Bell argued in the judicial review against the London-based Tavistock and Portman NHS Trust that the clinic didn't adequately inform her of the longterm repercussions of the experimental practices she underwent as a teenager, such as taking puberty-blocking drugs and cross-sex hormones in order to appear more male, and that she was not mature enough to make those kinds of decisions as a psychologically suffering minor.
Bell went on to have an elective double mastectomy (surgical breast removal), and as an adult, she now regrets the body mutilation she endured, which she detailed at length in an April 7 statement. 
The U.K. high court ultimately sided with Bell late last year, ruling that children younger than 16 are incapable of giving informed consent under the relevant standard in British law. The court also criticized the Tavistock clinic for its record-keeping practices and lack of adequate data collection pertaining to the number of patients being treated who are on the autism spectrum.

In late March, the U.K. court issued a subsequent ruling in what some said amounted to a partial reversal of the Bell verdict. The court decided that parents are allowed to consent to puberty-blockers on behalf of their children without first seeking a judge's approval. 
Information about these experimental medical practices hasn't been easy to find and parents of gender-confused youth have struggled to locate helpful resources, the mother told CP. Bell's story is familiar for parents of trans-identifying teen girls, the mother continued, inasmuch as the trajectory looks similar to how Bell became mired in gender distress and ended up with regret and irreversible medical complications.  
"You see the outcome and you don't want that for your kid," she said. "And the fact that she (Bell) has been able to be open about her experience has really allowed us to have that conversation. Sometimes the conversations are with our kids, and sometimes with other people who often feel like you're not accepting of your child if you don't condone this."
"But they don't realize that this is all experimental" and should not be perpetrated on young children, she said.
In a Tuesday post about the mobile billboard campaign, Our Duty explained that every company they previously contracted with for the Irreversible Damage billboard ad campaign refused to work with them again.

The legal team for one company that rejected their earlier campaign promoting Shrier's book said they were being turned down because "the author presented opinions as if they were facts," according to Our Duty.
Yet another company told the parents that they deem any variation of the "Who is Keira Bell?" message as an "attack ad" in light of the location and target audience. "The location is Los Angeles, and the target audience is anyone with a curious mind," Our Duty said in response.  

"It is hard to discern what kind of attack we were being accused of mounting, nor against which demographic. Of course, where we sought locations outside hospitals that practice opposite-sex imitation medicine on minors, then it could be interpreted as provocative. But then, is it not the aim of a successful advertising campaign to be a little provocative?" the group added. 

Despite the lack of press coverage and well-known support groups, parents of transgender-identifying children who've managed to find each other have started demonstrating outside gender clinics nationwide, holding placards calling attention to the harms in transgender medical practices. Together with the recently-formed LGB Fight Back — a group of gays, lesbians, and bisexuals who maintain that "transgender identity" is not "gay adjacent" — parents held protests on Feb. 14 in six cities across the U.S. and Canada.

"It was literally crickets," said Carrie Hathorn, national organizer for LGB Fight Back, who told CP at the time that her group sent out press alerts about the Valentine's Day demonstrations but received no response from journalists.

"I was hoping that our actions would break the media blackout but I have now realized how bad it is," she said.