Who is Rebecca Robertson? Duck Dynasty Season 5 Premiere to Introduce Adopted Daughter of Willie, Korie Robertson (PHOTO, VIDEO)
The Duck Dynasty Season 5 premiere will take place on A&E on Jan. 15, 2014, and although fans are familiar with most of the Robertson family, many are asking who is Rebecca Robertson?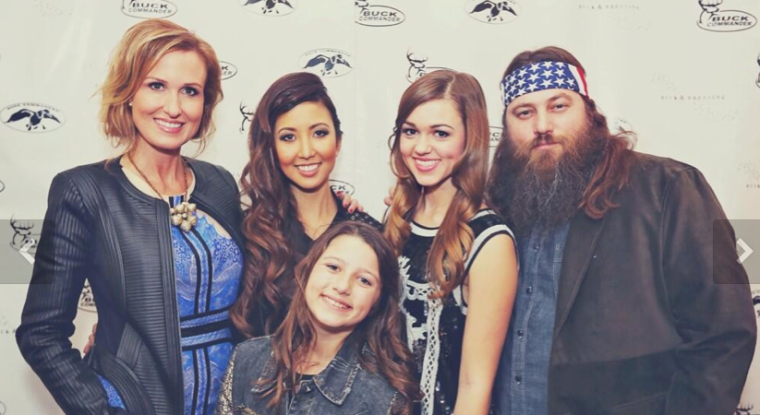 Of course, Phil Robertson is the patriarch of the Robertson family, who founded the successful Duck Commander business, which manufactures duck calls for hunters.
Phil Robertson and his wife Kay also have four children, who fans are very familiar with; Alan, Jason, Willie and Jeptha Robertson.
Extending beyond that, Willie Robertson is also married to Korie, and they have five children together, who include: John, Sadie, Will, Bella and Rebecca.
Of course many will remember that their daughter Sadie, 16, made her first runway debut at New York Fashion Week in September 2013, and she has appeared frequently on the Duck Dynasty show and has become a fan favorite.
However, one family member who has remained more behind the scenes and out of the spotlight has been Rebecca Robertson.
Rebecca is 24 years old, and according to reports she will be joining the show as the newest cast member for Season 5 of Duck Dynasty.
John, Sadie and Bella are Willie's biological children, but Will was adopted at birth and Rebecca is their foster daughter. Rebecca initially stayed with the family as an exchange student from Taiwan, but the Robertson family fell in love with her and took her in as one of their own.
Korie describes herself as a "Mom to four awesome kids plus a sweet exchange student who became ours. Love my big family. Thankful. God is good."
Korie Robertson and Rebecca recently launched a clothing boutique together called Duck & Dressing.
Rebecca Robertson wrote on her blog recently: "Welcome to the Duck & Dressing blog! Its a new year and just wanted to start a new adventure so that maybe I can share some of the fun behind the scenes stuff that goes on around the store and also share some of the styles that we are featuring. We've been working around the clock getting the store running but we've been having some fun too!"
The new season is set to be the most popular yet, as the family has been in the spotlight a lot recently building up to the new season. Phil Robertson was "indefinitely suspended" by A&E recently after he stated in an interview that he believed homosexuality is sin. He referred to the Bible, and made some comments that the family later admitted were coarse, but which they also said they generally supported.
As soon as Phil made the comments, GLAAD and other gay activist groups rallied to call for A&E to drop the Duck Dynasty show from the network. The network gave in soon after and suspended Phil Robertson.
However, that suspension caused an even greater outcry from fans of the show, with hundreds of thousands signing online petitions calling for his reinstatement, many of whom said they would boycott A&E for its treatment of Phil.
Just nine days later, the A&E network caved in and reinstated Phil Robertson, and confirmed the entire family would be back together when filming restarted in spring 2015.
The 5th Season of Duck Dynasty of course has already been filmed and will be airing from January 15, 2014.
See the Duck Dynasty season 5 sneak preview in the video below: