Who Says Christian Music Isn't for Teens?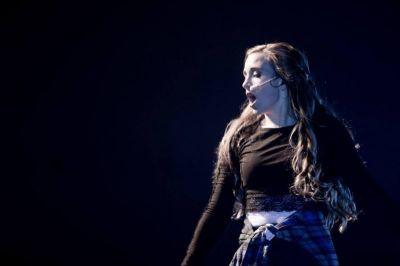 I admit, some of the secular music on radio is very cool and catchy. The beat and a clever hook can get stuck in my head quite easy. Then there's the fact that I write music and work in a studio with amazing producers. For me, the power of music is pretty big in my life at just 17 years old and I know that my friends are easily influenced by it too. This is why I take what I do so seriously. I see in myself and my friends how much music means.
In 2016, I had the opportunity to be part of The Millennial Tour which focuses on youth from eighth grade through early college. Most of the artists on the tour were teens or early twenties, so it made the style of music a lot more relevant to the age of the audience that was coming out to see us each night. As artists, we were able to talk to them after shows and it was incredible how many said that they just don't hear the style of music we do on Christian radio and they were so thankful to find artists that believe in Jesus and represent him, but make music that seriously competes with Top 40 radio.
Of course most listened to guys like TobyMac and Lecrae, but they had never really saw teens or young adults like us so on fire to perform our kind of music and still have a strong message in each one. That tour saw over 150 youth give their lives to Christ in just 9 shows and hundreds more recommit their walk with God.
I'm about to release my first full studio project on May 26 and when writing the music for each song, I couldn't help but think of my friends and how much music can make a difference in their life. Some of them go to church, some don't. Some kind of act like Christians, some don't. But all of them have a playlist on Apple Music or Spotify that they listen to and because the entire world of music is available to them so easily on their phones, it makes it even more important to me to make music that will get and keep their attention.
When I'm creating music in the studio, it just hits me hard that I need to make sure it's something I would want to listen to and maybe dance to. But most important, when you get past the beat and music, are the words I write going to impact other teens in their current life. This sometimes overwhelms me. I struggle a lot with some things like worrying about what people say about me on social media or how I look. If I struggle with those things, I know that my friends do too. They need to know there is a way to get through those struggles with hope and not be left feeling depressed or turn to things that won't help them, but just introduce more hopelessness.
My favorite song on my new EP is called "REBOUND" and the whole idea behind the song is that when you fall down or experience a setback, you don't have to stay there. Like many of my friends may get mixed up in the wrong crowd or do something they really regret and they tend to just stay depressed or hopeless. Some harm themselves or even commit suicide cause they don't see any way out of how they feel. But one thing I've learned already is that when I fall down, I have a relationship with God that helps me REBOUND. I do make mistakes and fall down, but God is always there to pick me up and help me move forward.
If a song has a cool beat and positive lyrics, it will make an impact on teens. I'm tired of seeing my Christian friends get hopeless and turn to music that leaves them feeling sad or like their life is crushed because of a relationship not working out or they hate their life.
I may only be one teenager who believes strongly that Christian music can be cool and still have a message that helps my peers, but I think that's what matters. I'm trying to make a difference in the Christian music industry that tells teens and their parents that it's ok to listen to a song that may not be what they hear on Sunday morning at church or even sound like what their parents Christian music sounds like.
For me, if having a song you can dance to or crank loud in your car and sing at the top of your lungs and sounds like a Top 40 station, I think we would have a whole new generation of committed believers that will become bold about their faith and be proud to share their Christian playlist with their non-Christian friends. You never know what will happen if you don't at least try.
I'm proud to be a Christian artist who teens want to hear, and humbled that God allows me to use my passion to make a difference with them.
Born and raised in New Orleans, Louisiana, Abigail Duhon discovered her passion for music immediately after Hurricane Katrina destroyed the family home and nearly took every natural possession they owned. At only six years old during the crisis, she awoke to hear a song in her heart and wrote out lyrics as a reflection on their sudden circumstances. The song was titled "BEAUTIFUL" and would become one of her first original songs on her debut album released at the tender age of ten. She has been touring nationally since 2013 for music, opening for popular artists, Newsboys and For King and Country while participating in The Millennial Tour, a teen artist lineup national tour. She has worked with Dove award winning and Grammy nominated writers Chuck Butler (Brandon Heath, Royal Tailor), Jamie Moore (TobyMac), Aaron Rice (TobyMac), Ian Eskelin (Francesca Battistelli, Britt Nicole), and Ahmande "Mondo Grimes" (Nicole C. Mullen).