Why Black Church Leaders Often Get Away With Sexual Misconduct, and the Woman Breaking the Silence
Threats and Bible Thuggery
Prior to that day, Garrison said Couzens and his supporters had been attacking her like a rabid pack of wolves. This reporter also received communication from random persons through email and social media tacitly suggesting the model's voice was not worth hearing.
"His family started threatening me. Telling me they can have me disappear," Garrison said of the first day she went public about her relationship with the 41-year-old pastor.
Couzens' Christian mother, she said, also told her "die, b--ch, die" on social media while members of his congregation called her names like "Jezebel," "harlot" and "whore."
The New York City Police Department confirmed to CP that detectives were investigating an aggravated harassment complaint filed by Garrison. She alleged someone threatened to release explicit videos from her time with Couzens unless she recanted certain claims about her relationship with him.
Instead of making her back down, however, Garrison, a former ministry leader who was "sat down" in her father's Cincinnati church for getting pregnant out of wedlock as a younger woman, said she is starting to believe that maybe her decision to come forward is the Lord's work too.
"He's threatening. He is a gun-carrying Bible thug," she said of Couzens.
"I'm not scared of him. He can come to New York if he wants to. I carry a gun, too, and I got a license too. What's up? I stand convicted on the fact that I know that I have not lied on him. He tried to quote Scripture that 'God said don't touch my anointed' and you're gonna lose everything," she alleged of Couzens' personal threats to her.
"I know what my personal relationship with God is. He's not gonna let nothing happen to me 'cause I ain't did nothing wrong. I have nothing to fear. If I was lying and I was making up stuff I would be scared out of my mind," she said.
"As far as I'm concerned the church enabled his behavior. The church allowed him to continue to do what he's done even after it has been brought to them time after time after time after time. I blame the church. I blame Inspirational Baptist and I blame Full Gospel for my pain as well, because they let him do it," she said.
Something 'Corrupt' and 'Manipulative'
While admitting he didn't consider himself a paragon of virtue, internet personality and former pastor Larry Reid said he found the 41-year-old pastor's behavior especially egregious and in need of intervention.
Reid first interviewed Garrison after she went public. With some help from the model, he subsequently spoke with seven other women, including married ones, who say they had sexual relationships with Couzens, a divorced father with several children.
He said he confirmed the sexual involvement of the women with the pastor separately and found that like Garrison, all of them were able to provide some evidence of their relationship with him.
During a recent broadcast, Reid, who pastored for more than 20 years, said the similarities between each of the stories provided by the women painted Couzens as a troubled man with a serious problem.
"It ain't just you, a minister, and you flawed. It ain't just you single ... you got something wrong with you. And it's been wrong with you so long to where it's like a marriage. There ain't no telling where it ends or you begin. Y'all just one thing," Reid said, directing comments at Couzens.
"And so now, out of that wound, you have a way of being, a methodology and pathology and way of dealing with women particularly that is deceptive, corrupt, manipulative, and deceitful 'cause all of these women, you say you gon' marry them. All eight.
"All of their stories line up. The same lines you used across the board. Similar lines. That let me know that you might not know something wrong. Somebody needs to tell you, this is not how you deal with people because it creates what you're sitting in right now."
How the Pastor Approached the Women
Garrison subscribes to a very liberal interpretation of Scripture concerning Christian sexual behavior.
"I don't believe that if you have sex before marriage that you're going to Hell and that you're not a Christian. I don't believe that if you have a drink that you're going to Hell," she told CP.
It is that interpretation of Scripture, she said, that allowed her to enter into a sexual relationship with Couzens. That, along with the help he gave her through sometimes tough situations. Couzens' recently revealed behavior, however, went beyond the limit of what she considers morally acceptable.
"Once you start doing things that is morally wrong like having 30,000 women ... and you don't give me the opportunity to decide for myself about being in that type of situation, then that's when I have a problem," she said. "Then that's when you're going against what you preach because you're preaching that it's man and woman — not man and 10,000 women."
And lately, after comparing notes with several of the preacher's other lovers, she has come to understand that Couzens used the cover of his church to approach all of them.
"The scary part about it is there is a pattern. He's choosing women that he met at his church and then reached out to most of us on Facebook after the fact using the little cards that they give out," Garrison said.
"He met all of us in our early 20s. All of us had a traumatic childhood. None of our biological fathers are in our lives, a couple of us were pregnant when he met us. And then he ends up cutting us all off right before we hit 30. It's a pattern," she explained.
In her case, Garrison said Couzens was able to manipulate her because of her background as she accepted financial help and emotional support from him.
"I went into the foster care system at age 1. My biological family is very dysfunctional. My twin brother was murdered a couple years ago. I know what it's like to be raped in a foster home. I know what it's like to be abused in a foster home. I know what it's like to be bounced around. I never had anybody consistent in my life in all honesty, and he was and he fed on that. He would throw that at me," she said.
"He used the fact that he was the only consistent person in my life. And being in foster care, when you find somebody consistent, somebody that's always there for you, you latch on to that person.
"He got me at the age of 20. I was fresh out of the system. I was lost, I was confused. I didn't know who I was. And if you look at the histories of any of the other women, all of our backgrounds are similar. They may not have been in foster care but they didn't have anybody consistent and he uses that. The moment you get out of line it's the first thing he says to you."
Couzens and many of his defenders have argued that the relationships between him, Garrison and the other women were consensual. With her newfound clarity, Garrison doesn't completely agree.
"He says it was consensual? No! What was consensual was he and I's relationship. Not me and him and 30 women and allegedly a few men here and there. I did not consent to that," she said.
She argued that it was the belief that her relationship with the preacher was exclusive that also made her agree to have unprotected sex with him. His deception in this area signaled he did not care about her health, she said.
"The fact that after everything that has been brought to light you're still gon' lie, you need to get off the pulpit. Why are you in the pulpit? I should be in the pulpit. At least I ain't lie. I told the truth," she declared.
Silence
It was earlier this spring when CP first learned of several current high-profile black pastors who were alleged to have fathered one or more children with women who were not their wives.
Several of these allegations were investigated by CP through child paternity lawsuits, interviews with affected women and church administrations. Questions presented to church administration officials and in some cases sent directly to church leaders were met with silence.
Some women who alleged they were involved in these cases begged that they not be identified or included in this story for reasons including safety and privacy for their children. To respect those wishes, CP has decided to include only this response from one woman who asked that she not be named.
"Never was a mistress. I was misled and a decision I deeply regret....Suffered consequences for my choices....definitely don't want to revisit the issue as people aren't who they portray," the woman ended.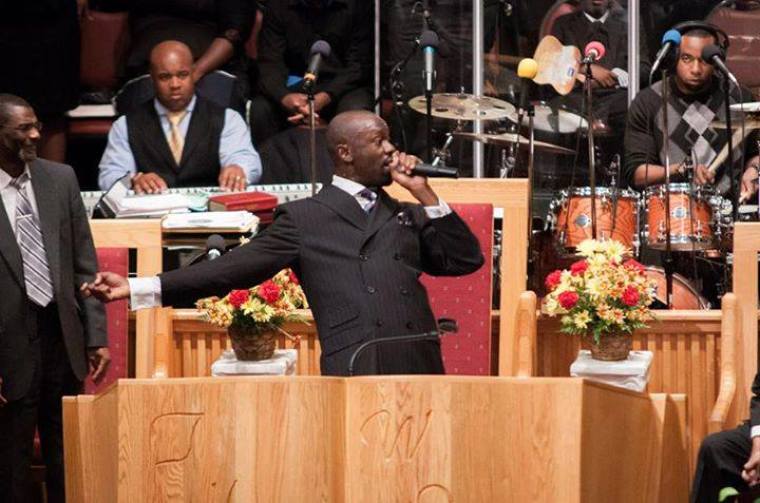 In other publicly reported sexual misconduct cases such as one involving the Rev. O. Jermaine Simmons Sr., pastor of the popular Jacob Chapel Baptist Church in Tallahassee, Florida, victims declined elaborating beyond earlier news reports when contacted by CP.
"This January I had a glass of wine with a close friend on the anniversary of that stressful day, and decided to bury that time of my life," Benjamin Stephens, who was cuckolded by Simmons, said in an email last month.
In January 2017, Stephens pulled a gun and forced Simmons, who is now his former pastor, to run for his life naked after he arrived at his home and found the preacher having sex with his then wife, Claynisha, in his daughter's bed.
"I'd be digging up something that I already buried, and resurrecting new demons. No thanks. I'm in a good positive place right now," he told CP.
Like Couzens, Simmons was never "sat down" for his misconduct.
Just days after the incident, he was recorded telling his very supportive church that it was better for him to remain committed to God's work in the pulpit.
"If I stop preaching, if I stop doing what the Lord called me to do over this, it presupposes that I was qualified to do it in the first place. If I quit, if I walk away over this, it presupposes that I deserved to preach last Sunday when there was no scandal," he said in justifying his decision to not step down.
When contacted recently to hear what steps the church had taken to ensure Simmons would not fall into sin with his parishioners again, his staff said he was preoccupied with funerals and other church business and he would not be available for any interviews for the rest of the year.
The Extreme Case That Forced Action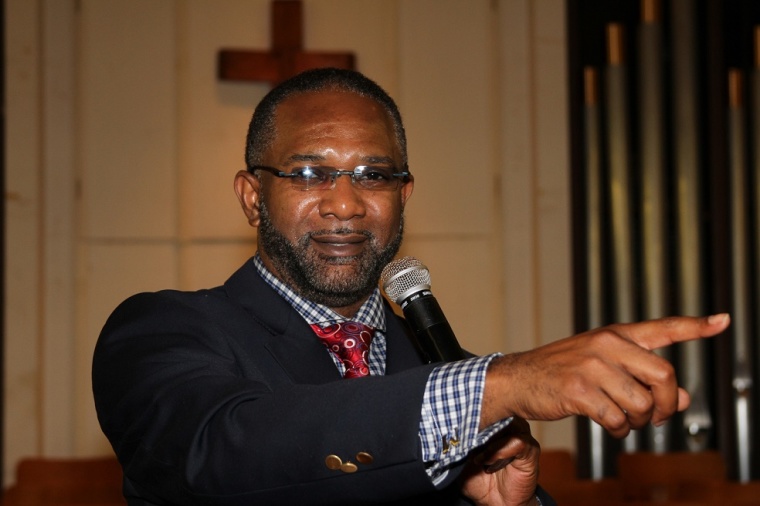 In 2014, Juan Demetrius McFarland, a preacher in Montgomery, Alabama, told his then congregation at Shiloh Missionary Baptist Church that in 2003 he contracted HIV which developed into AIDS in 2008.
He confessed that he knowingly slept with church members inside the building without revealing his status, and also abused drugs and mishandled the congregation's money.
Even after that confession, McFarland returned to the pulpit, appearing "full of the spirit" and supported by about 50 members of the congregation he pastored for 24 years.
McFarland refused to step down, even after deacons voted to have him removed. They were later forced to file a lawsuit to have him removed. The lawsuit alleged that McFarland changed the locks on the church and one of his supporters threatened to shoot them if they came back.
He was finally removed only after a judge ordered him to go.
Tracking Sexual Misconduct
To get a more comprehensive snapshot of how sexual misconduct is being handled in black churches, CP reached out to the six leading historically black denominations in America regarding policies concerning the handling of clergy sexual misconduct.
The denominations were also asked to say whether incidents of clergy sexual misconduct were being tracked and whether they could provide any data to support this.
Questions were sent to: The Church of God in Christ, National Baptist Convention, USA, Inc, National Baptist Convention of America, National Missionary Baptist Convention of America, Progressive National Baptist Convention, Inc., and The African Methodist Episcopal Church.
Charles Moore, a deputy commissioner with COGIC, which has about 5.5 million members, said verified cases of sexual misconduct usually results in dismissal if it's proven.
An allegation alone that isn't substantiated by evidence of the misconduct, he said, would not be enough to get a pastor dismissed in COGIC.
All other questions were directed to the organization's legal department.
Responding after more than a month, Uleses C. Henderson Jr., from COGIC's Office of the General Counsel, said he forwarded questions from CP to the denomination's management team and did not receive a response.
He did say, however, that the denomination treats sexual misconduct among leaders seriously and confirmed that a policy for handling misconduct exists.
"I can say that The Church of God in Christ takes these types of matters very seriously. Our organization has a sexual misconduct policy that has been in place for many years and it takes action against its clergy who have been proven to engage in such conduct," Henderson said.
The Black Church's Governance Problem
While Garrison's campaign to mobilize women to push for change in black churches is a positive one, Valerie Cooper, associate professor of Religion and Society and Black Church Studies at Duke Divinity School, says holding pastors accountable is often a difficult task due to, among other things, weak governance systems where usually, there is no one more powerful than the pastor.
"It is a problem across evangelicalism in particular that there is not always strong governance. So there might not be an independent board of elders, for example. The pastor might be part of a loosely affiliated almost sort of kinship network of other pastors, or other leaders might sit under an unofficial bishop or some other sort of overseer," Cooper explained.
"It's not corporate governance. It's more like kinship governance. And so there may or may not be anyone in authority to be able to step into a situation that has gone wrong," she said.
She noted that in denominations such as the Methodist church, usually the building belongs to the denomination. If the pastor gets "crazy," one form of discipline the denomination can enforce is to take the building.
In many Baptist churches where there is congregational polity, discipline is harder to enforce when pastors go rogue.
"Baptist churches have congregational polity, which means that there is not a bishop. If, for example, a Methodist church goes crazy, the bishop can step in," Cooper said.
Cooper explained that when Baptist leaders, for example, engage in misconduct, it's usually very difficult to remove them unless they are under the authority of an independent elder board.
In the absence of an independent board or some other similar body in churches with congregational polity, Cooper agreed with Garrison that if justice is to be achieved, the congregation itself will have to act.
"In a Baptist context or in a Pentecostal context, because it is congregational polity, a committee in the congregation hired the pastor. So what has to happen is a committee or someone else in the congregation has to rise up within that congregation and say this pastor is gone. Now, no one in the whole congregation has as much power as the pastor does. So if you want to have this conversation you better do it before he steps up to preach," she said.
"In the civil rights era, in white churches in the South, the best way to lose your job in a congregational polity church was to preach about civil rights. Then, enough people would get angry and remove you. So that's the way to lose your job — if enough people in the congregation get angry and they remove you," Cooper said.
Najuma Smith-Pollard, program manager of the University of Southern California's Cecil Murray Center for Community Engagement, agrees with Cooper that black churches need to employ better systems of governance and encourage more open dialogue on pastoral sexual misconduct to better address the issue.
"I think what we can do better as a black church is to work on some best practices to avoid sexual misconduct or the appearance of sexual misconduct," Pollard said.
"I think that we can do better at sharing but also attaining resources ... not just put policy in place but also systems, and then also dialogue," she said.