Why Creflo Dollar Believes Poverty Is Ungodly and Christians Should Claim Their 'Inheritance of Wealth and Riches'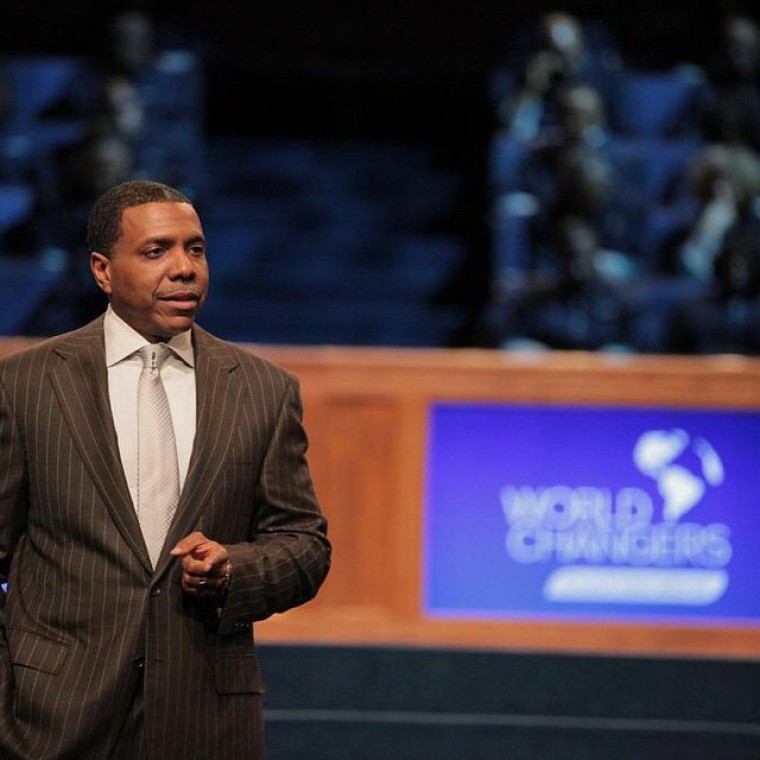 Televangelist Creflo Dollar recently came under public scrutiny for trying to raise $65 million to purchase a luxurious G650 jet for his ministry, but for those who listen to his sermons and follow his teachings, Dollar is simply following the "prosperity gospel" which he backs up with his interpretation of the Bible.
Poverty, says Dollar, is ungodly.
"Poverty is not the will of God for any believer. However, there are Christians who have taken a "vow of poverty" because they believe that poverty is a part of being holy and righteous. This is far from the truth," explains Dollar in an article on his website titled "Your Inheritance of Wealth and Riches."
"Poverty has nothing to do with godliness, or God — likeness. To be poor, or impoverished, means, 'to be without; in lack; deprived.' You and I don't serve a God of lack and insufficiency. He is the God of the exceeding and the abundant. In fact, He wants to lavish you with His goodness (Ephesians 3:20)," he continues.
Dollar argues in the article that financial lack is a major source of problems for many people and feels it is his duty to tackle it as a spiritual problem.
"From Genesis to Revelation, the Bible proves that poverty goes against everything God desires for believers. Poverty is a spirit designed to keep believers in financial bondage. The devil uses this spirit to hinder Christians from prospering and ultimately fulfilling their destiny of being a blessing to the entire world (Genesis 12:2, 3)," writes dollar. "God favors prosperity. According to Psalm 35:27 and 3 John 2, He is pleased when you prosper in your spirit, soul and body."
"Although God's perfect will is for you to succeed in all aspects of life, let's concentrate on your financial prosperity. Finances are a major dilemma for most people. Debt and insufficiency are common causes for divorce, depression, suicide, and murder. For this reason, I feel it is my duty to deal with this subject head— on," says Dollar.
"You were made wealthy and rich before you came into existence. You've been predestined to prosper financially. According to Ephesians 1:4-5, God chose to bless you before the foundation of the world as evidence of your right-standing with God, which was made available to you through Jesus' death and resurrection (2 Corinthians 5:21)," notes the televangelist.
"The Bible says that wealth is stored up for the righteous (Proverbs 13:22, New American Standard). However, it will remain stored up until you claim it. Therefore, claim it now! You possess the ability to seize and command wealth and riches to come to you (Deuteronomy 8:18). Exercise that power by speaking faith-filled words daily and taking practical steps to eradicate debt," Dollar urges his followers.
While speaking at the 2014 Indian Summer Festival in Vancouver about his book, Zealot: The Life and Times of Jesus of Nazareth, religion scholar Reza Aslan decried this interpretation of the Gospel.
"The fastest growing Protestant movement in North America is this movement that is referred to as the prosperity gospel," he said. "This is the gospel preached by people like Joel Osteen T.D. Jakes — and when I say people, I mean charlatans. The argument of the prosperity gospel, if I can put it flippantly, is that Jesus wants you to drive a Bentley. That is basically what the argument is. That what Jesus wants for you is material prosperity, and that if you literally give, you will literally be given tenfold. That's not a metaphor, as it is in most churches. It is literal. You give me $10 and Jesus will give you $100."
"This is as profoundly an unscriptural interpretation of Jesus that exists," said Aslan. "I mean, if there is one thing that is just so clear cut and just not open to interpretation at all of any kind when it comes to Jesus' message, it is his condemnation of wealth."
"And yet, not only does this version of Christianity exist, as I say, it is honestly the fastest growing version of Protestant evangelical Christianity in North America. That's because Jesus can be whatever you want Him to be, and the Christian message can be whatever you want it to be," he said.
Editor's note: In an April 2013 interview with The Christian Post, Joel Osteen said that while he gets grouped in with those who preach the prosperity gospel, he doesn't believe the association is a fair one.