Why pray? Hollywood stars, preachers and miracle family share why they do it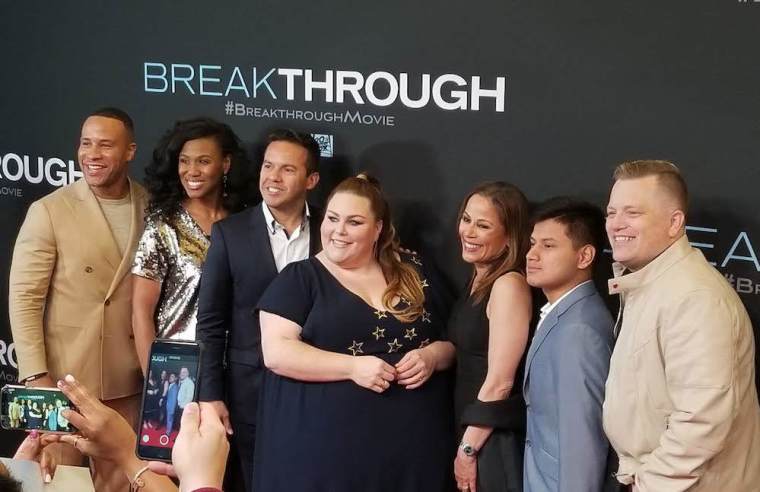 DALLAS — "Breakthrough" actors, preachers and the real-life people behind the upcoming film share their views on prayer.
When Googling the definition of prayer, the dictionary definition that pops up reads: "a solemn request for help or expression of thanks addressed to God or an object of worship."
"Breakthrough" tells the miraculous true story of Joyce and John Smith, a mother and son who rely on the power of prayer and the Holy Spirit following an accident in which John is pronounced deceased by doctors at the hospital. After 45 minutes his mother's  desperate supplications to God bring him back to life after the doctors lost all hope.
John Smith, the subject behind the Christian film, says the spiritual appeal is actually a way to interact with God.
"The power of prayer is so important because prayer is our way to communicate with God and prayer is our way to speak life into other people's lives as well," Smith told The Christian Post at the premiere of "Breakthrough."
The young man who is alive today because of his mother's pleas to God said the world would be a different place if people practiced prayer.
"If we all prayed and spoke life into everybody, basically we would go back to holding the door for people because I know that doesn't happen anymore," he said.
"It's amazing to see the power of prayer because it was my mom's faith that brought me back to life. But in the end, it was God. Having that faith and having that prayer was so important and is to this day still important to me and her," Smith continued.
One of the producers of "Breakthrough" said he felt compelled to make a film based on the proven medical miracle because of how much he believes in it.
"Prayer is a lifeline. Prayer is direct communication with God. God is the most powerful force in the universe, and when we pray, we tap into that power source," DeVon Franklin told CP. "I think sometimes it's very easy to forget how powerful prayer can be because sometimes we prayed, and we haven't gotten what we wanted and as a result. Sometimes we can get discouraged."
The "Miracles from Heaven" filmmaker said his new movie will encourage people to believe again.
"Sometimes we have to remember that our requests to God are God's discretion on when and how He answers. Our job is to pray and seek His will and let Him handle the result," Franklin explained.
"There's is a powerful moment in the movie when Joyce says, 'I surrender, I've got to give up control.' I think it's really important when we pray, to pray and to expect God to do what He feels is best. And when we do that, we can pray without worry, we can pray without anxiety, we can pray without frustration, because we're praying God, 'if this be your will. Do what you see is best. I'm praying for what I think is best God, but you do what you think is best and Lord, whatever you do, I'm going to be OK with your will.'
"When we can get to that place, will have more peace will have more joy, we're having more calm," Franklin added. "In some situations like in the movie, we'll get exactly what we pray for because that's His will and other times we won't but when we are accustomed to allowing Him to deliver the result, we're going to be just fine."
Actress Chrissy Metz maintained that "Collective consciousness is a real thing." She described that notion as prayer."
"It's undeniable. They say, 'two or more gathered,' you're having church, right? If all of us were thinking positively about healing someone, or it could be something silly like a bone spur, something trivial, something large, that positive energy is collected and if we can use it for good, you cannot deny that."
Metz declared there's "unity in community."
The "This is Us" star plays the role of Joyce Smith alongside actor Josh Lucas ("Sweet Home Alabama") and Marcel Ruiz ("One Day at a Time"), who portrays their son, John in "Breakthrough."
As seen in the film's trailer, which has now been viewed over 125 million times, Metz's character, Joyce, calls on the "Holy Spirit" to bring her son back from the dead.
The director of "Breakthrough," Roxann Dawson ("House of Cards," "Scandal," "The Americans," and "Agents of S.H.I.E.L.D."), said the power of prayer is "one of the most important themes of this film."
"Prayer is a muscle that needs to be worked on. You lose it if you don't use it and I think that Joyce, in particular, was already in a place where she was praying, she was talking about praying boldly, the Beth Moore book, and she was reading and studying in Bible study," Dawson said.
The Hollywood director described Joyce as prepared for the battle she would face after her son's near fatal accident.
"The first thing she did was pray boldly. I think that we all need to find how to exercise that muscle on a daily basis because there will be moments when we need to rely on that, almost exclusively to get us through," Dawson maintained.
Smith's pastor, Jason Noble, labored with the family until they saw their miracle come to pass. 
"I think if people really grasp the power of prayer, we'd do it a lot more. There is so much power when we pray. I've heard people say, 'Well, I've tried everything. I guess all there's left to do is pray.' And I'm like, 'No, start there.'  There's something that happens when we come together and we get a hold of God, and we communicate our hearts to Him and line up our hearts with Him. It changes everything," Noble expressed.
Executive producer Samuel Rodriquez, the minister responsible for connecting the Smiths and Franklin together to help this film come to fruition, said he wants pastors and minister to likewise gain a deeper revelation of prayer.
"What about we have a revival of prayer, an awakening of prayer across America and the world for that matter? Just prayer, prayer changes everything. There are things that will not happen until we pray. And biblically speaking with sound theological substantiation, there are things that will not happen unless we pray. So prayer changes everything," Rodriquez maintained.
"War Room" actress Priscilla Shirer added: "I love the fact that this film is going to draw attention back to the fact that our God hears us when we pray, and that we don't just need to trust them with the small things, which we need to trust them with that too. But the big things, I mean, the impossible stuff, the stuff that looks like it literally cannot be turned around. Maybe we're even being told by someone that the circumstance in our life cannot be turned around." 
"This film is going to remind people to take that kind of stuff to God. That impossible is where He starts and whether or not He chooses to turn it around, that's his business. That's the question of His sovereignty. We leave that to Him. But whether or not He can, believing that is our business, our God is able," she concluded.
"Breakthrough" is now in theaters nationwide.
The 20th Century Fox movie is based on Joyce Smith's book, The Impossible, and was adapted for the screen by Grant Nieporte ("Seven Pounds").