Why We Should Celebrate the Release of Prisoners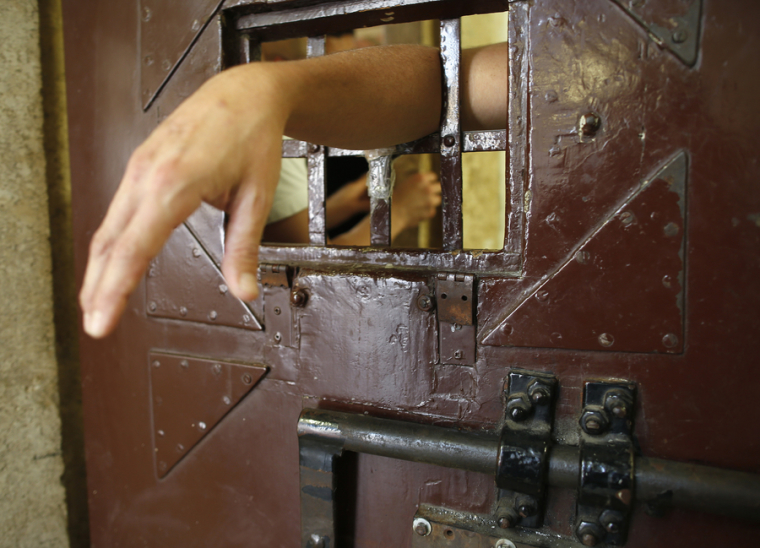 In April 2014, the U.S. Sentencing Commission changed federal sentencing guidelines which reduced sentences for some federal drug offenders. In July 2014, the ability for those already serving time in federal prison was made retroactive for those serving under the old guidelines. They were then able to petition the court to have their cases reviewed under the lower sentencing guidelines.
This change has affected sentence terms of 13,177 individuals and as of November 1, 2015, 6,000 inmates have been released.
As leaders in the Christian Community Development Association, serving on the Mass Incarceration Taskforce, we have a strong sense of urgency around prison reform because we see firsthand the impacts incarceration has had on our communities.
Our association is replete with members who experience the devastating effects of mass incarceration on individuals, families, communities, and society. Hearing stories of unjust convictions, walking with families struggling to get by without their loved ones, and seeing men and women return with nothing to their name except a record barring them from gainful employment, is proof our justice system is broken
As Christian leaders who care about the mass incarceration epidemic and the role of the church, whose theology is rooted in the restorative nature of God's justice, we believe the releases are good news. We also believe that this is just the beginning of the work that we as a country must do to ensure that unjust systems in our incarceration system are changed. Additionally we believe there is much work to be done in the attitudes and hearts of those who are in our churches to ensure that those who are returning home have not only the opportunity for full restoration in society but a family of church congregants, ready to help receive and support them as they work through the hurdles of re-entry.
As Christian Community Development leaders and theologians, from our hermeneutic, we believe there are four biblical themes around prisoners and prisons that we as the church must recognize and call out:
God's promise of liberation for prisoners,

the restorative nature of God's justice,

the prophetic confrontation of unjust systems,

and the Solidarity of Christ and the Church with the prisoner.
Isaiah 42:7 and 61:1-2 reveal a God who cares for the prisoner and sets them free. This holistic liberation is tied to the Sabbath and Jubilee years which had religious, social, political, and economic implications.
Christ revived this promise of liberation for prisoners when he began his public ministry, instructing his followers to visit those in prison and respond to the prisoner as Christ himself. Christ not only identifies and loves the prisoner, Christ was one. Christ's arrest, trial, and execution on the cross exposes the injustice and violence so prevalent within the judicial process and should cause us to closely examine what passes for justice in our country.
It should move us, like it did the early church, to remember those in prison as if we were there ourselves. The early church so embraced this solidarity that it was reported that Christians in the second century bribed guards in order to sleep in the prison cell with prisoners when their efforts to free them had failed.
Some of the New Testament epistles were written in prison; Paul, a New Testament author, was one of the most influential Christian missionaries in history. He was a murderer showing us no one is unredeemable.
The gospel teaches us we have all fallen short but that Christ in his mercy has wiped our records clean. While our justice system is based on retribution, God's justice is based on restoration.
Biblical justice does not separate mercy from justice. In fact, the apostle James said the last word on judgment is not punishment, but liberty-producing mercy.
"Speak and act as those who are going to be judged by the law that gives freedom, because judgment without mercy will be shown to anyone who has not been merciful. Mercy triumphs over judgment." (James 2:12-13).
We should celebrate the release of prisoners.
Many served much longer sentences than their crimes deserved, but also recognize the barriers that still exist for them. Many of our brothers and sisters being released are entering immense hurdles due to limited access to housing, food benefits, employment opportunities, grants for education, and voting rights. Many are released with little money, legal debts and financial burdens. Studies show that without support and resources, their freedom in society will quickly become a prison of poverty and despair potentially leading them right back where they started.
It is because of these realities, we as the church have a tremendous opportunity (Christian responsibility) to step in. We need to be the support system for these men and women. What if Christians all across the country responded to the returning citizens as if they were Christ, as if they were our brothers and sisters (because if Scripture is true, they are!)?
This is a chance for us to lead and show witness to the world the power of God's love and redemption.
It's great to celebrate these small victories but we also need to realize bringing God's justice and liberation to prisoners will be an on-going struggle requiring all of us to get involved in both the restoration and re-entry of returning inmates.
We, the Church, should be leading the welcome home message for those who are returning back to our communities.
Leroy Barber and Shawn Cassleberry are leaders with the Christian Community Development Association where Leroy serves as the CCDA's chairman of the board. Leroy is the Executive Director of the Voices Project, and Shawn Cassleberry is the Executive Director of Mission Year. Both live in communities impacted by mass incarceration.