Wildfire Ravages California; Bethel Church, Victims Say 'God's Got Us'
Hope of God's faithfulness amid tragedy, fire victims speak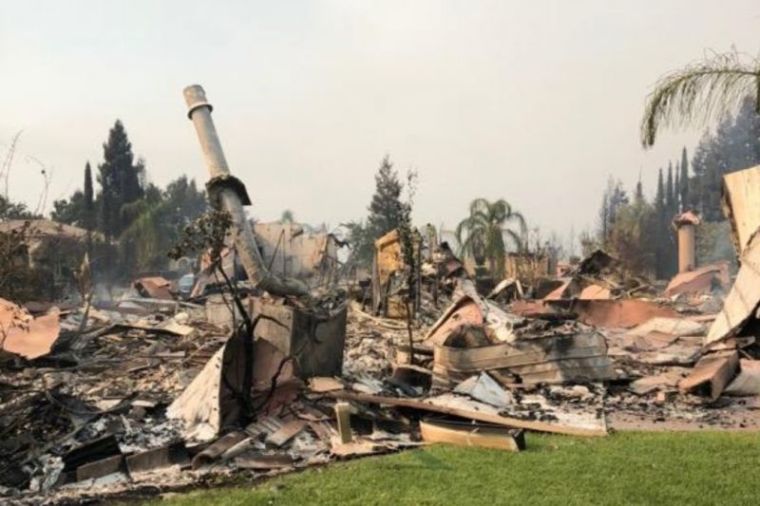 In the midst of destruction, the Gowans remain hopeful and confident in God's goodness despite the events. 
"We rejoice, because God is the God of miracles, and we've got one coming for this. For not one moment have we thought [the fire] was from God. What we know about our God is that He is good, and in the midst, He was long ago seeding the ground for the new life that is already bursting [forth]," Krystal Gowan said.
"It is painful, and shocking, and confusing, but God knew and so He already had a plan to supercede our need and our pain. We as a family just want to quiet ourselves so we can know what the next steps are."
Like many Redding residents who have lost their homes, donations have been pouring into a GoFundMe page that was set up for them. 
Ray and Kathryn Leight's house was also reduced to nothing but ashes.
The Leights had been on vacation and had just flown into Sacramento Wednesday and checked into a hotel, planning on making the more than two-hour drive north to Redding the next day. They did not even know about the fires until they woke up Thursday and realized they had missed a call from their son, who had gotten out just prior to the mandatory evacuation. They soon found out their home had burned completely.
"We had so many people reach out to us with messages, calls, and texts but I was unable to talk to anybody right away," Ray Leight said in an email to CP Monday afternoon.
"I couldn't talk about it without crying. There have been many layers of emotions and grief that we have had to process so far. We are trying to find a sense of normalcy in the middle of this loss. It is so weird not to just be able to go home and rest."
The recovery process is "unpredictable," he noted, as each day brings new challenges and other things trigger the grief afresh, such as the loss of family heirlooms. The Leights ended up returning to Sacramento.
"When we first left Redding it was odd to get to Sacramento and see that people are just living their lives as if nothing is wrong. The apocalyptic feel of the devastation in Redding was so intense, it seemed like everyone should know," he said.
"At this point we are just doing our best to love each other well as we are going through this process together, and appreciate what we do have."