Will Complementarianism Survive #MeToo? Russell Moore Explains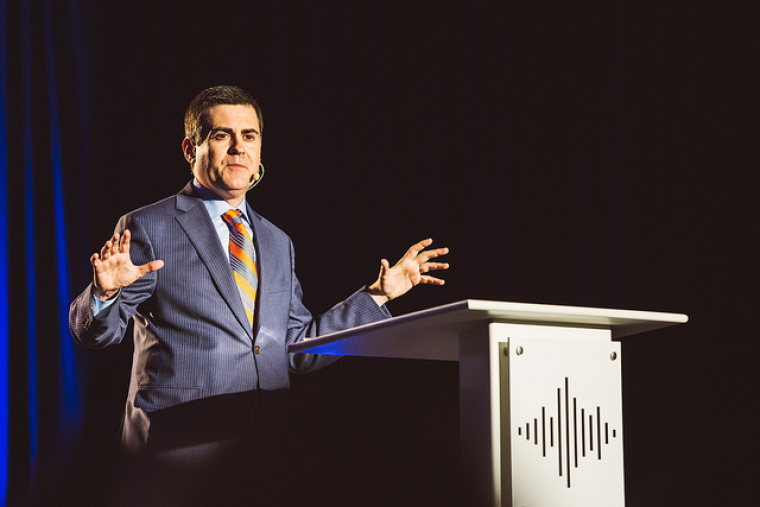 Amid the ongoing fallout over sexual misconduct within churches, some are wondering if a particular theology known as complementarianism will survive. A prominent Southern Baptist leader says it will, but stresses Christians must remain watchful.
Within evangelicalism, theological complementarians are those who believe that God has created men and women with equal dignity and worth and that He has gifted both men and women for service in ministry, yet scriptural prohibitions remain on women from holding certain pastoral leadership and teaching offices in the Church.
Meanwhile, on the opposite side, theological egalitarians agree that God made men an women with equal dignity and worth yet insist that the New Testament does not warrant such restrictions on women in ministry leadership. Egalitarians often point to women leaders in the New Testament such as Junia the apostle, Phoebe the deaconess, and Priscilla, who some believe authored to book of Hebrews.
As the #metoo movement has unfolded since last fall, these views are being increasingly re-examined.
In a Signposts podcast last week, Russell Moore, president of the Ethics & Religious Liberty Commission, noted that he has been asked recently whether or not complementarianism can last given the continuing revelations about sexual abuse and how theology can be used to mistreat women within complementarian churches and institutions.
"One of the things that God is doing right now is revealing to us that there is no ideological safe harbor," Moore said.
"It seems that the apocalypse, the revealing of things that were already present but hidden, was taking place, [it] has happened across the board in such a way that it's impossible to say 'Well, you are the ones who are to blame and over here are the people where that's not happening,'" he explained, noting how sexual misconduct has been exposed not only in figures like Harvey Weinstein and Bill Cosby but also in churches.
Earlier this year, the Southern Baptist Convention — the largest evangelical Protestant denomination in the United States — faced a reckoning of sorts with regard to what many considered improper handling of sexual abuse situations and misogyny, particularly within Southwestern Baptist Theological Seminary. Some voices have asserted that a rigid form of complementarianism is the "rotten theological tree" from which this culture of abuse has been allowed to exist for so long.
Yet credible claims of sexual abuse have also touched egalitarian congregations, most famously Willow Creek Community Church outside Chicago. The congregation's founder and longtime pastor, Bill Hybels, announced his early retirement amid multiple allegations of harassment and misconduct.
Moore, who is a complementarian and Reformed Baptist, went on to explain that early in his ministry he did not believe complementarianism would survive, even though he thought it was biblically correct. He thought that the cultural pressures were so great and that egalitarianism would eventually win the day. But that did not happen, he asserted.
"I think that that did not happen largely because of the sexuality and gender identity controversies that emerged," Moore said.
"What we are seeing now is a sifting of hyper-complementarianism and a biblical complementarianism," he added, noting that the "hyper" variety emphasizes the distinctions between men and women in such a way that magnifies those distinctions "beyond the commonness and the sameness that we have."
"Sometimes you have a complementarianism that like any other idea or any other movement ... has become more intent on defining ourselves over and against the other, and more intent on remaining within the tribe, that we have sometimes done exactly what the religious leaders in Jesus' time were doing to the law — taking law and building all sorts of hedges around it so that they could be at ease with knowing that there was no way they were going to violate it because they are not going to come anywhere close to it."
The debate between the two camps, he said, often involves each side asserting that the theology with which they disagree inexorably leads to things that are legitimately bad if carried to its logical end.
In this exchange, complementarians might say that the egalitarian emphasis on the sameness of the sexes paves the way for revisionism on matters related to marriage and sexual ethics, as mainline liberal Protestants have done. By contrast, egalitarians argue that if complementarianism is taken to its logical conclusion, abusive male-dominated structures will result, which has occurred in some conservative evangelical circles.
Moore believes both sides should bring their strengths together to combat the scourge of sexual misconduct.
"If egalitarians and complementarians are both going to deal with this awful reality that we're seeing taking place in too many churches, of women being abused, harassed, assaulted, mistreated, shamed, egalitarians are going to have to bring to the table the best of egalitarianism, which is the emphasis that men and women are both equally valuable to God and both called to the service of Jesus in order to say 'this is an assault on the image. And biblical complementarians ought to agree with that," he said.
"And complementarians need to bring the best of our ideas to the table as well. And to say, 'OK, and we think also that men have been given a distinct and special responsibility, not a distinct and special place of power, but a distinct responsibility."
And that responsibility is not one like a ruling Caesar but through the way of the cross, one of sacrificial love, the ERLC president added.
"A genuine complementarian church ought to be the church where the men are constantly asking 'How should we give away our authority and power in every way that is biblically allowed in order to empower others. And how are we to set aside our own interests in every way that is biblically allowable in order to further the interests of others.
"In churches of every sort, but especially for those that are complementarian churches, there should be not one hint of toleration for the abuse, mistreatment, trivialization of women, ever."