WNBA champion who says she was bullied in league for being straight shares how faith kept her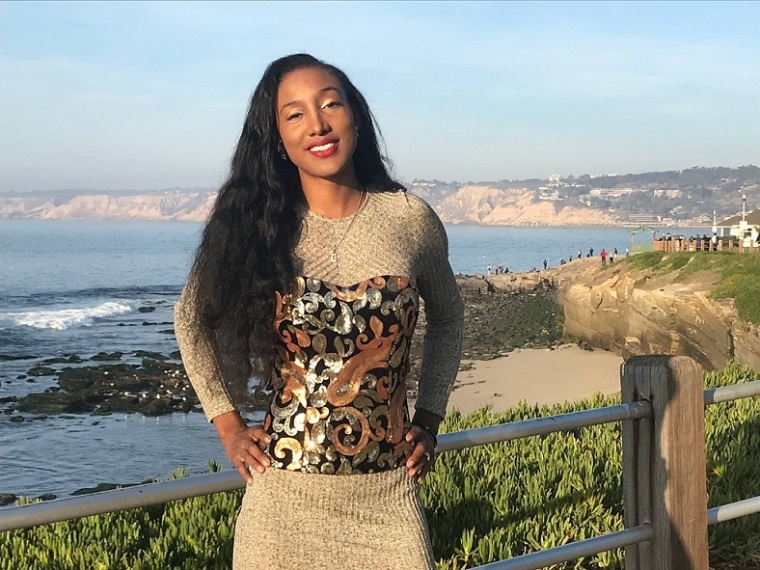 Former WNBA star Candice Wiggins sees herself as a non-traditional Christian who has walked a rocky road.
Three years ago, Wiggins says she was forced to retire early in part because she was bullied for being straight in a league she estimates is 98% gay. After telling her truth, though, Wiggins now reveals how she leaned on her faith after being attacked with "unimaginable anger."
"It was an anger directed toward me that I have never imagined was possible. It was unimaginable anger that I had sparked," she explained to The Christian Post in an interview a day after the 2021 NBA All-Star Game.
Wiggins is the daughter of famed baseball player Alan Wiggins who died at age 32 in 1991 from AIDS. She played for four WNBA teams and won a championship with the Minnesota Lynx in 2011. She was named the league's Sixth Woman of the Year in 2008 when she was the No. 3 overall draft pick out of Stanford University. She even played overseas in places like Greece and Spain.
In 2016, however, at age 29, Wiggins voluntarily ended her WNBA career. A year later, she disclosed in an interview with The San Diego Union-Tribune that, along with other tensions, that she had been bullied in the WNBA for being straight and that the culture in the WNBA encouraged women to look and act like men in the NBA.
"Me being heterosexual and straight, and being vocal in my identity as a straight woman was huge," Wiggins told the publication. "I would say 98% of the women in the WNBA are gay women. It was a conformist type of place. There was a whole different set of rules they (the other players) could apply."
In a wide-ranging interview with CP about her faith, race, family, and basketball, Wiggins insisted that she had meant no harm with her comments but only wanted to speak her truth.
"I didn't really have a chance to explain where I was coming from with those comments," Wiggins told CP.
"I said 98% when I was asked that, and I know that for a fact that was a very triggering point of it too — the fact that I put a number … on sexuality that is considered fluid and didn't have a lot of context around it. They're holes that they felt were in my argument," she said of her critics.
Wiggins said some people thought she was taking a stance against homosexuality but she was only talking about her personal experience and wanted to be honest about her journey.
At the time she did the interview, Wiggins was being inducted into the San Diego Hall of Champions Breitbard Hall of Fame as the first female basketball player.
"I was the first female basketball player to be inducted, and that shook me because I realized, 'Oh my goodness.' This is the first time I was ever the first something. … something that had significant meaning. And then I started realizing kind of who I was and that was the first day I was certain that there were a number of girls and women who were following me, who were looking to me, specifically, not anyone else, as a leader, as someone that was guiding them to wherever they wanted to go," she explained.
When she was asked about the culture in the WNBA, Wiggins said she made a choice to be honest about her journey.
"If there were girls and women who were looking to kind of be like me, I wanted them to understand all those aspects of it because I just felt I had to do that. I felt like I was lying if I didn't because they needed to understand, and I also was hoping secretly that it [the culture] would change," she said.
When asked if she would rephrase her estimate of the number of gay players in the WNBA, she said "no" because it was just an opinion, not a scientific fact. She also said when she shared that estimate with San Diego Union-Tribune reporter Tod Leonard, it wasn't meant to be a headline.
"The short answer to that question is no. I probably wouldn't phrase it differently, especially because of the way the 98 [%] came out. It was more of a follow-up. It wasn't really something that I expected to be blasted all over the headlines. It was something that was definitely a private note, like a little asterisk that was really private. It was personal, it was my own opinion, it wasn't a statistical fact. It was just an element that I had to just quickly do a … scan of what I was explaining," she said.
"That 98% was more of me being honest with myself about what I observed. It was so personally my opinion. It was completely up for debate, completely. If people wanted to discount it that was perfectly fine with me. It was just my own, what I saw with my two eyes, I experienced with my body in four locker rooms."
Even three years later, said Wiggins, the attacks she has faced as a result of telling her truth are still difficult to deal with.
"To be honest, the reactions that I got to that statement were so hard to deal with. They are still really hard to deal with because I still am not and I wasn't really sure where they were coming … it was a lot of anger. People were just outraged. It was so fast and swift that I didn't have time to process the anger," she explained.
Asked if she had a daughter who was as talented as her in basketball and wanted to play in the WNBA if she would encourage that passion, Wiggins said she wouldn't discourage her.
"I would definitely not discourage [her], but I would definitely encourage her in being multidimensional and be a full representation of all her passions," she said.
Since the uproar over her comments, Wiggins has been leaning on her faith and finding solace in coaching youth basketball. She recently relocated from California to Atlanta, Georgia, and is developing a virtual coaching series for young players in the wake of the coronavirus pandemic.
"I really have gotten this calling to do coaching. For the last few years, I've been coaching and getting into this idea of virtual coaching. That is something that is definitely a highpoint because it's kind of the answer to all the things that I've been really searching for. I've been doing like a huge deep dive into what my passions are, my true passions are, and I really found that just to have the opportunity … to influence and push the game forward in ways, being a part of a new solution to a pandemic," she said.
At 34, Wiggins has also become much more aware of the value of time amid the pandemic.
"The biggest thing that I probably discovered [during the pandemic] is just the sense of time — how much time is in charge. Not our own wills, time. And that's God's will, in my opinion. Being patient. Of all the things in life that you could want, that you could wish for and hope for, I think that time is probably the most precious and the most important, and also it's priceless," Wiggins added.
"What do you do with your time? I think that's one of the things that, you know, when you think about even the idea of a Judgment Day or the Judgment Seat, I think that the pressing question is what did you do with your time?
"This pandemic has taught me really that there's nothing idle about your schedule anymore. Anyone's schedule, especially mine. I have to look and see how I have been using my time and really judge that."
On faith
Wiggins talks fondly of WNBA chaplain of the Minnesota Lynx, Michelle Backes, who she said served as a role model for her in developing her faith. She said Backes gifted her a study Bible after she tore her Achilles tendon in July 2010 and she was sidelined by the injury.
She said she struggled during that period but used the time to finish her communications degree at Stanford and search the Scriptures for direction.
"When I tore my Achilles, everything stopped for me physically, so it became all about who am I outside of basketball. First thing I did was enroll in Stanford. I went back to Stanford and took classes to finish my degree," she said.
"I went to God because I wanted so badly to digest the entire Bible, but I felt the guilt … I felt very lost," she continued, noting that up until that point in her life, she had been reading many different books but not the Bible.
"Immediately, God heard my sorrow and sadness, and the message I got, the inner voice I got, was just treat the Bible like you treat all the other texts in your life," she said.
When she started doing that, her life began to change.
"It was like this anointing. I felt so much power in the Word. Studying the notes, the history, the context. I had a full comprehension because I felt like [I had] a lot of catching up to do," she said.
She said the more Scripture she read, the more she continued to evolve, and she had to depend on her chaplain a lot.  She ended up finishing the entire New Testament and went on to win a WNBA championship shortly after.
"That kind of brought me to a place where I thought I was living in my purpose. From that point on, I stayed reading the Word," she said.
She confesses to facing continued struggles in her walk and now describes herself as a non-traditional person of faith.
"When you say non-traditional, that's the perfect description. It's something I would share with my father. My mother grew up going to church with my grandmother. My mother was probably the one who she changed that tradition for our family. …
"But then, also sports crept in and I heard stories also about how my father, he would have baseball games on the Sabbath Day and his mother would allow him to skip the Sabbath and go play baseball and do those things because she saw a talent in him," she said. "Similar thing with my mother. She really saw something in me and it just kind of transformed the nature of the traditional way, and I don't know how rare that is or not."
On race
Last May, just days after George Floyd's death, Wiggins shared an image of Floyd on Instagram with a Bible in his hand with the words "speak for the dead" in protest.
"What happened with that that impacted me the most was just how the way it was so, the way that you could see. Your eyes wouldn't be able to deceive you. Your mind wouldn't be able to tell you another story. The story pretty much explained itself, and of course, there are all these factors that human rationale can factor in and say … but it's just what you saw," she recalled.
"When I said speak for the dead, I just wanted to put people into the basic humanity of a man. Yes, he was a black man, but he was a man who had a soul. A living, breathing soul that wanted to live, that wanted life on Earth.
"I just think that when you're dying and you're [in] that helpless situation that George Floyd was, life becomes a light switch. Like the flick of a switch on and off. And I think that all the things that when your life switch is on, all these things that make up your life that are important, that are factors, when that life switch is off, none of those things matter anymore. …
"I really wanted people to get back into his position, what he was thinking. What he was feeling, those emotions, and it just really triggered in me an idea of how to think about the fight and think about protesting," she said. "I really thought about what my thoughts are on an idea as difficult to discuss as racism. It was my way of thinking, let's go back to this man. As horrifying as it was to see, let's go back to his existence and what he would be wanting you to talk about. What does his life mean to him?"
Floyd, a 46-year-old African American man, died after begging for his life and crying for his mother before he visibly stopped breathing with the knee of a white Minneapolis police officer still pinned to his neck last May.
A week ago, the U.S. House approved legislation aimed at preventing police misconduct that Democrats named in honor of Floyd.
In 2015, Wiggins revealed how her own father's untimely death from AIDS, which was connected to drug use, stemmed from struggles he faced handling the pressures of racism with a high-profile career in Major League Baseball.
"He died protecting his inner peace and his privacy. That was kind of his big thing. That's what he kind of gifted me and my brother and sister. His plight was all about his family and protecting them from any type of harm that he might have felt," Wiggins said.
"When I grew up, I grew up very much rebelling from that because the way that I was brought up, I was very curious and very wanting to, you know, I just felt like I didn't want to be hidden. I didn't want my pain and suffering to be hidden. But at the same time, I have that same drive that he had where his athletic talent could lead him. So I was being led by my athletic talent and not necessarily knowing where it was going to end," she said.
"The irony is, I became exactly like him. But when you're talking about that pressurized environment, that is a perfect description of it. Because you get to a point where you have to make a choice, and you have to understand that there are different environments that you're a part of. And in my case, it was the WNBA. In my father's case, it was Major League Baseball," she said.
"At a certain point, I had to choose: where am I going to go with this? Will I have the same idea, mentality, that my father had? … I kinda said no, I'm not. I have something different.
"In my case, I felt God had a different purpose for me. Maybe it was my father's story that helped me get there, that gave me a little boost so that I could understand and see his pitfalls. I definitely stood in a place where I said, no, I'm going to communicate," she stressed. "I was a communications major at Stanford. I'm going to communicate as best I can, my environment, my experiences, my life experiences. But also show more of a promise, more of an optimism." 
And she credits her optimism to her faith.
"For me, faith has been all-consuming. It's been all-consuming since the day [of my father's funeral]. I remember that so vividly, and it's been 30 years. So God has given me this remembrance, but I had a spirit of adoption almost envelope me at my dad's service. I still remember the service. I remember looking up in the church and just feeling the power of God. Feeling like everything was going to be OK for me, and I realize now it was the spirit of adoption," Wiggins noted.