Woman Arrested for Allegedly Defacing Organ, Other Property at the National Cathedral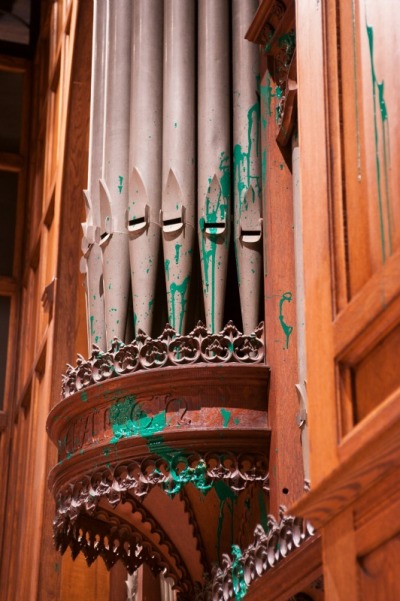 Police arrested a 58-year-old woman on Monday who allegedly splattered green paint inside two chapels at the historic Washington National Cathedral.
Authorities arrested Jiamei Tian and charged her with defacing property after she allegedly splattered paint on a mural, organ and some other items in the Cathedral, the Metropolitan Police Department (MPD) in Washington D.C. said in a press release.
Richard Weinberg, director of communications for the Cathedral, told The Christian Post the paint was first discovered on the organ in the Bethlehem Chapel, which is in the oldest section of the Cathedral, by a member of the music department around 2:00 p.m. on Monday. The paint was still wet, which led officials to believe the damage had just recently been done.
Tian was later found in the Children's Chapel, Weinberg says, where wet paint was discovered on the altar. The woman allegedly had paint on her hands and clothing and had a container of it in one of her bags, NBCWashington reports. She reportedly got loud during the arrest, though she did not resist.
"I feel that the woman who allegedly did this deserves our prayers more than our scorn...As a Christian, I can't wish her any ill will as a result of this," said Weinberg.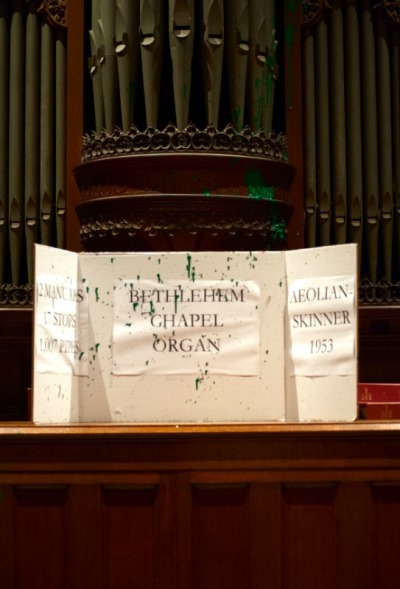 Weinberg also called the vandalism "heartbreaking," but says he is eager to move on from the incident and see the damaged items restored. He said it will cost an estimated $15,000 to repair all of the damage, and crews have already begun working to restore some of the items.
The Washington National Cathedral is an Episcopal cathedral that seeks to be a "catalyst for spiritual harmony in our nation, renewal in the churches, reconciliation among faiths, and compassion in our world," according to its website. A number of presidential inaugural prayer services have been held there, as have the funeral or memorial services for many U.S. Presidents.
The Cathedral was not the only landmark defaced in recent days, however. Workers continue to remove green paint from the Lincoln Memorial, which is scheduled to be power-washed on Tuesday, The Associated Press reports.
NBCWashington reports the same color paint was also found at Luther Place Memorial Church on the organ and on a statue of Martin Luther.
Green paint was also found on the statue of Joseph Henry, the first secretary for the Smithsonian Institution, outside the Smithsonian's headquarters on Monday, the AP reports. Unlike the other instances, however, the marks on the statue of Henry were painted on instead of splattered on it.
The MPD is working with the U.S. Park Police to determine whether or not Tian had a role in some of the other incidents.