'Woodlawn' Actor Says Sports and Faith Break Through Racial Barriers (Interview)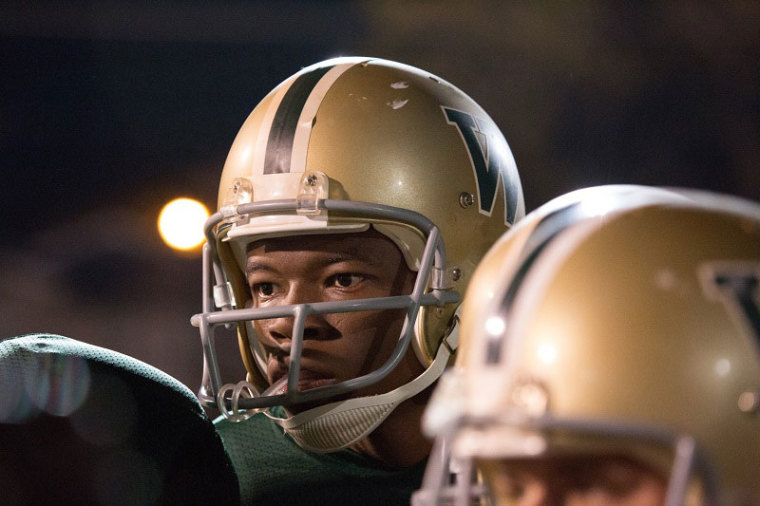 The highly acclaimed Erwin brothers film, "Woodlawn," is now available on Blu-Ray and DVD, and lead actor Caleb Castille says it's a must-see because the movie shows that faith and sports can bridge the racial divide.
"Woodlawn" is based on a true story of one of the first African-American star football player, Tony Nathan, and the spiritual awakening during the 1973-1974 season at Woodlawn High School in Birmingham, Alabama, amid forced racial integration of public high schools.
Castille made his film debut as the lead role of Tony Nathan alongside actors Jon Voight, Sean Astin, Sherri Shepherd, and DeVon Franklin.
The Alabama native said that he now has a newfound respect for those that came before him. Born in Columbus, Georgia, in 1991, Castille grew up in one of Alabama's leading football family dynasties. Two generations of his family – his father and two older brothers – played football at the University of Alabama and went on to play in the NFL.
"My dad isn't old enough to have been through segregation but the cool thing is that Tony Nathan, the character I play, made the way for guys like my dad," Castille told The Christian Post.
"Woodlawn" is the compelling true story about people whose lives were changed by love and devotion to Jesus in an era where racism and prejudice were rampant. Castille talked about the role faith and sports played in that.
"I think it's so funny because people get in a sports arena and it's like those issues go right out the window," he said concerning racial tension. "I think sports have a very unique way of allowing people to bond. I think that it's a great tool for people to come together and have a common goal. And that common goal is winning."
"I think that it is pretty cool that sports can break down those racial barriers in ways that certain things cannot," he continued.
Castille calls"Woodlawn" "good medicine" for all the racial tension happening in America lately.
"You look at how history repeats itself and I think that you can look at this film and see the things that were used to overcome that hate and apply it to what we're facing today, if it worked then it can work now," he concluded, encouraging people to see the film for its strong message.
Provident Films is releasing "Woodlawn" on Blu-ray Combo Pack and DVD to Christian market retailers in partnership with Provident Distribution. Pure Flix Entertainment will distribute Digital HD, DVD and Blu-ray to general retailers through Universal Pictures Home Entertainment.
For more information, visit woodlawnmovie.com
jeannie.law@christianpost.com