World Called on to Act Against 'Genocide' of Nigeria's Christians
Christian Association of Nigerian-Americans Speaks With CP After Meeting With US Ambassador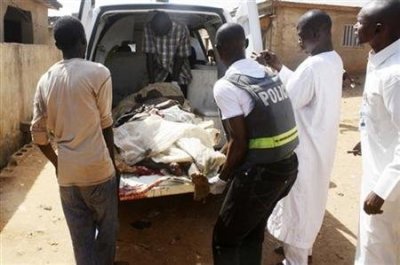 After meeting with the Nigerian Ambassador to the U.S. this week, the Christian Association of Nigerian-Americans (CANAN) is calling on the international community to pressure governments and those in authority to have Boko Haram declared a Foreign Terrorist Organization (FTO) – as the militants have been blamed for hundreds of civilian deaths since they started waging Jihad in 2009.
Speaking with The Christian Post on Friday, Laolu Akande, Executive Director of the CANAN, said that although the discussion in Washington, D.C., on Thursday with Ambassador Adebowale Adefuye was positive, the Christian grassroots organization was concerned by the official's reluctance to support labeling the Islamist terror group as an FTO.
"The overall impression is that the ambassador would maintain the official position, because we clearly explained why designation of Boko Haram as a terrorist organization is the most important strike against the group," said Akande.
Expressing the belief that Boko Haram's financial supporters are wealthy and have access to international groups to facilitate the flow of weapons, the CANAN executive said an official FTO designation from the U.S. would "make a very major blow to this kind of activities."
CANAN representatives, comprised of clergymen and Christian professionals, have been pressing the U.S. to make such a designation since its founding in September, but have thus far been unsuccessful.
However, the U.S. State Department in June announced that some of Boko Haram's leaders and affiliates have been classified as "Specially Designated Global Terrorists", with two individuals said to have ties to al Qaida.
On Thursday, Ambassador Adefuye expressed solidarity with the group concerning the ongoing violence, reportedly saying, "We are no less repulsed by this violence, our revulsion is not less than yours."
"The rapidity, frequency of Boko Haram violence has been prevented by our forces and Americans backing us," Adefuye added, according to CANAN. He also noted that Nigerian President Goodluck Jonathan and the federal government stand in agreement that Boko Haram's bloody campaign needs to come to an end.
The diplomat noted that the Nigerian government has been actively engaging Boko Haram militants, slowing their activities, which include bombing crowded churches and killing executing-style Christian university students. BBC News reported earlier today that the extremist group's top commander, Ibn Saleh Ibrahim, had been killed Thursday in a heated gun exchange with members of Nigeria's military security force.
Although Nigeria's security forces seem to be making headway in confronting the extremist group, the unit has also come under intense criticism from human rights groups such as Amnesty International, as well as the U.S. government, due to its tactics in engaging suspected Boko Haram members. Reports claim security forces have carried out "mass arrests, extra-judicial killings (and) torture," according to Agence France-Presse.
Residents who witnessed the recent gun battle that took out Boko Haram's top commander reportedly claimed that women and children were among an unknown number of civilians killed in the crossfire.
Boko Haram, primarily operating in northern Nigeria and reportedly based in Borno State, has repeatedly stated that its purpose is to Islamize Nigeria and enact Shari'a law.
The group, whose name reportedly means "Western education is sinful", is believed to have supporters in President Jonathan's administration – which CANAN says confirms the government's inability to enforce justice.
Akande emphasized to CP Friday that his organization is not fighting against Islam or Muslims, noting that Nigeria's Christians, who make up 40 percent of the population, "have been living together with them peacefully, so the problem is not their faith." Muslims are 50 percent of Nigeria's population, with indigenous beliefs held by 10 percent of its residents, according to U.S. statistics.
"Many of the Islamic leaders are also disgusted," Akande added, sharing that local Muslim leaders have publicly condemned Boko Haram's campaign.
As for how the global community can help end the violence in Nigeria, the CANAN organizer said people should not be afraid to speak out.
"Don't be quiet. Speak up to your government, speak up to your organization, speak up to your church, support us," he said. "Let people who are disgusted by this don't just stand watching. Do something. Find a way in which your voice can be heard."
"The Nigerian Christians have been very, very patient. They have demonstrated Christian endurance and patience," he added, revealing that many people are disgusted, repulsed and unhappy living under the constant threat of violence.
"We want to avoid a situation where it becomes a 'tit-for-tat', which is why we're calling on the international community and people of goodwill in the U.S. and elsewhere to approach this problem with this common-sense approach (FTO designation)," Akande said.
"We all know that when good men keep quiet, evil prevails. But when good people speak up, by the fact that we have the morally superior position, we will defeat the work of terror."