World Health Organization Warns US, Europe Gay Pride Events May Worsen Global Hepatitis A Outbreak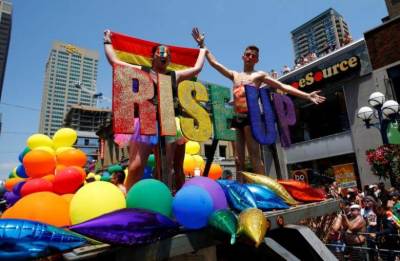 The World Health Organization warned that June's upcoming gay pride events in the United States and Europe could worsen the ongoing hepatitis A outbreak that is affecting men who have sex with other men.
WHO issued the warning on Wednesday, and said that a vaccine shortage could also worsen the situation.
WHO noted that the rise in cases of the disease, which is rarely fatal but leads to symptoms lasting several months, is "of particular concern from a public health perspective because of the current limited availability of hepatitis A vaccine worldwide."
It pointed out that hepatitis A has spread over the past year, particularly among gay men in the U.S., Europe, and Chile, warning that the "main risk is sexual transmission, particularly oral-anal sexual contact."
Gay Pride events are being held in cities across the world throughout the month of June, with major corporations, such as McDonald's, and institutions, such as the U.S. men's and women's soccer teams, promoting the celebrations through a myriad of ways, such as rainbow-colored French fry boxes in Washington, D.C., rainbow-colored jerseys, and other efforts.
One major upcoming event is the LGBT World Pride Festival in Madrid between June 23 and July 2, where up to two million international guests are expected to attend. WHO projected that the festival has a "moderate to high" risk of person-to-person sexual transmission of hepatitis A.
"In Spain, Hepatitis A cases reported in 2017 are almost eight times higher than the average number of cases reported during the same period between the years 2012 and 2016. Most cases are men with ages between 15 to 45 years old, and MSM (men who have sex with men) are the most affected group," the health organization said.
There have additionally been 500 cases of the outbreak reported in the United Kingdom, predominantly centered in London.
The European Center for Disease Prevention and Control has also said that the World Pride event in Madrid carries moderate to high risk warning for sexually transmitted infections.
The ECDC has urged participants at World Pride to "practice safer sex using condoms to prevent sexually transmitted infections, including HIV and Hepatitis B and C."
"They should also avoid faecal-oral exposure during sexual activity and ensure proper personal hygiene to prevent other infections," including hepatitis A, the agency said.
As The Centers for Disease Control and Prevention in Atlanta warns on its website, men who have sex with men have a higher chance of getting viral hepatitis, including hepatitis A, B, and C.
The CDC explains:
"Hepatitis A is usually spread when a person accidentally swallows fecal matter (stool) — even in really small amounts — that has the Hepatitis A virus in it. The virus can be spread through contact with objects, food, or drinks contaminated by the feces, or stool, of a person who has the virus. Among gay and bisexual men, Hepatitis A can be spread through sexual activity or contact with fingers or objects that have the virus on it."