World Relief demands Pres. Biden raise refugee ceiling as promised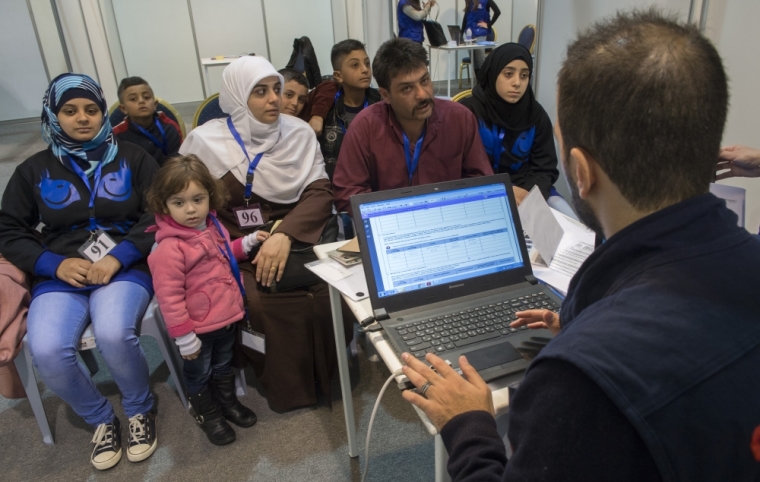 An evangelical aid organization has urged President Joe Biden to fulfill his promise to raise the refugee ceiling more than a month after his administration announced 62,500 refugees would be allowed to enter the United States this year.
The Biden administration sent the report to Congress on Feb. 12 announcing the entry of 62,500 refugees. A month later, over 700 refugees are still waiting and had to cancel their flights to the U.S. due to delayed action by the administration.
On Friday, Christian humanitarian aid organization World Relief's Senior Vice President Jenny Yang moderated the "Justice Delayed" panel with other aid organizations to discuss why they're urging the Biden administration to raise the refugee cap.
The panelists included: John Slocum, interim executive director of Refugee Council USA; Melanie Nezer, senior vice president of public affairs at Hebrew Immigrant Aid Society;  Basuze Magodo, resettlement specialist at World Relief Memphis and former refugee; Todd Turner, community sponsorship lead for Grace Immanuel UCC; and Jennifer Sime, senior vice president of U.S. Programs at International Rescue Committee.
World Relief and other refugee resettlement groups receive funding from federal taxpayers and are paid on a per refugee basis.
Slocum of Refugee Council USA noted that, as a senator, Biden co-sponsored the Refugee Act in 1980. This legislation created the current system of refugee resettlement and has allowed in an average of 95,000 refugees yearly since then.
"[This] is who we are as a country," Slocum said. "It's what we do. It reflects our values, our religious traditions, our foreign policy commitments, and it's written into our laws. The United States has been the world's leader in refugee resettlement."
Raising the refugee cap from a record low during the Trump administration was one of Biden's campaign priorities, and in November, the then-Democratic presidential candidate promised a Jesuit group that he would raise the refugee settlement ceiling to 125,000 annually.
In the Feb. 12 report to Congress, the Biden administration stated: "A robust refugee admissions program is critical to U.S. foreign policy interests and national security objectives. Refugee protection is a concrete demonstration of the United States' commitment to human rights, including freedom of religion and belief and freedom of expression, and is necessary to mobilize other countries to meet their humanitarian obligations. It is a demonstration of solidarity with refugees and the countries hosting them, and furthers the United States' international commitments."
A month after Biden sent the report to Congress stating that 62,500 refugees would be resettled in the U.S. this year, the Presidential Determination on Refugee Admissions has yet to be signed.
This is more than quadruple the Trump administration's refugee cap from last year that only allowed 15,000 refugees, which was a historic low criticized by these aid organizations. At the time, the Trump administration said the refugee cap was justified because of the COVID-19 pandemic. 
Sime, of the International Rescue Committee, said raising the ceiling would provide the U.S. with an opportunity to make up for lost time after four years of lower refugee numbers. 
"We are calling on the Biden administration to immediately sign the Presidential Determination and restore American leadership in refugee resettlement. …," Sime said.
"The United States has a unique opportunity to once again become the leader for refugee resettlement and set the example for others to follow," she continued. "We learned during the past four years that when the U.S. settled fewer refugees, other countries did the same thing. There are now 80 million refugees and internally displaced persons around the world. There are approximately 1-and-a-half million who need immediate resettlement."
Magodo, a specialist at World Relief Memphis and former refugee, said his family had to cancel their flights due to Biden's delay in signing the determination. He added that their medical clearance will soon expire if action is not taken quickly.
"Right now, they are praying very hard; they are hoping that the president and those people advising him … that they will come to a decision and formalize that number. … Right now, they are going through a very tough moment," Magodo said. 
The proposed FY 2021 allocation includes 22,000 refugees from Africa, 6,000 from East Asia, 4,000 from Europe and Central Asia, 5,000 from Latin/South America and the Caribbean, 13,000 from Near East/South Asia, and another 12,500 from an unallocated reserve.
Nezer of Hebrew Aid Society said signing the determination to allow more refugees to resettle will help the U.S. return to normalcy.
"It is normal for the U.S. to admit refugees through the U.S. refugee admission program, offering safety and the chance at a decent life to people who are persecuted. It's time to get back to it …," Nezer asserted. "For that reason … on behalf of refugees around the world, we urge the president to sign the Presidential Determination."
Slocum concurred, adding, "It's now time to put pen to paper. We urge the president to sign the revised admissions goal without delay. … Further delay only harms the most vulnerable future Americans."