Worshipers Give Donald Trump, Mike Pence Standing Ovation at NJ Presbyterian Church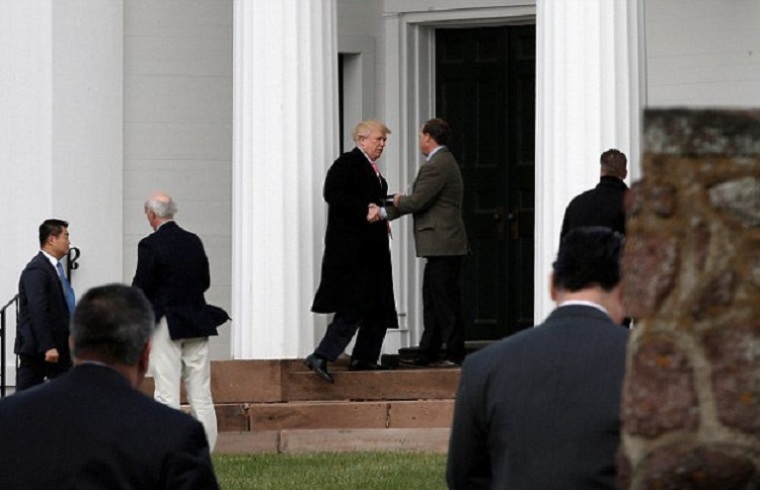 Days after reports questioned whether "proud Presbyterian" President-elect Donald Trump would attend church during his time in Washington D.C., the New York City billionaire and his Vice President-elect Mike Pence attended a worship service at a Presbyterian Church in New Jersey Sunday and received a standing ovation.
The New Jersey Advance reported that Trump and Pence attended morning services at Lamington Presbyterian Church in Bedminster before continuing transition meetings at the president-elect's Trump National Golf Club, four miles away.
Stephanie Grisham, a Trump spokeswoman, told the Advance that press was not allowed inside the white-steepled worship hall that opened in 1740 at the request of church directors.
A New York Post report said that worshipers at the church cheered Trump on his arrival. He reportedly arrived with Pence at the church at 10 a.m. and left to spirited applause at 11:15 a.m.
"I just told him that I hope he understands the country supports him and not to be distracted by the noise," said congregant Jim Tiesi, 66, who told the New York Post that he shook Trump's hand and told him the nation has his back. "He told me, 'Thank you.'"
Another excited member, Shelley Ricco, 62, said she is looking forward to the Trump administration.
"I just want to say thank you to President-elect Trump from the bottom of my heart. I've been a member of this church for 45 years and the whole congregation is thrilled to have him," Ricco said.
"We gave him a standing ovation at the end of Mass, a rousing standing ovation!" she continued. "I hope he follows his heart."
While Hillary Clinton won New Jersey by more than 13 percentage points and 400,000 votes on Nov. 8, Trump edged Clinton in Bedminster 2,258 to 2,250.
There were many controversies surrounding Trump's reported Christian faith during the election. While Trump claims to be a believer, he also said he has never repented or asked for forgiveness for his sins. He says he is a Presbyterian and a member of Marble Collegiate Church, but Marble Collegiate Church is not Presbyterian and has no record of Trump ever being a member. He claimed the Bible was his favorite book, but when asked to name a favorite verse, declined to do so. When he later named a verse, he mentioned a passage that is not in the Bible. At one worship service he put his offering in the communion plate. And in a speech at Liberty University, he said "two Corinthians" instead of "second Corinthians" then blamed Family Research Council President Tony Perkins for the mistake because Perkins wrote it down for him as "2 Corinthians." 
Trump drew 81 percent of self-described white evangelical voters in his victory over Hillary Clinton on Nov. 8 after promising last summer that he would "be the greatest representative of the Christians that they've had in a long time."
"First of all I'm Protestant. I'm Presbyterian. I'm proud of it. I'm very proud of it," Trump told CBN's David Brody. "Believe me, if I run and I win, I will be the greatest representative of the Christians that they've had in a long time."
A number of local Presbyterian pastors in Washington D.C. said last week that their doors are open for Trump should he decide to worship with them when he comes to Washington.
"I think Mr. Trump would be welcome at any Presbyterian Church USA in the city. I know he, like everyone is, would be welcome at ours. He doesn't seem like the type of guy that finds the Gospel challenging and meaningful or likes to rub elbows with a diverse group, not all [of whom] are materially successful. But God works in mysterious ways," Fifteenth Street Presbyterian's the Rev. Robert Bell asserted in an interview with The Washington Post.
"Our doors are open to everyone to worship with us and listen to the words of Jesus on love and compassion. Capitol Hill Presbyterian Church is a welcoming and inclusive church, and our doors are always open to anyone who wishes to join us in our community exploring faith, joyfully sustained by the love of God, caring about each other, and the needs of a broken world," Capitol Hill Presbyterian's Rev. Scott Wilson added.