'Would Jesus Watch Fox News?' Jimmy Kimmel Asks Bill O'Reilly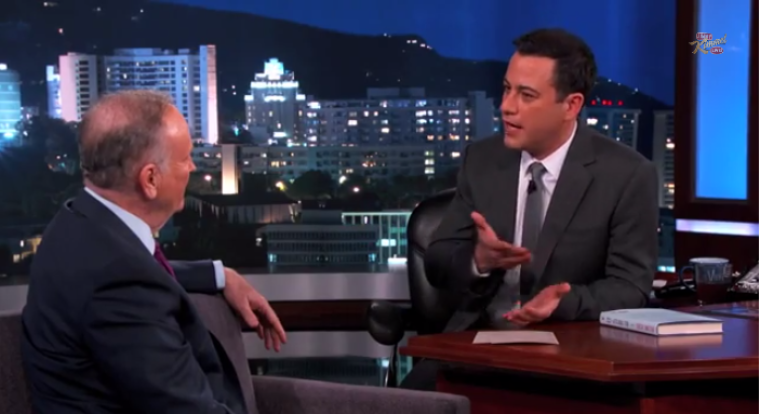 In an interview with comedian Jimmy Kimmel, Fox News anchor and columnist Bill O'Reilly discussed his Super Bowl interview with President Obama and his new book, Killing Jesus.
"I want to ask you if you think Jesus would watch Fox News," Kimmel asked O'Reilly Tuesday night in ABC's "Jimmy Kimmel Live" studio in Hollywood, CA, right before a commercial break. O'Reilly burst out laughing, and the break cut off any answer he might have given.
Kimmel asked the Jesus question because of O'Reilly's new book, Killing Jesus. The comedian mentioned the other books in O'Reilly's death narrative sequence, Killing Lincoln and Killing Kennedy, asking "is there any question if there's a serial killer here?" The author joked that one man used time-warp technology to kill all three.
Turning to the substance of the book, O'Reilly explained "it's not a religious book, it's just history." He argued that the driving question of Killing Jesus is how the Christ became so famous. "You don't have to be a religious person to want to know about the most famous man who's ever lived," the author explained.
O'Reilly argued that Jesus achieved this feat "because he gave hope to the hopeless." The author set the stage of ancient Israel, saying "The Romans ruled. If you got out of line they put you on a cross, and it was brutal. The people were in debt to here and they didn't have any money to begin with." The Fox News anchor explained that the Romans were so terrifying that the Nazis themselves copied their methods of torture and cruelty. "If you got nailed to the cross, you stayed there until you decayed."
The author concluded that in such a bleak world, Jesus preached a message of hope and stood up to the abusive authorities. "The Jewish people loved him," O'Reilly argued, "because he brought hope and he challenged authority, and he did it in a way that was flamboyant. He brought a whip into the temple and hit these guys who were changing the money in a spiritual place."
Kimmel also asked O'Reilly about his interview with President Obama before the Super Bowl. The Fox News anchor explained the tradition for the big game.
"The president gives an interview to the network that has the game," he said. "Unfortunately, I'm the guy at Fox."
O'Reilly admitted that that interview "was the toughest interview of my life." He only had twenty minutes to get Obama to answer as many questions as possible. Since Obama speaks eloquently and can go on a while, the Fox News anchor said he would have to cut the president off to get a word in edgewise. "I have to interrupt the most powerful man in the world," O'Reilly declared, "and you can't do it in a way that denigrates him, that makes him look bad."
"Some people on the far right apparently wanted me to pour water on him or give him a noogie or something, but the Secret Service would have executed me on the spot, so you've got to be respectful," O'Reilly quipped.
Although O'Reilly disagreed with many of the president's decisions, he told Kimmel that he thinks Obama is "trying to do what's best for the country."
"I don't think it's fair to put any president, unless you have evidence beyond a reasonable doubt, into a category that they're trying to subvert the nation," O'Reilly argued. "That said, I'm the toughest guy on the block when it comes to holding them accountable for what they do."