WWE Invites Openly Gay NFL Player Michael Sam to Program, Offers 'Open Mic'
WWE Invites Openly Gay NFL Player Michael Sam to Program, Offers 'Open Mic'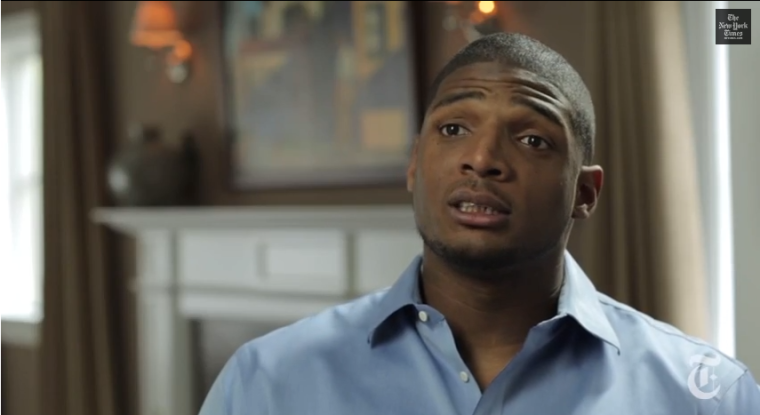 The largest professional wrestling company in the United States has invited openly gay National Football League player Michael Sam to their program to air his grievances.
World Wrestling Entertainment, based in Stamford, Connecticut, announced Monday that they wanted the recently cut Rams player on their flagship program "Monday Night Raw" next week.
"2013 @SEC Defensive Player of Year & @NFL @STLouisRams draft pick @MichaelSamNFL invited to @WWE #RAW next week!," said WWE on Twitter.
On Monday evening's episode of "Raw," which emanated from Des Moines, Iowa, the commentating team reiterated the invitation and said they wanted Sam to give "his side of the story."
WWE is known for its involvement in an anti-bullying campaign called "Be A Star," which involved them working alongside the LGBT group GLAAD.
Their main program "Raw" is broadcasted live, which would add a level of unpredictability to what Sam might say if he accepted their invitation.
In May, Michael Sam was drafted to the St. Louis Rams, becoming the first openly gay draft pick in the history of the NFL.
Many praised the selection of Sam to the team as a highlight of growing acceptance of people regardless of their sexual orientation.
Others denounced it as identity politics, with a team being pressured to select a player not on the basis of his athletic ability but rather his sexual orientation.
In late August Sam was cut from the Rams team, having lost the final roster spot to undrafted rookie Ethan Westbrooks, according to Nick Wagoner of ESPN.
"Sam officially hit waivers Saturday at 4 p.m. ET when all NFL teams had to trim their rosters to the league-mandated 53 players," reported Wagoner.
"From there, the other 31 teams will have until noon ET on Sunday to put in a claim for Sam. If he goes unclaimed, he will be free to sign with a practice squad."
There is still a possibility that Sam will be put on the Rams' practice squad for the upcoming season.
On his Twitter handle, Sam expressed gratitude for having the chance to be drafted to an NFL team.
"I look forward to continuing to build on the progress I made here toward a long and successful career," posted Sam on Saturday.
"The most worthwhile things in life rarely come easy, this is a lesson I've always known. The journey continues."
While Sam has not yet confirmed whether or not he will accept the invitation for the live WWE program, CBS Sports blogger John Breech believes that it "probably wouldn't make any sense."
"Although showing up on "Monday Night Raw" probably wouldn't make any sense for Sam, the offer makes plenty of sense on Vince McMahon's end," wrote Breech.
"The WWE owner is known for outrageous stunts and what better way to go up against 'Monday Night Football' next week than airing an interview with Sam."
Debuting on the USA Network in January 1993, WWE's "Monday Night Raw" is a weekly live program that averages over 4 million viewers per episode.