Yazidi Activist Describes Horrors of Islamic State Persecution to Congress: 'We Are Being Burned Alive'
Yazidi Activist Describes Horrors of Islamic State Persecution to Congress: 'We Are Being Burned Alive'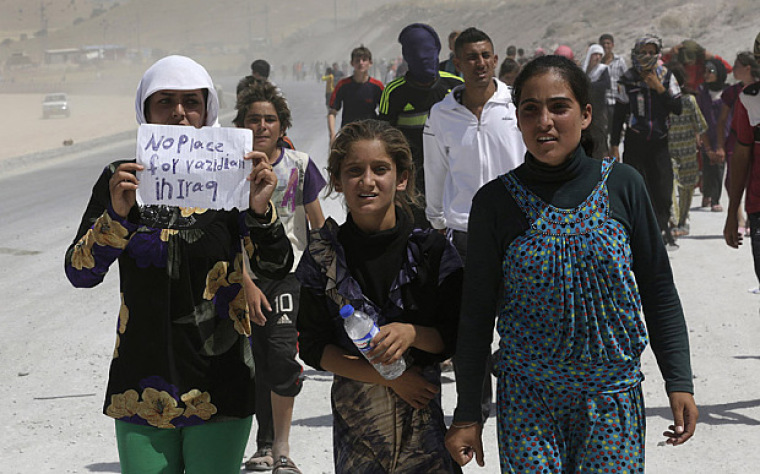 Members of the minority Yazidi sect stood in front of U.S. Congress last week to describe the horrors inflicted upon their religious group by the Islamic State, including claims that the terrorist organization burned Yazidis alive this year.
Mirza Ismail, chairman of the Yazidi Human Rights Organization-International, stood in front of Congress' House Subcommittee on Africa, Global Health, Global Human Rights and International Organizations last week to detail the horrific atrocities inflicted upon the Yazidi population in Iraq by the Islamic State terror group, which considers the religious sect to be infidels.
"Because we are not Muslims, and because our path is the path of peace [...] we are being burned alive," Ismail told Congress last week.
Ismail added during the subcommittee hearing that Yazidi women and girls are also being subjected to rape and sexual slavery at the hands of Islamic State militants.
"ISIS militia have burned many Yazidis alive for refusing to convert and marry ISIS men," Ismail told the panel, adding that the "Yazidis and Chaldo Assyrian Christians face this genocide together. Why? Again, because we are non-Muslims."
Ismail concluded his speech by stating that what is happening to the Yazidis and Assyrians in the Middle East at the hands of the Islamic State is "nothing less than genocide."
Since the Islamic State gained control of some parts of Iraq and Syria last year, minority religious groups have spoken out against the horrors inflicted by the terrorist group.
Recently, the Holocaust Museum in the United States released a report describing what is happening to the Yazidis in the Middle East as a "genocide," saying that there is a massive amount of evidence to back up the use of such a strong word.
Pari Ibrahim, an activist for the Yazidi population, added to the Middle East Eye in November that use of the word "genocide" when referring to the persecution of the Yazidi population is important for the international community to understand the gravity of the situation.
"For Yazidis, it is very important to secure recognition that a genocide was committed against us," Ibrahim told the media outlet. "The word genocide is important, and starting an ICC case will eventually bring recognition, reparations and ensure the protection of civilians in the future."
Activists for the Yazidi population have also pushed the International Criminal Court to recognize their persecution as genocide.
Luis Moreno Ocampo, former chief prosecutor for the International Criminal Court, said in a statement to Reuters in September that it is "very clear" the Yazidis are experiencing persecution.
"It's a very clear case. It's an ongoing genocide because there are still people in captivity," Ocampo told the media outlet.
"It's up to us to provide information that allows the ICC to understand, yes, we have jurisdiction in this case in this way," Ocampo continued, adding "It's difficult to predict who will be prosecuted because this is the beginning."