World's oldest Hebrew Bible becomes second most expensive historical document sold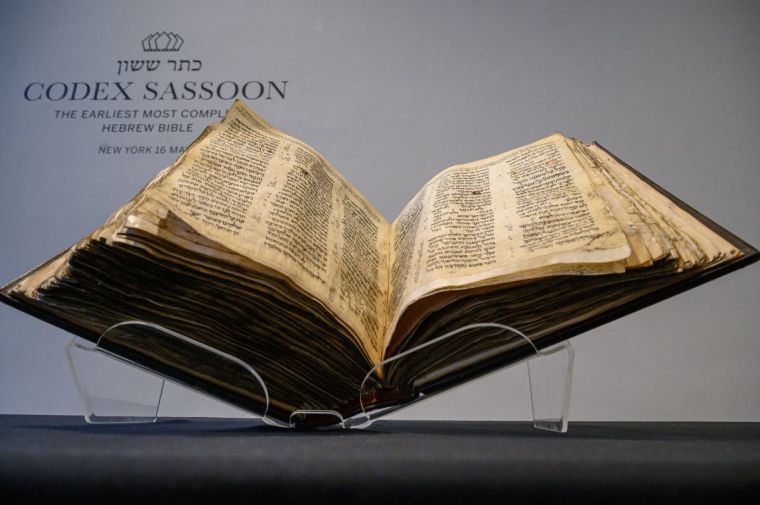 An ancient Hebrew Bible believed to be the earliest and most comprehensive copy of its kind became the second most expensive historical document sold. 
Carbon dated back to the late ninth or early 10th century and esteemed as a treasured artifact of significant historical value, the Codex Sassoon sold for a staggering $38.1 million in an auction that closed last Wednesday after a four-minute battle between two bidders. 
Created circa 900 and consisting of 24 books divided into three parts, the ancient Bible was purchased by Alfred H. Moses, a former U.S. ambassador to Romania, and his family on behalf of the American Friends of ANU, which was gifted to the Museum of the Jewish People in Tel Aviv, according to Jewish News Syndicate. 
Moses is the chair of the museum's international board of governors. 
The sale price exceeds the $30.8 million sale of Leonardo da Vinci's Codex Leicester manuscript in 1994 but falls short of the November 2021 sale of the U.S. Constitution for $43.2 million. 
The Bible is named after its original owner, David Solomon Sassoon (1880-1942), known for assembling the most extensive private collection of Hebrew manuscripts. Sassoon reportedly had an "affinity" for collecting Bibles, according to Sotheby's. The Hebrew Bible is foundational to three Abrahamic religions, Christianity, Judaism, and Islam. 
"The care and dedication with which Codex Sassoon was repeatedly repaired over the centuries, as well as its consecration to a synagogue, give eloquent testimony to the esteem in which it was held by its owners and users," Southby's explains on its website. "It is only fitting that such a significant and valuable witness to the masoretic tradition should have entered the Sassoon collection, one of the largest and most important private Judaica libraries ever built."
The 24 books contain the canonical Hebrew Scriptures: the Torah, the Nevi'im and the Ketuvim.
"Codex Sassoon has long held a revered and fabled place in the pantheon of surviving historic documents and is undeniably one of the most important and singular texts in human history," Richard Austin, Sotheby's Global Head of Books & Manuscripts, said in a statement. "With such eminence, the Codex has an incomparable presence and gravitas that can only be borne from more than one thousand years of history."
Before the auction last week, the public had the opportunity to see the manuscript for the first time in 40 years at Sotheby's auction house in London before going on tour through several major cities, including Tel Aviv, Israel, Dallas and Los Angeles and New York for the auction.