Zac Efron Wears 'Darwin Is Dead, Jesus Is Lord' Vest on Set of New Film Starring Matthew McConaughey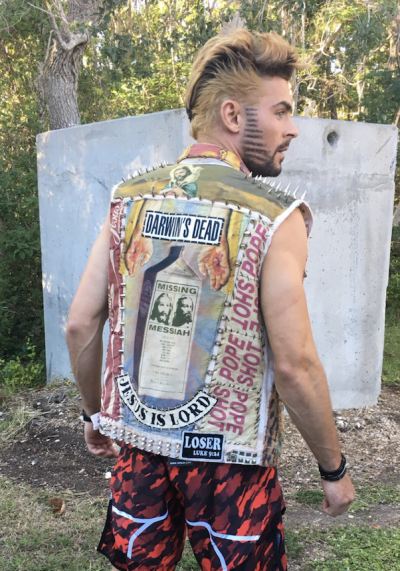 A photo of actor Zac Efron on set of the upcoming film, "The Beach Bum," is making headlines because of his psychedelic/religious new look.
Photos of Efron surfaced on social media on Monday, where he is seen sporting a bleached faux-hawk and a shaved beard with designs on the side of his face. He combined the look with a denim vest adorned with various religious patches, which say "Prayer warrior," "I'm not perfect, just forgiven," and "Darwin Is Dead, Jesus is Lord" under a large photo of Jesus' face on the side of a milk carton.
"The Beach Bum" was written and directed by Harmony Korine ("Spring Breakers"). The film also stars Matthew McConaughey and Isla Fisher. McConaughey will reportedly play Moondog, described as a "rebellious stoner who lives by his own rules (he's the titular beach bum)." Fisher is Moondog's wife, and Efron plays a hyper-Christian guy named Flicker, a character whom Moondog will meet on his journey.
The movie will also feature "The Florida Project" actress Bria Vinaite and rapper Snoop Dogg, along with musician Jimmy Buffett.
"The Beach Bum" is not the only movie Efron has transformed himself for recently. The 30-year-old  also recently took on a '70s style getup for his role as serial killer Ted Bundy in the upcoming film "Extremely Wicked, Shockingly Evil and Vile."
Ojo a los looks de Matthew McConaughey y Zac Efron en el rodaje de THE BEACH BUM, a las órdenes de Harmony Korine (who else?). pic.twitter.com/FACIDj3cUx

— SO FILM Esp (@SOFILMEsp) February 12, 2018