GOP rebuttal: Sarah Sanders claims radical left forcing Americans to worship 'false idols'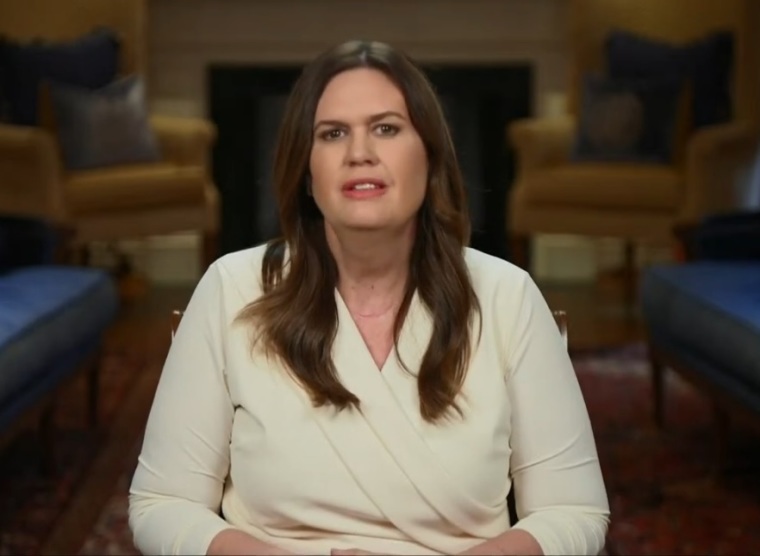 Arkansas Gov. Sarah Huckabee Sanders didn't mince words in her rebuttal Tuesday night to President Joe Biden's State of the Union address, claiming that the political Left is forcing Americans to worship "false idols" as it wages a culture war she says Americans didn't ask for.

Sanders, 40, who was inaugurated last month as the youngest governor in the nation after serving for 2.5 years as former President Donald Trump's press secretary, claimed that Biden has "surrender[ed] his presidency to a woke mob that can't even tell you what a woman is."

"Whether Joe Biden believes this madness or is simply too weak to resist it, his administration has been completely hijacked by the radical Left," Sanders, the daughter of former Arkansas Gov. Mike Huckabee, a former Baptist pastor, said.

"The dividing line in America is no longer between right or left. The choice is between normal or crazy."
The governor contends that the Biden administration seems "more interested in woke fantasies than the hard reality Americans face every day."
"Most Americans simply want to live their lives in freedom and peace, but we are under attack in a left-wing culture war we didn't start and never wanted to fight," she said. 

"Every day, we are told that we must partake in their rituals, salute their flags, and worship their false idols … all while big government colludes with Big Tech to strip away the most American thing there is — your freedom of speech. That's not normal. It's crazy, and it's wrong."
As Biden spent much of his speech touting the economic and job gains in the aftermath of the COVID-19 pandemic, Sanders claimed that Biden "inherited the fastest economic recovery on record," "the most secure border in history," "cheap, abundant, home-grown energy," "fast-rising wages" and "a rebuilt military." 

"But over the last two years, Democrats destroyed it all," she claimed. 

"Despite Democrats' trillions in reckless spending and mountains of debt, we now have the worst border crisis in American history."

Biden also spoke of the fact that over 70,000 Americans are dying each year from fentanyl overdose as some conservative members of Congress heckled him about the impact that his administration's border policies have had on this issue. Sanders touched on this, saying that much of the nation's overdose deaths result from "fentanyl pouring in across our southern border."

"Yet the Biden administration refuses to secure the border and save American lives," she stated. 

In his speech, Biden defended the U.S. military's downing of the Chinese spy balloon that traversed the U.S. last week, vowing to take action anytime America's sovereignty is threatened. Conservatives have expressed concern with the fact that it took days for the military to down the balloon off the coast of South Carolina after traveling most of the length of the continental U.S.

Sanders added that Biden's "refusal to stand up to China, our most formidable adversary, is dangerous and unacceptable."

"President Biden is unwilling to defend our border, defend our skies, and defend our people. He is unfit to serve as commander in chief," Sanders stated.