111-Year-Old Fan Meets NY Yankees' Derek Jeter, Prepares for Boston Red Sox Showdown (VIDEO)
111-Year-Old Fan Meets NY Yankees' Derek Jeter, Prepares for Boston Red Sox Showdown (VIDEO)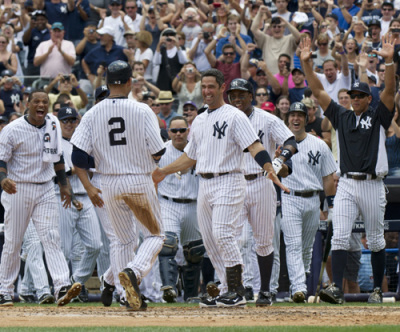 A 111-year-old fan met with the New York Yankees this week during batting practice.
Derek Jeter and manager Joe Girardi greeted the man, who is probably the oldest Yankees fan there is.
Bernando LaPallo was in fact born the same year that the Yankees were founded. The devoted fan said, "This is the greatest day of my life. The Yankees and I were born in the same year, 1901," according to the New York Post.
LaPallo reportedly has lived in New York for the past 90 years, having originally been born in Brazil.
The fanatical Yankees fan explained that when he met Jeter he "spoke about his accident and hoped he would get back to hit more homers and steal more bases."
Sunday night will see the Yankees face off against the Boston Red Sox, in one of the most fierce rivalries in American sports. The two arch rivals have each won one of the games in the series so far, with the Red Sox cleaning up on Saturday by claiming an 11-1 rout.
For tonight's game Boston will send unbeaten Clay Buchholz to the mound, where as New York is scheduled to send veteran Hiroki Kuroda out in the hope of turning the series back their way.
Clay Buchholz's record for the season is 7-0, with a personal ERA of 1.73. Hiroki Kuroda meanwhile has a record this season of 6-3, and is holding an ERA of 2.39.
Exclusive Op-eds from the Presidential Campaigns
Here is a video news report of the 111-year-old fan visiting the Yankees:
MLB on FOX: 111-year-old fan visits Yankee Stadium