1979 Murder Suspect Arrested at Chicago O'Hare Airport
1979 Murder Suspect Arrested at Chicago O'Hare Airport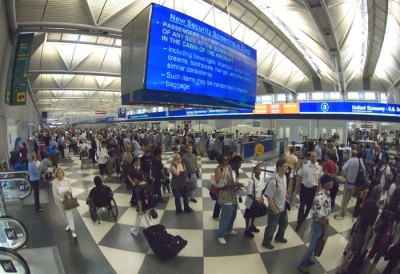 A 1979 murder suspect has been arrested Friday after spending the past 35 years on the run from police.
Ata Yousef El Ammouri, 65, was arrested at O'Hare International Airport as he attempted to re-enter the United States from Jordan. He had been living in Jordan but hoped to get into the U.S. to attend a grandchild's graduation ceremony. However, as he attempted to get through immigration at O'Hare International Airport he was identified and apprehended.
The suspect was looking to get through immigration services at the airport and catch a connecting flight to an airport in Tennessee.
He is wanted for the murder of a shoplifter in 1979, in an incident that took place in Chicago's South Side.
El Ammouri is believed to have killed Joe Harris, 31, after Harris tried to walk out of El Ammouri's store on July 22, 1979 without paying for a can of beer. In the aftermath of the killing El Ammouri was arrested and given $100,000 bail. However, he managed to pay the bail and disappeared, going on the run and going into hiding.
Additional charges were filed against El Ammouri in November 1979 when he didn't show up for his court proceedings, and he was charged with breaching the terms of his bail conditions. Authorities said at the time that they believed he had fled the country to avoid prosecution.
El Ammouri was taken to bond court on Saturday following his apprehension and he was ordered to be held without bail this time through fear of him being a flight risk. He will appear in court again on Monday.
El Ammouri was identified following combined efforts from the police, the U.S. State Department's Diplomatic Security Service, the Department of Homeland Security's Immigration and Custom's Enforcement, and the US Embassy in Jordan.
Exclusive Op-eds from the Presidential Campaigns
Cook County Sheriff Tom Dart said, "I want to thank the State Department and the various state and federal agencies for their outstanding intelligence gathering throughout this initiative as well as our team on the ground for their patience and professionalism."