Apple MacBook Air 2016 Rumors: Release Imminent As Current MacBooks Discounted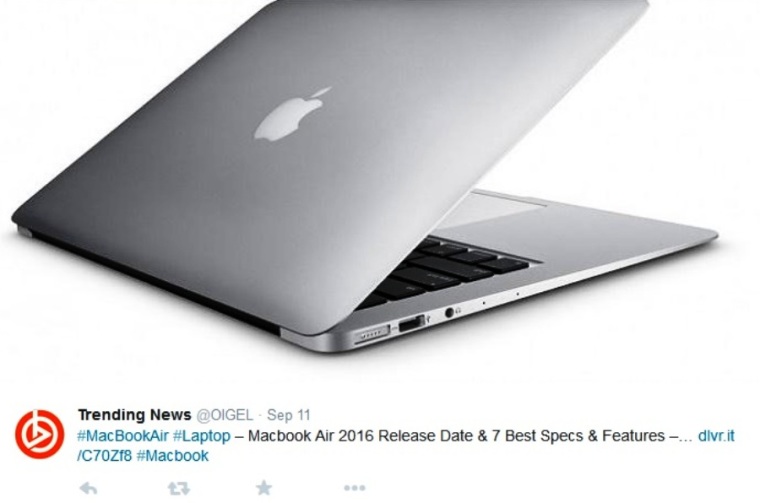 Rumors have emerged that Apple's MacBook Air 2016 may be released early, evidenced by the deep discounts retailers have given their current MacBook models.
Apple's latest MacBook model is rumored to be coming in November, with the Cupertino, California company moving its launch date up to early October from its earlier unveiling schedule in Q1 2016.
Retailers have even now started to put their current MacBook inventory up for sale at lower prices in preparation of the MacBook Air 2016's arrival.
A few weeks back, speculations were rampant Apple's upcoming laptop would be released ahead of schedule, but with retailers already giving deep discounts on their existing stock - a prime indication of an incoming new product, MacBook users are tuning in more closely to developments.
According to rumors, the upcoming laptop's production has been ramped up in a hurry to see a release date just before the holiday season. It will reportedly be unveiled a week from now and start shipping by November.
Said to be carrying the latest Intel Skylake U-processor and the game-friendly Nvidia GeForce GTX 950 GPU, the MacBook Air 2016 will be installed with GameStream Co-op, a recent Nvidia release which will allow players to stream co-op games to fellow gamers to enable remote co-players to participate in games via co-op streaming.
As expected, the upcoming Apple laptop will feature Retina display, Force Touch technology, and offer extended battery life and improved performance. It will also be equipped with a USB Type C port and run on Apple's soon-to-be-released operating system, the X El Capitan.
Further rumors peg the 2016 MacBook Air as having wireless charging technology, as well as carry the distinction of being the least expensive MacBook to ever hit the shelves with an $899 price tag, high-end specs notwithstanding.
The Apple MacBook Air 2016 is expected to go up against Microsoft's Surface Pro 4 which is gearing up for its big reveal in New York on October 6.