Arizona Cardinals vs Jacksonville Jaguars Live Stream Free: Watch NFL 2013 Football Online (Start Time, Fox TV Schedule)
The Arizona Cardinals and the Jacksonville Jaguars will face off on Sunday in Week 11 of the NFL regular season, as the Cardinals look to improve on their unexpectedly good record this season. The game will start at 1 p.m. ET and can be watched online through free live stream (details below).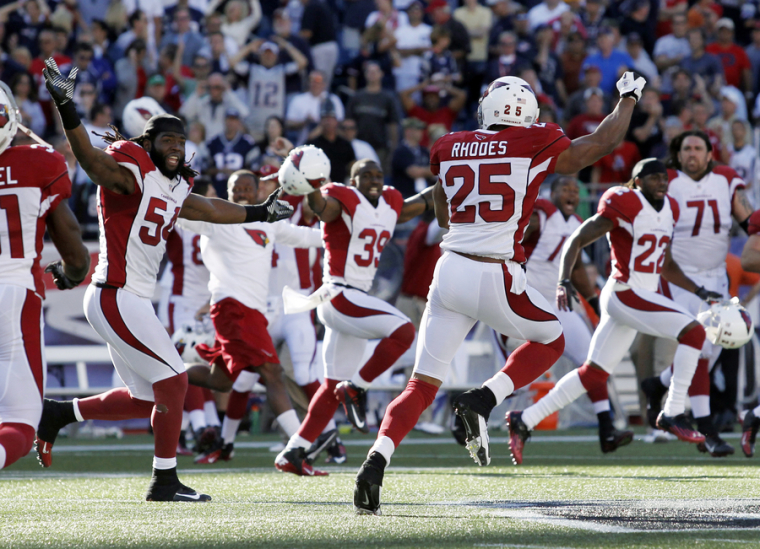 The Cardinals are above .500 in the second half of the season for the first time in years, and they will be desperate to win today to build on their good work. They come into this game with a record of 5-4, which places them third in the hugely impressive NFC West. They are trailing the 9-1 Seattle Seahawks, and the 6-3 San Francisco 49ers.
Meanwhile, the Jaguars are in the basement of the AFC South with a record of 1-8, but they did manage to pull off their first win of the season last week, defeating the Tennessee Titans 29-27 in a shock win.
That result will send a warning out to other NFL teams that they will not be just laying down to be steamrollered over through the rest of the season, but they will fight to win any game where the opposition gives anything.
Meanwhile, the Cardinals defeated the Houston Texans 27-24 last week, which was a great follow up to their 27-13 win against the Atlanta Falcons in Week 8. They will be confident that they have what it takes to go up 6-4 today.
The Cardinals will have noted that the Jaguars are the worst team against the run in the NFL. They have allowed 153 yards per game on the ground, so Arizona will likely be looking to up their running game. However, so far this season the Cardinals haven't been proficient on the ground. Not that there haven't been spurts of impressive play – there was a 154-yard outburst by Andre Ellington in Week 8 against the Falcons.
But seeing the Jaguars problems on the run, Ellington and Rashard Mendenhall will know that this is a game where they must shine and show what they're made of.
The Cardinals against the Jaguars will start at 1 p.m. ET and can be watched on TV on the Fox network or online through free live stream by clicking here.
Arizona Cardinals vs Jacksonville Jaguars WEEK 11 NFL PREVIEW, 11/17/13