Arizona Cardinals vs Seattle Seahawks Live Stream Free: Watch NFL 2013 Football Online (Fox TV Schedule, Start Time)
Arizona Cardinals vs Seattle Seahawks Live Stream Free: Watch NFL 2013 Football Online (Fox TV Schedule, Start Time)
The Arizona Cardinals will play the Seattle Seahawks on Sunday in a huge game in the NFC Conference. This game is packed with postseason implications, and the Cardinals must defeat the best team in the NFL so far this season to maintain their hopes of snatching a postseason spot. The game will start at 4.05 p.m. ET and can be watched online through free live stream (details below).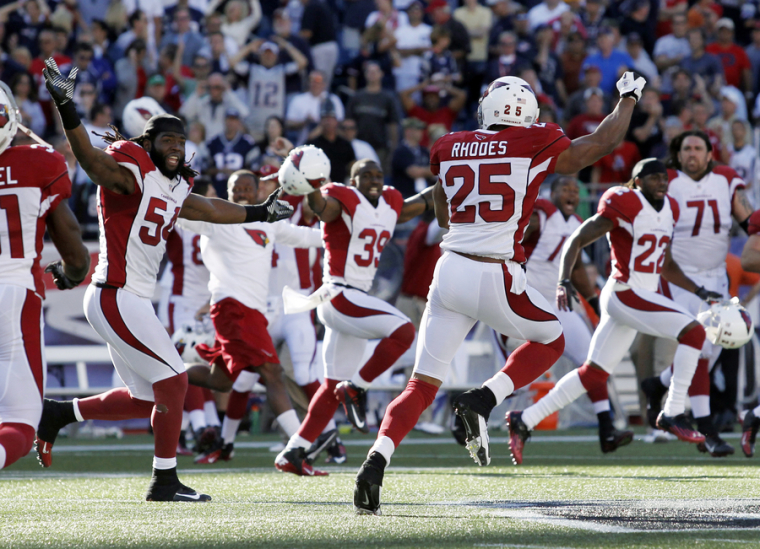 The NFC West division is immense this season, and it is extraordinary to believe that with just two weeks of the season to go, three teams in the division are still competing for playoff positions.
At the moment the 12-2 Seattle Seahawks are top of the NFC West and are in the no. 1 seed position for the NFC Conference playoffs.
The 10-4 San Francisco 49ers are currently in second place in the division and occupy the 6th seed position for the playoffs, which at the moment would see them clinch a Wild Card spot.
Meanwhile, the 9-5 Arizona Cardinals are still on the outside looking in. They are third in the NFC West, and currently seeded 7th for the playoffs. They will need to win out the season to stand a chance of jumping into the postseason spots before the end of the year.
The Cardinals have had an immense season, and they will want to now go the final mile and clinch a place in the postseason schedule. They have claimed three wins from their last four games, their only blip coming against a Philadelphia Eagles team which was able to hold off Arizona in a 24-21 game.
The Cardinals' reward for such a good season has been to enter the final two weeks of the season and still control their own destiny. If they can defeat the Seahawks tonight, they will host the 49ers in Week 17 in what would be a massive game.
The Seahawks have only conceded 26 points over their past three games, so this will not be an easy one for the Cardinals. In particular, last week the Seahawks completely shut out the New York Giants in a 23-0 victory. The Cardinals' offense will have to be at their best to win this one.
The Arizona Cardinals against the Seattle Seahawks will start at 4.05 p.m. ET and can be watched on TV on the Fox network or online through free live stream by clicking here.
Arizona Cardinals vs Seattle Seahawks WEEK 16 NFL PREVIEW 12/22/13