Atlanta Falcons vs Tampa Bay Buccaneers Live Stream Free: Watch Online NFL 2013 Football (Start Time, Fox TV Schedule)
The Atlanta Falcons will play the Tampa Bay Buccaneers in Week 11 of the NFL on Sunday, and with both teams struggling terribly this season this may not be one of the most glamorous match ups today, but it will feature two teams desperate to improve on their records and claim a rare win today. The game will start at 1 p.m. ET and can be watched online through free live stream (details below).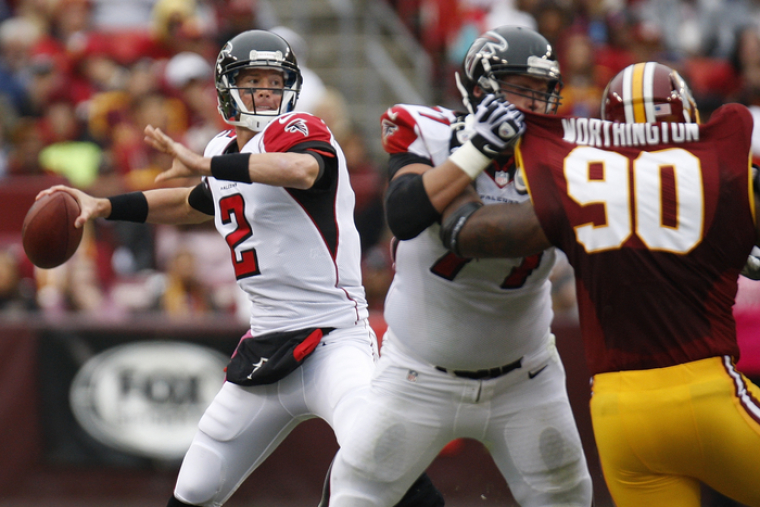 These two teams will face off today in a basement clash in the NFC South division. The Buccaneers are 1-8, where as the Falcons are 2-7 so far this season. With a combined record of 3-15, the good news for these teams today is that at least one of them will gain a win today.
The Falcons will be hoping to claim their third win of the season and put some space between themselves and the basement Buccaneers. However, if the Buccaneers can win this match up then they would pull up alongside the Falcons and drag Atlanta to be tied bottom of the division.
Tampa Bay will be hoping to follow up their good win last week against the Miami Dolphins with a second straight win here today. They defeated the Dolphins 22-19 in a tense and tight game. They will have been pleased to have come out on the right side of a tight results last week, having lost 24-27 against the Seattle Seahawks in Week 9.
Meanwhile the Falcons will be desperate to snap their losing streak today. They have suffered bad losses to the Carolina Panthers and the Seattle Seahawks in recent weeks; losing those games 10-34 and 10-33 respectively. Scoring just 10 points in each of their last two games reveals some terrible trouble in their offense, and they will need to fix those offensive issues as they are unlikely to beat many teams unless they can start piling more points on the scoreboard.
The Falcons will rely on their pass today, where they have a 6th ranked pass unit, posting 275.1 yards per game in the air. Their rush has been near-non-existent though and they rank dead last in rush offense, posting just 64.3 yards per game on average.
The Falcons against the Buccaneers will start at 1 p.m. ET and can be watched on TV on the Fox network or online through free live stream by clicking here.
Atlanta Falcons vs Tampa Bay Buccaneers WEEK 11 NFL PREVIEW, 11/17/13