Ball State Freshman Scores Free Tuition With Half Court Shot.
Markus Burden became one of the most popular college freshmen at Indiana's Ball State University Thursday, after scoring a half court shot that won him a half semester of tuition.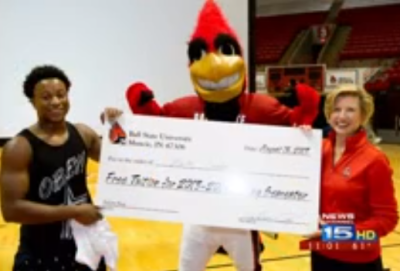 It's a prize that the school has offered for years without anyone ever making the shot. But things would play out different this time around when college freshman Markus Burden stepped up to the half court line. Randomly selected, Burden was one of more than a hundred students who had packed in to the Ball State University auditorium for "Freshman Week."
Burden was given four chances to sink the ball from the half court. One ball in would be worth half a semester of tuition. He took three shots and missed them all. And then came is fourth shot. With a running start, Burden hit the line, threw the ball in the air, and swoosh. The last one sunk.
"It was an overwhelming feeling," the 18-year-old freshman told the Indy Times.
Burden has high hopes about winning the jackpot, but its not just because he was looking to score. The money, Burden says, will give huge relief to his mom.
"It just gives us a lot of breathing room right now," he told the local paper.
Burden's mom in fact, would not even take her son seriously about the tuition money until a friend sent in photographic proof. Adding to the surprise is that Burden never even played on his high school basketball team. Instead, he's collected his skills from throwing a couple of hoops with friends after school and practicing some trick shots- one of which includes a half court dunk.
Burden says his mom was left in tears, but she's not the only one who is impressed. Now the lucky freshman says that others are stopping him on campus, asking about his new celebrity.
"Is that half-court shot guy? Are you the one that made the shot?" Burden told the paper, repeating lines that other students have approached him with.
For Burden, half a semester of out-of-state tuition is worth more than $11,000.