Barcelona vs Mallorca Live Stream Football Free: Watch Online Spanish La Liga Soccer (11.50AM ET)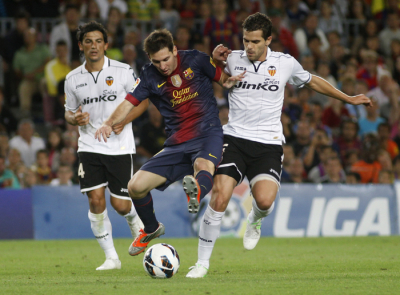 Barcelona vs Mallorca takes place in the Spanish La Liga on Sunday with Mallorca desperate for a win, and Barcelona looking to maintain their impressive form at the top of the league table. The game is scheduled to start at 11.50 a.m. ET and can be watched online through free live stream via the link below.
Mallorca have lost their last five games, and with that poor form and desperate for a win they could not have come up against a worse team.
Mallorca's last win came all the way back on Sept. 23 when they beat Valencia and at that point were fourth in La Liga and looking forward for a successful season.
However, key injuries in midfield and defense have weakened the side and they've found it hard to maintain their intensity without those missing players. The depth of the Mallorca squad makes it more difficult for them to compete when some of their key players drop out injured. Where as teams like Barcelona have players like Cesc Fabregas to come on from the bench, Mallorca struggle when their top players are missing.
Barcelona will be looking to set things right following their shock loss in Scotland to Celtic in their midweek match in the Champions League. That will have given Mallorca some hope but could equally make the Barcelona players even more determined to set the record straight and put a hat-full of goals past a team low on confidence.
If Mallorca lose today they could be thrown into a relegation battle this season and they will be hoping to come away from this match with at least a point. Barcelona, the perfectionists will take nothing other than a win. They have beaten Mallorca by a combined score of 10-0 in their last three matches and for their fans it would be unthinkable to lose two games in just days.
Barcelona vs Mallorca kicks off at 11.50 a.m. ET and can be watched online through free live stream by clicking here.