Bieber Meets Girl in Hospital: Visits 7 Year Old Fan Fighting Leukemia (PHOTO)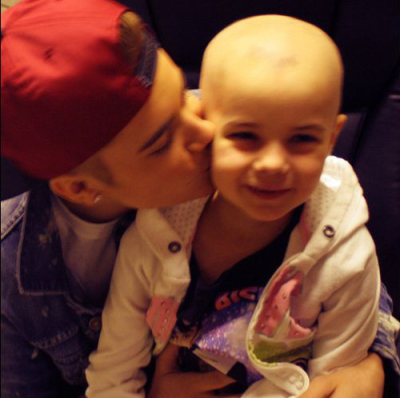 Justin Bieber has met a girl in hospital who was too sick to attend his concert in Salt Lake City on Saturday.
Seven year old Millie Flamm, a huge Bieber fan, had wanted to attend the pop singer's concert on Saturday night, but she was too sick to make it. Millie suffers from leukemia and is currently spending time in hospital for treatment.
Bieber, hearing about his young fan, decided that if she could not come to see him perform he would do something even better and he decided to take time out from his busy schedule to visit her in hospital prior to the concert.
Bieber went to the Primary Children's Medical Center on Saturday night ahead of his gig and gave his big fan a huge hug when he surprised her in her hospital room. According to the San Francisco Gate publication, Bieber even sang a song just for Millie - her own private concert.
Millie's mother, Amanda Flamm, also reported that the Canadian singer, who is a well-known Christian, left her daughter a souvenir of his visit.
Amanda said, "He was so sweet to her. He walked in and her whole face just lit up. She is squeezing (Bieber's guitar pick) with all her might and will not let it go."
Millie had bought a ticket to Bieber's concert in Salt Lake City, and was looking forward to seeing her favorite star perform, but unfortunately was left devastated when she suffered a relapse. Her condition meant she was forced to sell her ticket.
A campaign was then started to try to get Bieber's attention, asking the pop star to come and visit his young fan in the hospital. When Bieber heard about the campaign and Millie's situation he was more than happy to take time out to pay her a personal visit.
Millie's mom also added: "It just has re-energized all of us. We are ready to keep going and fight harder with all this backing and this fun thing that has happened, and keep going and keep fighting."
Here is a video of Justin Bieber's single "Girlfriend":