Boxing News 2016: Possible Scenarios Following Canelo Alvarez Decision to Vacate WBC Title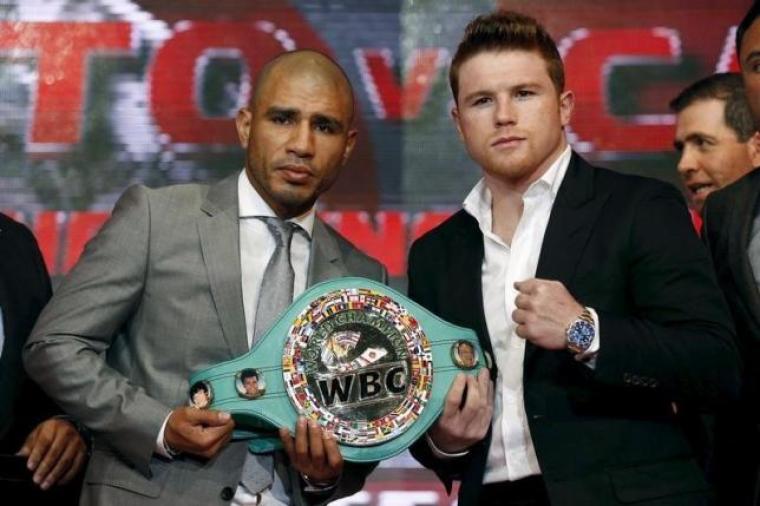 On late Wednesday night, Mexican boxing sensation Saul "Canelo" Alvarez decided to vacate his WBC middleweight title.
According to a report by Dan Rafael of ESPN, Alvarez decided to drop the title, but has remained adamant in facing interim champion and WBC mandatory challenger Gennady Golovkin, down the line.
"After much consideration, I instructed my team at Golden Boy Promotions to continue negotiating a fight with Gennady 'GGG' Golovkin and to finalize a deal as quickly as possible. I also informed the WBC that I will vacate its title," Alvarez said in a statement.
According to SB Nation, Alvarez won the said title last November against Miguel Cotto, and was able to defend it against Amir Khan last May 7th. Both fights were held in Las Vegas. After defeating Khan, the WBC had stipulated that both the Alvarez and Golovkin camps should be able to come up with a decision within 15 days, as per Boxing Scene.
Being unable to do so would require Alvarez to drop his title. For his part, Alvarez says the intent to face Golovkin remains, but noted that he would "not be forced into the ring by artificial deadlines."
The report adds that with Alvarez vacating the title, Golovkin would now be considered as the WBC's undisputed middleweight champion.
Given the circumstances of the situation, there are only two possible scenarios for both fighters. The first one would be to continue and make the fight happen. Both Alvarez and Golovkin have been vocal about their respective intentions to face each other.
During both of his victories against Cotto and Khan, Alvarez called out Golovkin the two instances, noting how he would immediately lace up the gloves and fight. The pot has been stirred enough to create a buzz among fans who are now awaiting to see the fight, eager to forget about the stigma of the last "super fight" between Floyd Mayweather and Manny Pacquiao.
The other scenario would be for both men to go their separate ways. Golovkin could find another big-named opponent and defend his title, while Alvarez could seek out and challenge another world middleweight champion. WBO title-holder Billy Joe Saunders could be one option.
But as far as the promotion companies are concerned, having Golovkin and Alvarez face each other would rightfully still be the ideal option to take.
"There's plenty of time to make the fight. This doesn't diminish the chance to make the fight with Canelo," said Golovkin's promoter Tom Loeffler. "Whether it's the next fight or next year, I'm still very optimistic the fight will happen. It's the biggest fight in boxing and the one fans are clamoring to see."