Brad Pitt 'Drug Days': Actor Uses 'Pot' Past to Justify Legalizing Drugs (VIDEO)
Brad Pitt has stated in a recent interview for "The House I Live In," that the only way to put an end to the "drug war" is to make drugs legal for everyone. An executive producer for the film, the actor has admitted openly to his drug usage in the past.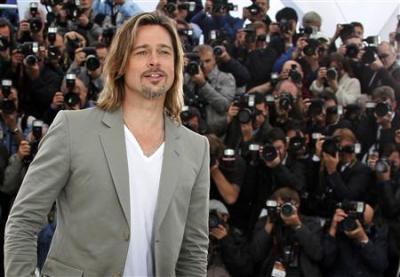 Earlier this year, Brad Pitt admitted that he had coped with depression in his past by turning to drugs. Stating that he was dealing with depression in the late 1990's and searching for an escape, and the actor revealed that he turned to marijuana.
"I got really sick of myself at the end of the 1990s," he said during a Januariy interview with the Hollywood Reporter. "I was hiding out from the celebrity thing; I was smoking way too much dope."
Even after getting his act together and getting off the couch, Pitt implied that he did not give up smoking altogether.
"I just quit," he said. "I stopped grass then -- I mean, pretty much -- and decided to get off the couch."
Pitt's history with drugs has now helped to shape his view on the "drug wars" that take place in the United States. His response is that the government should take the profit out of the drug industry by making drugs legal to all.
"The only way to end the war on drugs is to take the profit out of it," Pitt said Friday in an interview with the Huffington Post to promote his latest film. "I know this comes with a whole other host of problems and I don't know if I'm actually presenting it as a reality, but we have to look at the what-if-everything-was-legal and people were allowed to make their own choices."
Pitt worked with director Eugene Jarecki, who initially proposed that drugs were being used to "keep the impoverished down." While Pitt admitted that such a view may have been "too liberal" for him, he agreed to work as executive producer on the project.
Pitt argued that drugs are already accessible to those who are looking to find them.
"My drug days are long since passed but it's certainly true that I could probably land in any city in any state and get you whatever you wanted," he said. "I could find anything you were looking for. Give me 24 hours or so."
Instead of treating those who use drugs as criminals, Pitt suggested that drug usage should be looked upon as a "sickness." His view echoed her own reasons for using drugs in the past.
"People do drugs to escape. We're not talking about experimentation," Pitt explained. "People with long-term drug use are escaping."