Bride Killed in Limo Fire on Way to Bridal Shower in California (VIDEO, PHOTO)
Bride Killed in Limo Fire on Way to Bridal Shower in California (VIDEO, PHOTO)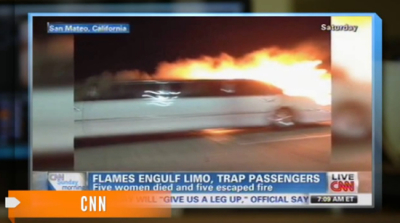 A bride has been killed in a limo fire on the San Mateo Bridge in California on Saturday night in what appears to be a tragic accident.
The bride, Neriza Fojas, as well as four other people, were killed on Saturday night as a limousine erupted in flames as it was on the way to a bridal shower for the woman.
As the vehicle burst into the flames, reports described that the woman and her friends were trapped inside, as the driver and four others managed to escape the blaze, according to KTVU.
Police received calls reporting that a white Lincoln town car limo had caught on fire on Highway 92, east of Foster City, at about 10 p.m. local time, California Highway Patrol Officer Art Montiel explained to media sources.
Montiel said, "It appears the white town car limo was traveling westbound on the number three lane, when for some unknown reason, caught on fire. Driver stopped the vehicle in the number three lane."
As soon as limo driver, Orville Brown, 46, noticed that his vehicle was on fire he brought it to an immediate stop and got out. Brown managed to get out of the limo safely, but nine other women including the bride - all in their 30s - were in the vehicle.
Montiel explained that four of the women were able to get out alive, but five others were trapped inside and unable to get out.
The four surviving women were taken to a local hospital for medical treatment of smoke inhalation and burns.
According to reports, the women were traveling in the limo from Oakland to a hotel in Foster City for a bridal shower when the fire erupted. The San Mateo County Coroner's office has indicated that the fire originated in the rear of the limo.
The company that owns the limo, LimoStop Inc., has said it is cooperating with authorities for the official investigation.
In a statement released by the company it said: "We are deeply saddened by the tragedy last night involving the young women, five of whom lost their lives in the limousine fire on the San Mateo Bridge. LimoStop Inc. will do everything possible to investigate and assist authorities in determining the cause of this fire in order to help bring forth answers and provide closure to the victims and their families."
The cause of the fire is still unknown and investigations are ongoing.
Here is a video news report into the tragic incident: